As an island nation, it's no secret that we love all that the ocean has to offer, from wonderful water-sports, to succulent seafood meals.
Australians are doubly blessed – not only do we have some of the very best fish and shellfish in the world, but we also have a world class wine industry, and we're confident and comfortable bringing the two together.
From Sauvignon and snapper, to Chardonnay and scallops, pairing wines to seafood is something that comes naturally to us.

But as the nights draw in, and the months grow a little colder, drinkers will be looking for something a little more warming than that glass of chilled white, while continuing to add another dimension to their seafood meals.
Thankfully there's another alcoholic option that can elevate your next seafood meal, and that hails from another seafaring nation: Old Pulteney Single Malt Scotch Whisky.
This whisky has gold-star coastal credentials. It's found in the northerly city of Wick in the Scottish Highlands, which was at one time the herring capital of Europe. A rugged and formidable environment, for many decades the only way in and out of Wick was by boat – there was no road.
Those bold seafarers who made the journey would swap their hauls of Scottish herring (known as silver darlings) for the 'liquid gold' of Old Pulteney whisky.
Old Pulteney has a long history dating back to 1826, when the distillery was established. During this time the distillery has endured two World Wars, 25 years of Prohibition and everything else that nature and history has thrown at it.
Old Pulteney is an highly individual distillery – its flat-topped stills are apparently the result of a distiller once misjudging the height of the roof and having to cut off their tops to fit them in.
The stills also feature a large 'boil bulb', with this distinctive shape inspiring the design of Old Pulteney's bottles. It is these stills that create the distillery's sweet and fruity house-style.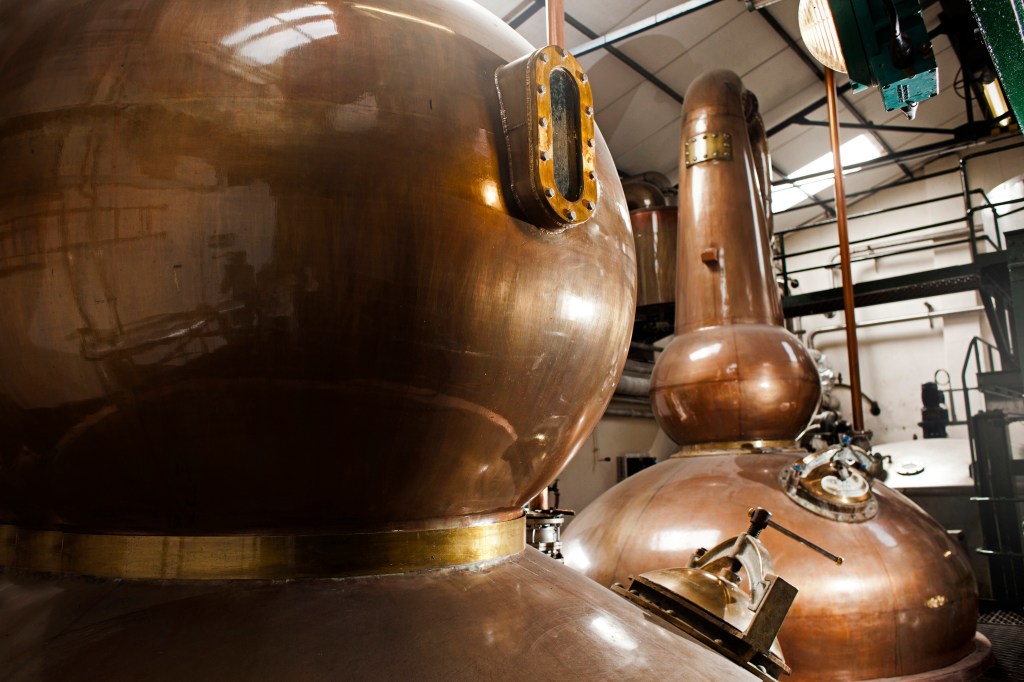 After distillation, the spirit is matured in the same maritime location, breathing in the salt air which is swept ashore by arctic winds, giving the whisky a characteristic coastal tang.
Old Pulteney's 12 Year Old, the distillery's flagship bottling, is the perfect example of this style. Matured entirely in Bourbon casks, this ageing process adds a layer of sweetness and complexity to the spirit's natural salinity. The flavour profile makes it ideal for pairing with firm white fish, such as barramundi and flake.
Taking inspiration from the distillery's location is Old Pulteney Huddart. A relatively recent addition to the distillery's range, Huddart joined the Old Pulteney family in mid-2018, and is named after the street on which the distillery is found. Huddart has been finished in casks that previously held heavily peated whisky, amplifying the spirit's maritime qualities, and lending a subtle smokiness.
This intense flavour profile offers drinkers a great introduction to peated whiskies, without the overwhelming smoke of some Islay whiskies. Huddart is a great pairing for more powerfully flavoured seafood, such as mackerel and kingfish.
As a well-established Scotch whisky distillery, Old Pulteney boasts an enviable range, including a 15 Year Old and an 18 Year Old bottling, both of which offer sophisticated and mellow iterations of the distillery's style.
For retailers and customers, this range offers variety and a clear path to upsell.
Get in touch with your local Southtrade Sales Representative today to discuss ranging.