By Kate Willson
Finding the perfect venue for a night out with all your favourite party peeps isn't as easy as you might think. Someone always wants to go where the cocktails are out of this world, others are happy with a cold beer.
Someone else will be into clean eating and will only go where there are good, healthy food options while the others care more about the location, the crowd and the vibe. Then there is always the few that just have to find a dance floor on which to let their hair down and dance the night away until the early hours.
At Bungalow 8 you can please everyone in one world-class, vibrant, harbourside location.
Not only is it a fantastic Sydney waterfront venue boasting idyllic harbour views and a decadent place to relax all afternoon – it also provides a party-into-the-night atmosphere for those who get a second wind once the sun goes down.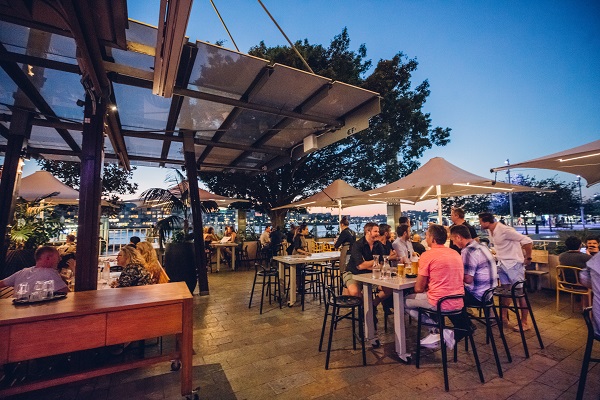 Best of all, Bungalow 8 is easy to get to, even in your party heels.
No need to drive or walk for miles – take the train, the bus, Uber, a water taxi or a ferry straight to King Street Wharf at Darling Harbour and settle in on a sunny afternoon, beneath a glittering, star-strewn evening sky, or arrive early and make the most of both.
Boasting exciting harbour views and a vibrant beachside atmosphere, this is the place to sit back and relax with a fresh cocktail inspired by long, summer days by the sea. If a cocktail isn't your preferred tipple, you may want to sample some of the world-class wines and ice-cold beers made locally or from further afield.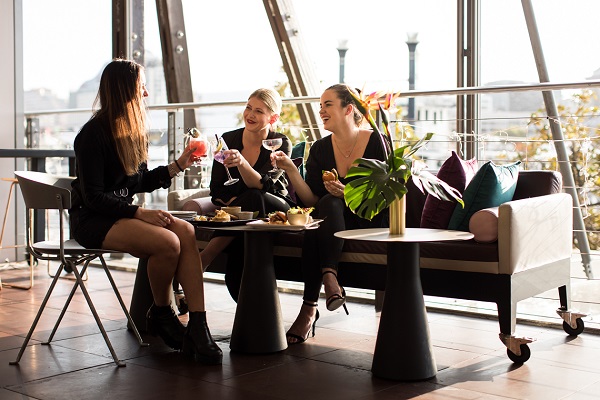 Let's face it, when you've settled in with your favourite beverage, a view to die for and a vibe that only a bustling international icon like Sydney Harbour can provide, you're in for the long haul, so it's lucky that Bungalow 8's comprehensive eat and drink menu has something to satisfy everyone's rumbling tummies.
Tantalise your tastebuds with an appetising share plate offering delicious nibbles such as grilled chorizo, spicy beef meatballs, kingfish ceviche and dukkah-crusted labineh. For the traditionalists the main course options of caesar salad, crispy pork belly, beef burger or classic parmigiana are there to satisfy the heartiest of appetites while the more adventurous foodies will love the mussel pot, pulled jack burger and the salmon poke bowl. Open for meals from lunchtime until late, Bungalow 8's menu tempts with succulent fish, meat and seafood dishes and popular vegetarian and gluten free menu items.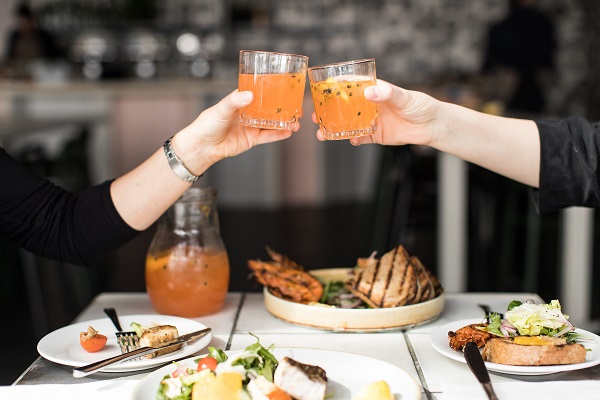 So, once the sun is set and you're watered and fed, what's next? A night of dancing of course. If you happen to be at Bungalow 8 on a Friday or Saturday you won't be able to resist Bungalow 8's exciting regular and special guest DJ's as they invite you to stay and dance the night away to all your favourite club tunes.
Equipped with dance floors both downstairs and up in the stylish and sophisticated cocktail lounge known as the Loft, when the music is pumping and the bodies are bumping you'll certainly feel like you're dancing with the stars as you take in spectacular views of the glittering night sky sparkling over the ocean.
Does life get any better than this?