With a number of challenges facing publicans not least attracting customers into venues, it is crucial that pubs and clubs are using every tool at their disposal to bring people in.
With so many reasons to stay at home, from the binge streaming habits to home food deliveries and even convenient alcohol deliveries, pubs and clubs need to understand their trump card – and when is the right time to play it.
We are in industry of hospitality, so this is all about being hospitable and creating the right atmosphere for customers to enjoy the venue occasion with their friends.
With alcohol consumption slowing pubs and clubs are looking at many different options to attracting customers; from alcohol free zones to restaurant-style food and kid-friendly areas. All strong tools that can help to attract people into a venue and then with the right atmosphere and great customer service they will become regulars.
Publicans can also look at some of the wider industry trends and think about how they are relevant to their venues. For some this has been adopting the 'cocktail bar-within-a-pub' model, recently seen at places like The Dolphin in Sydney where top London cocktail bar Scout has opened an Australian outpost.
Other examples increasing the number of craft and session beers on offer or adapting to the healthy living trend with a larger number of no- and low-abv beers, wines and cocktails available.
These are all valuable tools which can add up to making a key difference for publicans and help persuade customers to head out of their homes. But there is one option for publicans which not only works in luring people away from the couch, it also drives innovation and profitability.
The sheer spectacle of live sports on the big screen, in a great atmosphere alongside other fans is the trump card that pubs and clubs can play to make a huge difference.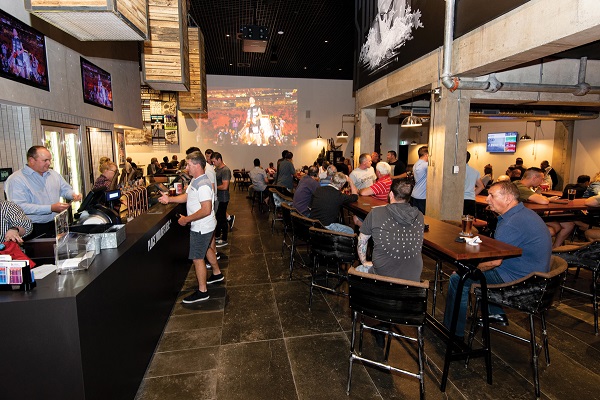 The classic Australian sports of AFL, NRL and cricket are still massive opportunities for venues, but there are many other opportunities as well, with sports from around the world, which can attract customers at times when you might otherwise find your venue quiet.
The NBA now has a massive cult following in Australia, so much so that the American basketball team are coming out here in August to play the Boomers twice. This year Foxtel is showing more than 200 NBA games through ESPN, and the schedule means they are shown at times suited for venue trade.
Similarly the NFL, in particular the Super Bowl, gives publicans the opportunity to attract fans for close to four hours and why not add a Budweiser and Burgers theme to delight those fans?
Any venue which has shown any of the major pay-per-view events in recent years such as Manny Pacquiao against Floyd Mayweather, or Mayweather's fight against UFC superstar Conor McGregor, will no doubt pay testament to the power of sport in your venue.
The key to succeeding in this space is ensuring your venue has a quality AV set-up, appropriate décor for your audience, a clear sports schedule and that your total offering is communicated widely and consistently. Foxtel can definitely help your business with these last two aspects and ensure you market the schedule clearly to make the most of key sporting events.
Nothing matches the excitement generated by live sports – and nothing matches the revenue that showing live sports in your venue can generate. With Foxtel, your customers will have access to over 50 sports. That's over 1000 matches, 47 finals, 20 tests, 55 races and 3000 laps in 2019.
In addition as a thank you for choosing Foxtel for your venue, Foxtel will give you $500 worth of merchandise to promote sport in your venue.*
So with Footy season underway as well as Supercars and Formula 1, plus the NBA playoffs approaching, there has never been a better time to sign up and keep your customers coming back for more with Foxtel Business venues, call 1300 731 892 or visit www.foxtel.com.au/venues to find out more.
*Offer only available to eligible venues who activate a Foxtel Business Venues subscription by 11:59pm AEDT on 30 May 2019. The minimum term of an eligible Foxtel Business Venues subscription is date of sign-up to 29 February 2020. Sports kit includes $500 RRP worth of venue merchandise. Not available for small licensed venues. Availability of pay-per-view events subject to change. Due to cabling infrastructure, some channels and services as advised may not be available in all premises. A Foxtel for Business subscription and associated fees may be tax deductible for many businesses, check with your tax advisor for details. Foxtel not available in all buildings. Foxtel Management Pty Ltd. uses Foxtel marks under licence.