September is organic wine month, a time to celebrate all the best things about organic wine. Earlier this year, National Liquor News did just that, with this feature on the organic wine sector.
If there was ever a movement in the liquor industry to not only survive but thrive in 2020, it's sustainability. The pandemic pushed consumers to review what is most important to them in a way unlike ever before, which saw mindful consumption to continue journey on the upward trend seen in recent years.
When it comes to wine, organic products are driving the sustainability trend. For example, Wine Intelligence describes organic wine as the number one sustainable wine type that resonates with consumers, as well as the biggest alternative wine type in terms of global opportunity, in its 2021 Sustainable and Organic Wine report.
Producers and retailers of organic wine have also recorded strong opportunity in the sector. At Angove Family Winemakers, sales demand has lead to the business increasing its organic grape vineyards, as more consumers seek out organic styles at an ever-accelerating rate.
"It was a slow burn, but in the last five years sales growth has certainly accelerated and we now have over 20 different certified organic wines in our range," said Matt Redin, Marketing Manager at Angove Family Winemakers.
"Consumers have been driven to organic wine and produce in general as interest in the environment, how food is made and where it comes from and a rise in personal wellbeing increase and become more prevalent."
Mike Bennie, wine and drinks writer, presenter and Co-director of Sydney's P&V Wine + Liquor Merchants, described this movement and said: "I think consumers in Australia are increasingly exploring concepts of organics, concepts of origin, looking at the process and provenance of goods that they're consuming, and therefore looking towards how sustainability as a concept fits into their own lifestyle choices."
These mindful consumers may be part of the reason that Liquor Marketing Group (LMG) has recorded a 523 per cent increase in organic wine sales in the 12 months ending January 2021, compared to the previous year. Organic wine has also increased its share of dollar sales from 0.5 per cent two years ago to two per cent of total LMG bottled wine sales. LMG's National Merchandise Manager for Wine, Matthew McEvoy, labelled the results in the sector as "fantastic" and indicated the opportunity the segment holds for retailers.
"We know a lot about who our shoppers are, so we worked closely with our key supplier partners to develop an Organic Wine Program that is tailored to each state's specific shopper profile. It also provides new growth opportunities for our member stores," he said.
For New Zealand winemaker Villa Maria, this growing interest helped show the importance of the company's 21 year vision, which has this year culminated in the release of EarthGarden, the winery's first organic range.
Villa Maria Head of Marketing and Communications, Sarah Szegota, said: "The demand for sustainable and organic produce is on the rise globally, and the immediate interest from our domestic and export markets in the new range is testament to this. There is a huge buzz and growing excitement around EarthGarden amongst our export partners, matched
only by the pride of the Villa Maria team."
Organics in motion
Producing organic wine, in practice, is more than just ticking a few boxes to meet certification requirements. Understanding just how much work goes into this is key to helping retailers tell the story of organic wine in-store and encourage the mindful consumer to explore the segment.
As Redin explained: "In each area of our operations, Angove Family Winemakers is focused on undertaking real actions and investment to positively benefit the environment while investigating future opportunities and strategies to measure the overall business impact."
Angove Family Winemakers has been certified organic for 15 years, and in 2017, made the further commitment to convert all family owned vineyards to organic certified vineyards, to date converting 330 hectares in the Riverland and McLaren Vale. On top of this, the business employs certain techniques in both the viticulture and wine production that
encourage sustainability.
This includes (but is not limited to); water conservation that has resulted in 25 per cent less water consumption per hectare and the capture of rainwater to reduce reliance on dwindling rivers; upgraded technology to reduce power consumption by 25 per cent, reduce CO2 emissions by 27 per cent and see that solar power covers 50 per cent of peak time power and 100 per cent of cellar door power; and rerouting of waste for different winery activities which has significantly reduced contribution to landfill whilst benefiting biodiversity. Plus, recycled packaging and lightweight bottles uses 40 per cent less glass, which can deliver a reduction of CO2 per bottle of more than 15 per cent.
Meanwhile, over at Villa Maria, there's also a lot happening to maintain organic and sustainable practices, as Chief Viticulturist Oliver Powrie described.
"BioGro certify our organic vineyards, wineries and wines and have been an essential part of our 20 year journey of building experience and expertise in organics. Our vineyards and wineries are all certified Sustainable Winegrowing New Zealand, we also have ISO 9001 Quality Management and 14001 Environmental Management certifications, CarbonReduce certification and are rated by SEDEX and EcoVadis on our social, ethical and environmental responsibility," Powrie said.
"We view sustainability as a universal challenge, and we continue to invest significantly in this area. This includes the use of sheep, worms and wildflowers in the vineyards; night air cooling, natural lighting and heat recovery in the winery; recycling, light weight bottles and low emission vehicles."
Encouraging biodiversity is one of the core tenets to the success of organic wineries, something that animals and insects can help with, as Redin explained.
"In our Warboys vineyard in McLaren Vale, rather than use pesticides to control the rampant snail population we have a team of Indian Runner ducks that come into the vineyard at the start of the growing season to keep them under control," Redin said.
"We have recently installed a beehive to help guard the beneficial insect populations in the vineyard. The presence of bees is not essential for successful pollination of the vine, however the bee still forages on its pollen… In addition to aiding fruit set, bees are essential in the successful pollination of plants that occupy the vineyard floor. Wide biodiversity of plant species in the vineyard is essential for development of soils that are nutrient rich and maintain good levels of soil moisture. These aspects ensure high levels of vine health and contribute to the development of complex berry flavours, which in turn leads to wines that have exceptional intensity and depth."
At LMG, the organic range includes the Atmata range from Casella Family Brands. Brad Ipson, the National Business Manager – Independents at Casella added to Redin's point and said that quality was the other element that remains central during all this hard work organic producers undertake.
"The grapes for Atmata are sourced from premium Australian organic vineyards. These wines have been crafted to deliver a product for consumers that fit their ever‐changing needs and to respond to consumer trends of ethical engagement and health and wellbeing," Ipson said.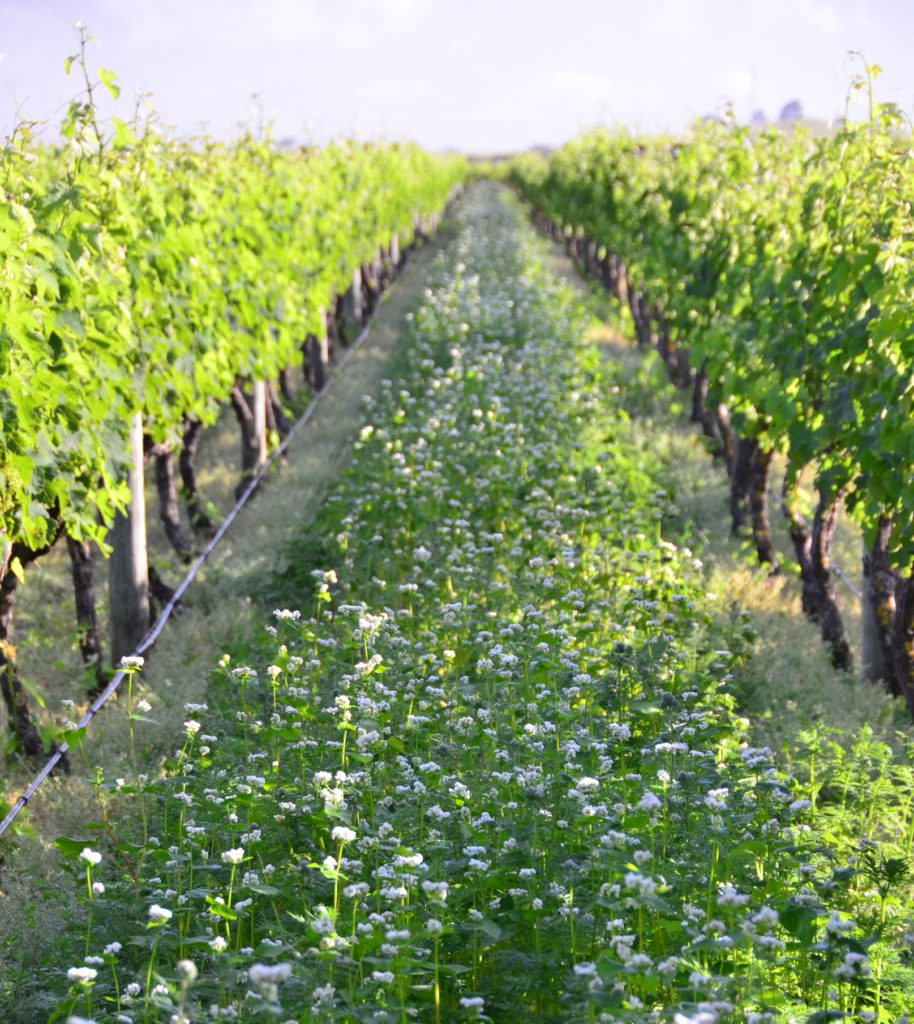 Top tips for retailing organic wine
Redin had the following tips from Angove Family Winemakers:
"Create an organic section within your store and brand it as such… this has worked successfully for the large supermarkets and will work in-store to drive sales and awareness of organic wines.
"Taste the wines with your customers – some may be turned off by memories of the organic wines from decades ago that really were pretty average. Things have changed and the art and science of crafting certified organic wines has improved.
"Make sure wines are certified organic and the winery isn't just using the word organic as part of their brand name."
Meanwhile, Bennie's biggest piece of advice is about making consumers feel confident in organic and sustainable wine.
He said: "Bringing up awareness around [sustainable wines] through coalface conversation is really paramount to me… it's amazing how many people are interested in this conversation, and how many people come to the retail setting to enquire about wines that are made more sustainably, or without additives, or are lower in sulfur or similar.
"It's about creating distinctive areas in the shop where people can find things easily without feeling alienated, and then having good conversations around the wines, and not being afraid of some wines that might have a bit more diverse personality than the retail
landscape offers."
Read the rest of this feature, including a discussion about other sustainability initiatives in the wine sector, in the March 2021 issue of National Liquor News.