American small batch distiller Angel's Envy is now distributing its Kentucky Straight Bourbon Whiskey Finished in Port Wine Barrels to select on-premise locations in Australia.
Co-founded in Louisville in 2011 by Wes Henderson and his late father, Master Distiller Lincoln Henderson, the family operation opened its distillery doors in 2016. This year marks their first foray into the international market outside of the Americas, with Australia following the launch into the UK last week.
Angel's Envy, a subsidiary of Bacardi, begins distribution with a limited number of cases in Sydney and Melbourne. The launch was celebrated this week with a getaway to the NSW Southern Highlands that saw guests learn about the liquid and the brand's story alongside campfires and glamping tents.
Speaking to TheShout during the event, Wes Henderson joked that he wanted Angel's Envy to: "Dominate and conquer the entire country."
"I know there's a love of whiskey here, and to be a little teeny part of that was really cool for me."
Global interest in American whiskey was what pushed Henderson to consider international expansion for Angel's Envy, and helped them decide which countries to start with.
Angel's Envy Marketing Director Jay Needham, who was also present at the event, added: "As American whiskey continues to gain popularity in Australia, it's an especially exciting time for us to be introducing our product in this market."
The product they've chosen to enter Australia with, the Kentucky Straight Bourbon Whiskey Finished in Port Wine Barrels, is 43.3 per cent ABV and is blended in small batches of eight to twelve barrels at a time, aged for up to six years, and then finished in 60 gallon port wine casks for three to six months.
With a limited number of cases available to the on-premise in just two states, Henderson said their slow growing nature is what has driven success over the years, as they develop genuine connections with an area.
"We'll expand our footprint here, slowly. We're not in a hurry, we're in it for the long haul," Henderson explained.
"We really don't have enough product yet, we're selling out every drop we have. And we could continue to sell out every drop in the US, but I felt like now was a good time to start seeding international markets."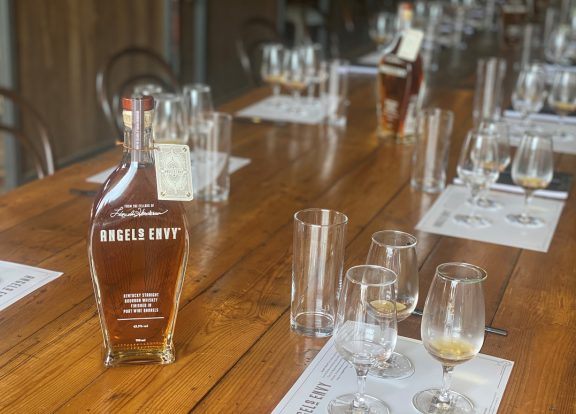 Considering the ever growing number of spirits entering the Australian market from domestic and international producers, a point of difference is key. Angel's Envy understand this, putting considerable effort into the bottle design while celebrating the brand's incredible story.
During the launch event, Henderson said: "When I think of angels I think of wings, so I wanted wings on the back of the bottle because I thought it looked cool, and then the shape of the bottle started conforming to the shape of the wings."
"It's fairly recognisable, because it you think about it, Kentucky bourbon bottles are usually square and look real manly and are called colonel or something like that… but this bottle is a little feminine, it's a sexy bottle, it's got some curves. You can hold it well on your hands, we thought about that and we thought about bartenders."
As for the story, of course the work of Lincoln Henderson as a Master Distiller of Brown-Forman is a unique point of interest. In his 40 years there, he created such renowned products like Woodford Reserve and Gentleman Jack, and came out of retirement for the family bourbon endeavour.
Now, the business boasts its third generation of family input, with four of Henderson's six sons working at Angel's Envy. But the connection doesn't stop there – the Hendersons found another unique family connection when they opened their new distillery.
"We bought the building we're in now, and my dad walked in and said 'there's something familiar about this building but I don't remember what it is.' He called me a few days later when he remembered," Henderson said.
"It was an elevator factory years ago, starting in 1902, and my grandfather worked in that building, so dad's dad worked there… physically, really four generations of our family have worked in that building. Further, I didn't know this until a few weeks ago, but my uncle, my dad's brother, he worked there also."
Henderson said the launch event really showcased this connection to family he has both within his business and with the greater industry.
"I think everybody had a good time, and really, the way this event was put together is kind of an extension of the Angel's Envy brand. It's very organic, very family oriented, very bartender oriented… this isn't part of a marketing strategy, this is just kind of our DNA," Henderson said.
Along with the launch, Angel's Envy has expanded its network of Whiskey Guardians, global bartenders who act as local experts in their market to educate and inspire. The Australian market welcomes Nathaniel White from Melbourne and Simon Hopkins from Sydney into these roles.