Australian distillers have been well represented at this year's San Francisco World Spirits Competition (SFWSC), with 100 different local products picking up gold or double gold medals.
Nicknamed 'The Oscars of Booze', the SFWSC is one of the foremost spirits contests in the world, and the oldest in North America. Held over two weeks in April, the competition saw approximately 5,000 different spirits judged by a panel of 70 experts from around the world.
This year's judging panel was headed up by celebrated bartender and drinks writer, Jeffrey Morgenthaler. 2022 marked the SFWSC's 22nd year, and for Australian producers, it was one of triumph. In total there were just under 250 Australian medal-winning entries, with 100 being gold or double gold. Double golds are particularly difficult to achieve, as they are only awarded when every tasting judge deems the spirit worthy of a gold medal.
Starward's delightful dozen
Melbourne's Starward Whisky enjoyed a particularly successful night, taking home 12 'perfectly scored' double gold medals, and three gold medals. This meant Starward took home the largest haul of double golds won by a single distillery in the 2022 competition.
Starward Founder, David Vitale, said the distillery was "ecstatic to be recognised, on a global stage, as some of the finest quality whisky in the world.
"To receive perfect gold scores across the board is a true testament to our incredible Australian ingredients and of course, the team's ability to keep our innovative ethos fresh.
"It's an example of what experimentation and a bit of 'caution to the wind' can produce."
Double golds went to Starward's Core Range bottlings of Nova and Fortis, while the distillery's famous Ginger Beer Cask Single Malt also won a double gold, as did an array of single barrel and small batch expressions. Starward's success came on the back of its recent Gold medal win at the Victorian Tourism Awards.
Wins for a new distillers
The SFWSC was a good night also for industry newcomer, Distil on the Hill.
The distillery, which opened in Far North Queensland in 2021, picked up a double gold medal for its Mandarin Gin, while its Raspberry Macadamia Gin was awarded Silver.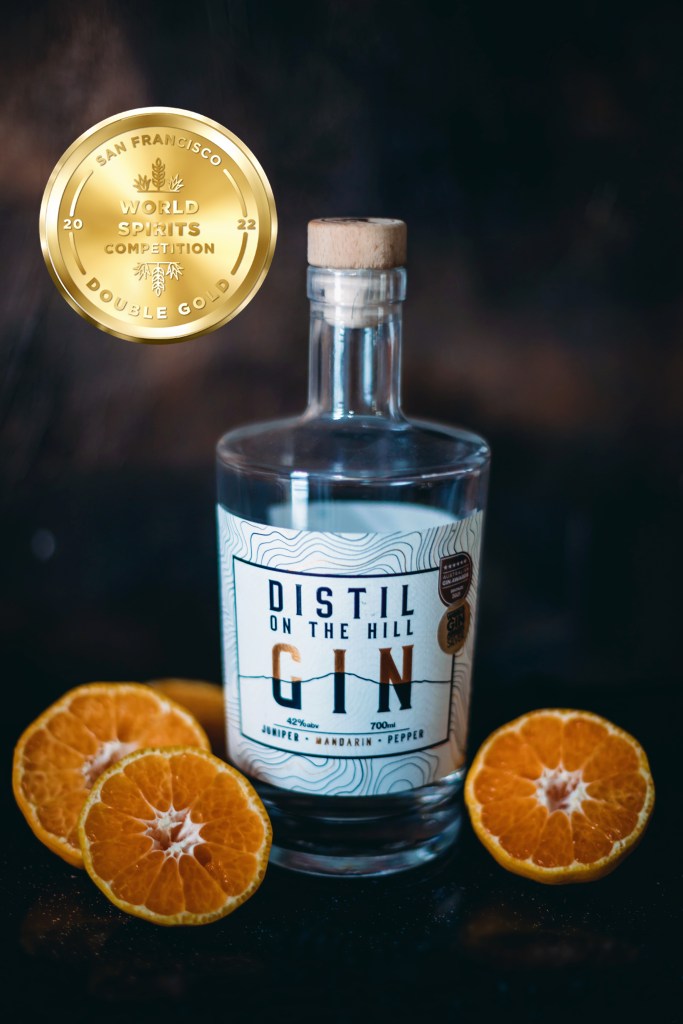 Distil on the Hill Co-Founder, Christian Bedwell, was thrilled by tasting awards success so early in the distillery's story.
"We only started in July last year, so we're very humbled and excited to receive such prestigious awards so early on," Bedwell said.
"To have two products receive medals, and one of them a double gold has just blown us away."
Bedwell believes that the strong showing from Australian distillers in general illustrates the maturity of Australia's spirits industry.
"We're definitely starting to show people that we're serious about what we're doing down here, and we have the means, the produce, the passion and desire to take this industry really far."
Another recent industry entrant, Gindu, was also toasting success at the SFWSC. The Macedon Ranges distillery achieved two double gold medals for its Coastal Gin and its Australian Dry expression.
For Gindu founder Matt Grainger, it was a testament to the progress the distillery had made in a short space of time.
"We've been going for 18 months and while we thought we had made some great gins, the industry feedback has been incredible and we're so humbled and proud."
Grainger also believes that the strong showing from small Australian distilleries benefits the industry at large.
"On a global stage, an Australian distillery winning these awards has a huge impact on our industry and tourism," Grainger said.
"Promoting Australia locally and to the world is exactly why we exist."
Karu spices things up to claim gold
Karu distillery were another Aussie producing hailing its accomplishments at the SFWSC, picking another double gold for its Morita Chipotle Vodka.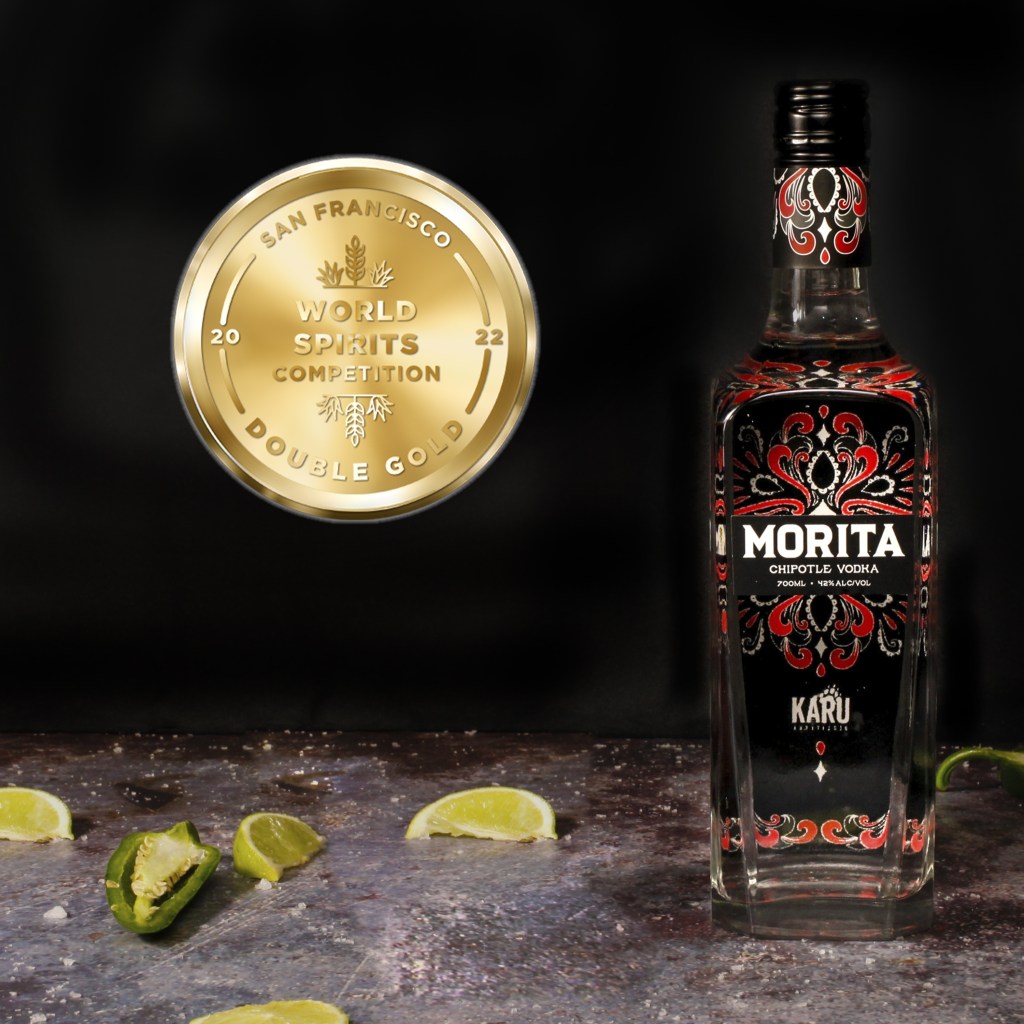 Head Distiller and Co-Owner Ally Ayres explained that the news could not have come at a better time.
"We were absolutely thrilled," Ayres said.
"We have staff off with covid, we're opening a new bar and trying to catch up with production due to the recent flooding in our area. Receiving that email with the results was the exact news we needed to keep us in good spirits."
For Karu, this was the distillery's second double gold win in just four years of operating.
"Morita had a bit of a rough life after having its launch scrapped last year due to NSW lockdowns, so it's really amazing that this spirit can now have another springboard into the industry," Ayres continued.
Similarly to Grainger and Bedwell, Ayres believes the SFWSC results are a win for the Australian industry as a whole.
"Australian spirits have been championing quality and gaining such recognition through this prestigious competition. Seeing a lot of our friends' distilleries pop up on the winners list too has been so exciting."
"We are very proud to see our country win for quality," Ayres said.
A successful Bluff
Gin and vodka producer, Hellfire Bluff, also took home four golds – three for its Tasmanian gins (London Dry Gin, Summer Gin, and Piquant Gin) as well as one for the distillery's signature Potato Vodka.
Ruby Daly, Hellfire Bluff's Business Manager, expressed her delight at the multiple medal wins.
"The medals from SFWSC are considered among the world's most prestigious, so we are thrilled to bring home four gold medals for our handcrafted Tasmanian products," Daly said.
"We are a family owned business, with a small team that works extremely hard to craft premium products here in regional Tasmania. These accolades show that our Tasmanian spirits are among the best in the world and we are extremely proud of everything we have achieved."
Hellfire Bluff's Head Distiller, Dave Harris, agreed, saying that the recognition from the SFWSC demonstrated the high quality of the spirits being produced at his distillery.
"The judging panel at the SFWSC is known for having some of the most experienced experts in the spirits industry. To be recognised by the judges and awarded gold for four of our products is an outstanding achievement," Harris said.
The full list of medal winners is available at the Tasting Alliance website and a full list of Aussie double gold winners is below:
23rd Street
78 Degrees
Archie Rose
Callington Mill Distillery
Curatif
Distil On The Hill
DNA Distillery
Gindu
Headlands
Imperial Measures Distilling
Inner Circle
Karu
Narrow Tracks
Never Never Distilling Co.
Pure Origins
Starward Whisky
Tinberry Distilling Co.