The Oxford Tavern in Sydney's Inner West changed hands in January and the new owners have revealed some major changes to operations.
Exclusively selling independently owned beer brands
Smoked meats centre-stage on food menu
Live music returns weekly
Future brewery install due
The Petersham hotel, known as the Tav, was bought by James and Josh Thorpe of Thorpe Hospitality from the Australian Venue Co at the start of the year. Thorpe Hospitality also operates The Taphouse in Sydney, recently awarded 'Best Beer Bar' at the 2019 Time Out Bar Awards. Unsurprisingly, The Taphouse owners have focused on the taps, installing a list of locally owned and independent brews.
With a number of great breweries on its door-step, the pub is focusing exclusively on locally owned, independent breweries on tap and a wide range of craft options, with a particular focus on 'hyper-local' (breweries within a 5km radius of the pub). This makes the Oxford Tavern the only pub in the Inner West exclusively selling independently owned beer brands.
Currently there are nine independent breweries on tap including Yulli's Brews, Young Henrys, The Grifter Brewing Company, Capital Brewing Co, Stone & Wood, Nomad Brewing Co, Wayward Brewing and Hawkers Beer, dispensing 13 different beers. This is due to expand to 16 in the coming months.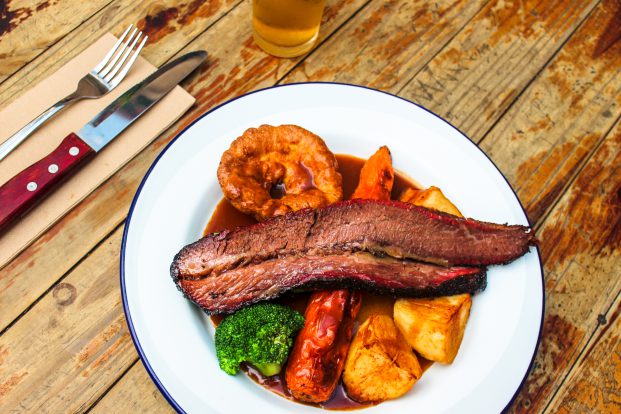 The new drinks list also features locally made spirits including White Light Vodka, Rum Diary Spiced Rum and Triple G Gin in the speed rail, an Aussie garden gin twists menu, a spritz menu with several original takes on the classic, and cocktail jugs mixed with PS40's house made sodas and local booze.
A spokesperson for Thorpe Hospitality revealed plans to launch a brewing label down the track, "with the ultimate goal of installing a brewery in the venue where [we] can brew ridiculous, commercially unviable beers that are tasty and a lot of fun."
The Tav now also sports a revamped food menu led by Head Chef Neil Mudie, a specialist in smoked meats. Mudie is smoking 200kg of meats each weekend for 10-12 hours, while keeping the smoker meat-free from 6pm on Thursdays. The new owners have reintroduced free weekly live music sessions each Friday, starting 22 March 2019.
Live music is also supplemented by a rotating program of events and offers for the Inner West community. The venue also plans to host a range of independent and female brewer showcases and will shortly launch Petersham Markets inside the venue to support local artists and craftsmanship.
Jenna Phillips, General Manager of the Oxford Tavern says, "The inner-west in general is a hub of creativity, on any given day you can find somewhere doing anything from bands to a drag show to a spoken word showcase. It has endless opportunity for people to just be who they are and support one another. We want to encourage this as much as possible at the new Tav – no smoke and mirrors, just honest booze, great food, great music and a variety of events that are inclusive of all in the community."
Decor-wise much of the venue has remained the same, including the well-known neon signs shining onto New Canterbury Road that read "Hot Live BBQ (formerly girls) and "open 'til late". The venue has revealed some minor renovations are in the pipeline, but won't impact the hotel's character details.
Thorpe Hospitality insist the venue doesn't take itself too seriously, describing The Oxford Tavern as "a fun, relaxing environment with fresh, local beer, great food and all-round good times, inclusive and open to all."