By Andy Young, editor TheShout
Bladnoch, the only Scotch whisky distillery to be owned by an Australian, has followed up the release of its Pure Scot blended whisky with the release of three single malts.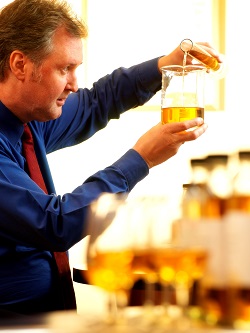 The new whiskies include a no age statement, a 15-Year-Old and a 25-Year-Old, which are all now available to Australian retailers.
We spoke to Bladnoch's Master Distiller, Ian McMillan (pictured), about the new whiskies and he explained that with the no age statement in particular there were challenges because the distillery has not been in production since 2008. He told TheShout that after going through all the maturing casks at the distillery he spoke with owner David Prior about the whiskies they would release.
"We spoke about the releases that we would bring out with the single malts, David wanted to bring out a no age statement one as the first one, but I said to him 'you're going no-age but the youngest whisky I have is eight years old'," McMillian said.
"Most of the no age whiskies that you can buy now are packed full of three year old whisky, three year old and a day, with a little bit of top dressing with older whisky. I was starting off with eight year old as my youngest whisky, five years older than your standard no age statement."
In searching through the Bladnoch casks McMillan found a number of whiskies maturing in Californian red wine casks including Cabernet Sauvignon, Shiraz and Merlot, which he said that he wanted to use for the no age statement whisky along with some which was maturing in ex-bourbon barrels.
"The no age whisky is called the Samsara, which was the first of the single malts that I created was a balance of all those elements together," McMillan told TheShout. "I made it with whisky that was between eight and fourteen years old, which is really high for a no age statement whisky. Samsara is the Sanskrit word for new beginning, which was quite appropriate for the whisky.
"The nose of the Samsara is quite winey, you get this winey fruit compote aroma coming from it and it gives you the impression that you are going to go into a bit of a fiery whisky, but 46.7 per cent there is a lot of alcohol there but it is pretty smooth. This lovely fruitiness invites you lasts all the way through the dram, I just think this whisky is so easy to drink. There are first fill ex-Bourbon barrels in there as well as the different California red wine casks."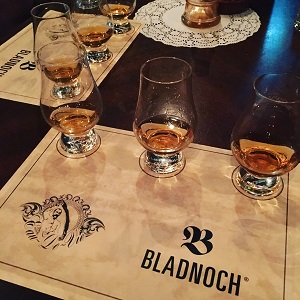 With the 15-Year-Old Adela whisky, McMillan said that he discovered some Oloroso Sherry butts, which he described as "jewels" and which he used for this dram.
He added: "Looking at the Adela I just remember when I found all these Sherry butts and everyone that I opened, I took a sample and they were all great. I was going along and finding a whole run of them, and it's quite unusual to get that run of casks and the quality was the same all the way through.
"So we thought that these were the ideal barrels for the 15-year-old expression, it has to be an Oloroso Sherry. I was very happy with this and its rich fruit cake-style that you get, there is chocolate in here, coffee notes I get a lot in here and it is very moreish. It is like a big Christmas cake."
With the older 25-Year-Old Talia, McMillan had to do some work to bring the older whiskies back to life.
"When I looked at these older casks, some were nice but some hadn't evolved as much as I thought they would have. So I decided to make a blend using the three different woods that I had; there was the ex-Bourbon, ex-Sherry and ex-whisky casks there. I created a batch of that and decided that I would fill it into something that would give it a real kick-start again, because some of this whisky had been lying in casks for 25 years and it had just gone to sleep really.
"I put them into brand new American oak casks, which I had toasted to a level that I wanted, then I got a char put on top of that, which was going to give me what I wanted. By putting the whisky into that, then over a Scottish winter wasn't the best time to do that because when the temperature drops then the whisky's evolution slows right down as well. But after coming out of the winter, into the spring and with the temperature getting a bit warmer, the whisky started to take on characteristics and that's how we got the 25-Year-Old Talia.
"The Talia retains the Bladnoch DNA because it has those grassy notes to it and some citrus and orange peel in there with a little hint of gingerbread as well. It is bottled at cask strength and is coarsely filtered so it is as near as you can get to coming straight out of the cask. It is bottled at 49.3 per cent, so again it is quite a deceptive whisky."
The Bladnoch range is now available for retailers across Australia, the Samsara has a $129.99 RRP, the Adela is $179.99 RRP and the Talia carries a $499.99 RRP.
Save
Save