Steve Grossman, Founder of Sierra Nevada Brewing Company, and Paul Jones, Owner and MD of Cloudwater Brew, shared their perspectives at the inaugural International Brewers Collective, prior to the start of Sydney GABS this weekend.
The event was hosted by drinks writer, Kirrily Waldhorn (the Beer Diva), at the ICC on the evening of Thursday 1 June, with many of Australia's leading craft brewers in attendance.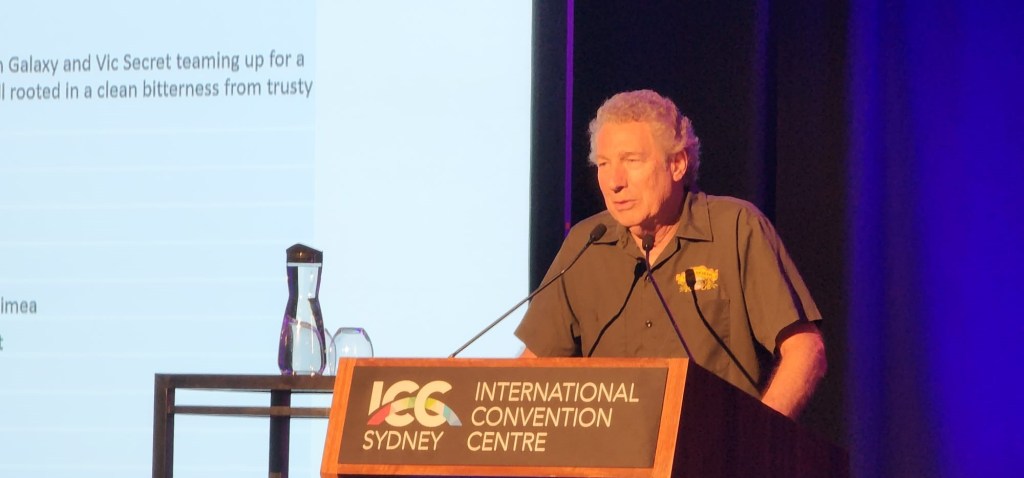 The birth of a classic
Grossman was up first, and explained the birth of what has become one of the USA's most popular and enduring craft beer brands. Steve and his brother Ken established the brewery after developing a taste for their neighbour's homebrew in their teens and ransacking his kegerator.
"He got quite angry, you know, not because we were 13,14,15 years old drinking his beer, but he got angry because he didn't want to keep brewing for us," Grossman said.
"His solution was: I'm going to teach you guys how to brew once, and then you're on your own and don't drink mine anymore."
The landscape for craft brewing was very different at this point.
"This was the 1960s… We grew up in the San Fernando Valley and there were no ingredients… And really no brewing books back then, so we flew by the seat of our pants.
"And home brewing was illegal at the time, it wasn't legalised until 1978 when our senator from California, Alan Cranston, decided, well, maybe home brewing should be legal.
"He went to Jimmy Carter… And convinced him probably with the help of Jimmy's brother Billy, who was a beer drinker."
Meanwhile, Steve, Ken and friend Paul Camusi ended up in Chico, California, a town found close to the state capital of Sacramento in the late 70s.
"The idea was hatched – let's start a brewery," Grossman said.
"They had $22,000 between them to build a brewery. Ken started buying equipment, and then they went to both of our families to get additional funds and came up with $100,000."
With this small sum, the Grossman brothers were able to establish a brewery that would change the face of American craft beer forever. But first, they needed something to brew in.
"Ken went back to college and took courses in welding and basically built the brewery out of old dairy tanks – and that was our first brewery, it's pretty glamorous. Started with a 10 barrel brewhouse."
At that point, there were only 43 commercial breweries in the US. After the craft beer revolution of the late 20th century, there are now over 9,500.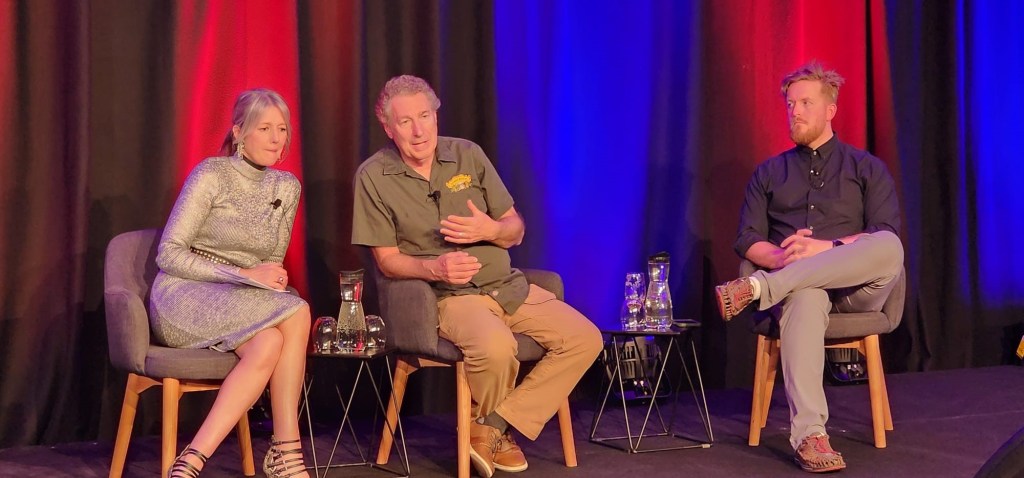 Beyond the Pale
Sierra Nevada is known for its legendary Pale Ale – but it took a little trial and error before the brewery hit upon its winning formula, with 10 different batches tried.
"And in 1980, November 15, we started releasing our beers. The first beer we did commercially was stout, because if we had any flaws in it, hopefully it would be masked by the dark malt," Grossman said.
It was not plain sailing though, with the Sierra Nevada Pale Ale significantly stronger and more flavoursome than many of the beers on the market in the 1980s.
"We couldn't find enough beer drinkers willing to drink a strong beer like we had. So our Pale Ale back in 1980 [sat at] 5.6 per cent alcohol, and 38 IBUs [International Bitterness Units], was a very, very strong beer for the average beer drinker.
"I started out doing sales, and it was very challenging when you were serving beer to someone and they try it out and say: 'Oh, this beer is terrible. You guys are crazy. You're going to be out of business in two weeks.'"
This prediction proved incorrect, and from humble beginnings, Sierra Nevada grew to be one of the most prominent breweries in the American craft beer movement, outgrowing two additional brewhouses before adding an East Coast brewery in Mills River, North Carolina in 2015.
Sustainability
Over the years, Sierra Nevada has developed a strong reputation as a sustainable brewer. When the brewery cleared some forest space for the Mills River site, every tree was reused as timber for the new building, earning Sierra Nevada a Platinum ranking in the US's Leadership in Energy and Environmental Design (LEED) initiative in 2016.
Grossman also shared a fun story of a time when sustainability prompted a visit from the Terminator.
"We've got about 11,000 solar panels at the brewery, and we have mirco turbines as well. With the two of those, we're able to generate about 100 per cent of our electricity on site almost all of the time. We over generate sometimes, so we actually had Tesla build a special battery so we can store the extra electricity.
"When we installed our solar panels, California had a very nice incentive – a tax break, if you put it in in a certain amount of time, it had to be by December 31st. We got it completed on December 30, so just under the wire. And Arnold [Schwarzenegger, then Governor of California] came and commemorated our solar panels.
"Ken was not real happy with the visit, because the day before, Arnold had the Secret Service come out and they were on the rooftop with rifles and things scoping out vantage points… So we don't invite anyone important to our brewery any more – just you brewers!"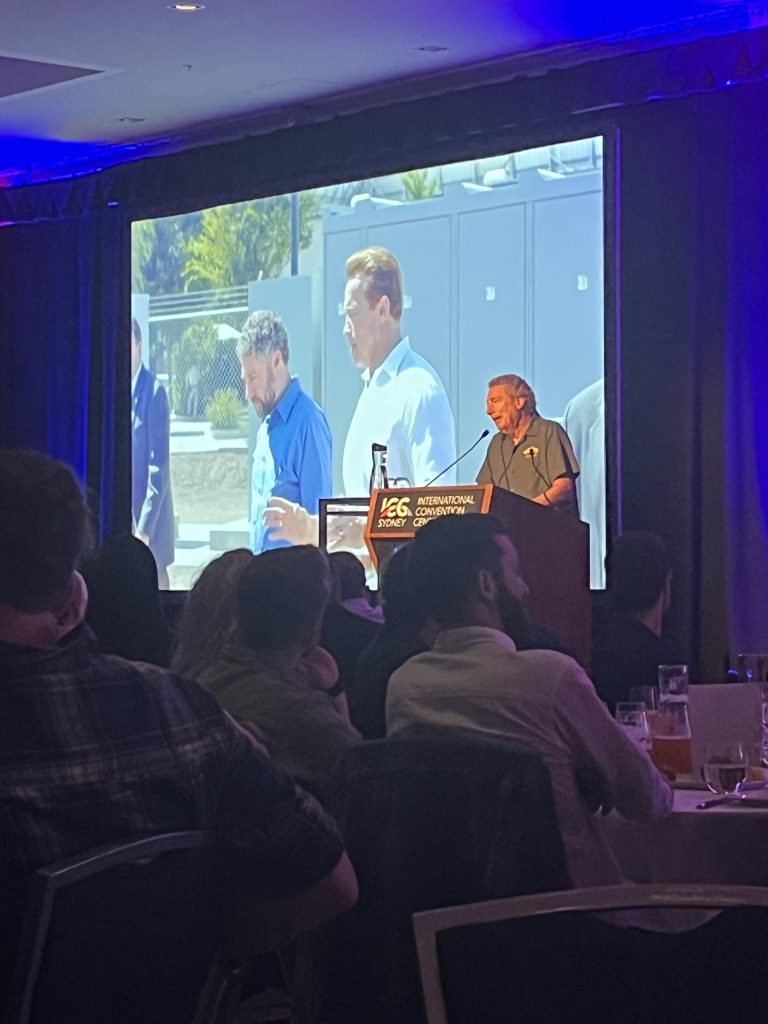 Cloudwater: beers and Buddhism
Grossman was followed by Jones, the Co-founder and current MD of cult UK craft brewer, Cloudwater.
Jones explained where the brand's name came from, and how this reflected the brewery's philosophy.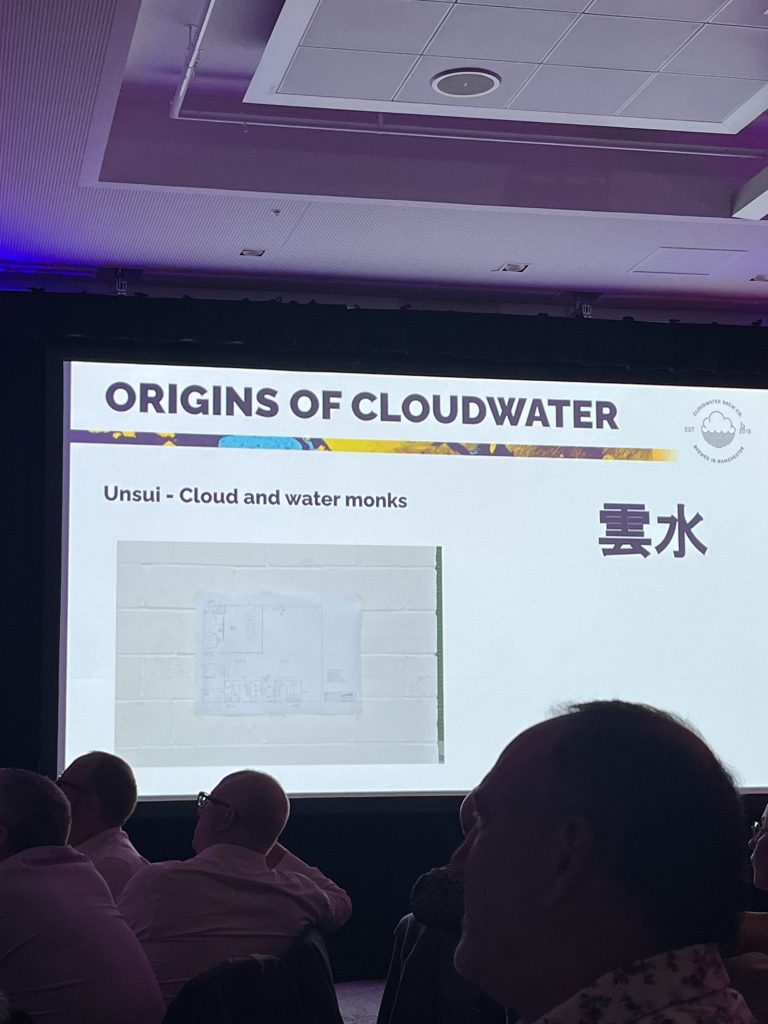 "The word Cloudwater comes from a word, Unsui, which is written in an old Japanese poem about wandering Buddhist monks.
"Long before I created Cloudwater, I used to run a business, an organic, vegan, fairtrade, Buddhist business. I really relish the opportunity to do business with some kind of purpose, I'm absolutely not a capitalist… We're all trying to figure out at Cloudwater how we have a life that has meaning and purpose, despite being in the structure that we live in.
"So we take inspiration from this word, Unsui, which refers to cloud and water monks. Now the cool thing about those monks is that the word 'cloud' in that context, really alludes to the fact that things arise and fall according to conditions.
"When we set out to make our brewery, we never had some concrete vision in mind, like we were going to enter a scene that was already quite well developed with a vision that was really well thought out.
"We thought to ourselves: 'We'll set out with the passion that we've got, we'll set out with the intellect that we've got.' And just like those monks wandering from teacher to teacher, we will find in our industry all the lessons we need to take ourselves forward and find something valuable for our consumers.
"The next part of Cloudwater is about the flowing of water, and basically overcoming every obstacle that you meet in your path… One of the things that really stuck out to me about flowing, and not being stuck with some kind of obstacle in your path is this idea that you can polish a rock with a silk cloth.
"We've all seen statues that have a bright spot, just because people have touched them… I'm a very firm believer that with perseverance, you can get to where you need to go."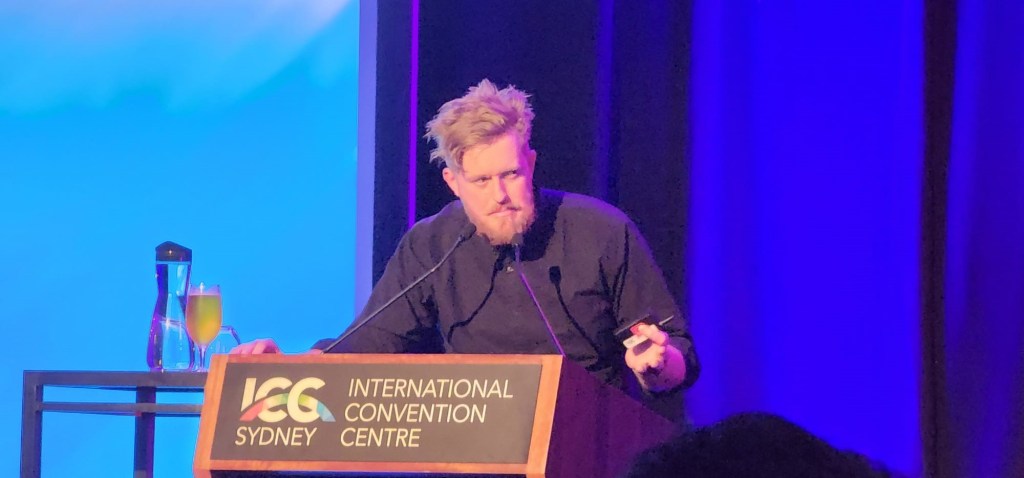 The V Series
Cloudwater was founded in 2015 in Manchester, UK. Compared to Sierra Nevada, Cloudwater is significantly smaller.
"We're only 10,000 hectolitres a year annual production, so I'm sure Steve's guys get to that by 3pm on a Monday," Jones says.
One of the most significant achievements of the brewery was its V Series of DIPAs, which can be credited with popularising the hazy style of pale ales in the UK. This was a real time, work in progress series of beers, through which Cloudwater perfected its recipe and made it a cornerstone of its offering. Jones explain how this took shape.
"Double IPAs literally existed as an annual release for most other breweries, if that. There was about four breweries making annual release Double IPAs, no-one else really cared about it.
"So the V series became a shared experience. We released a beer a month, and we did that with a spirit of taking all the learnings from the previous batch into the current one. And the UK audience was captivated for the first time, all these beer geeks were able to share a singular experience.
"We blogged about every changed we made to the recipes and we did so in incredible detail. We gave loads of our research and development work out to the rest UK industry, and I'm really proud of that.
"That was one of the things that really propelled us into the domestic spotlight, and then again from there into an international spotlight.
"From there, we ended up making 80 per cent of cellar produce a pair of these beers, and again, at the point int time to take such a big risk and put so much of your production into a single release was completely unheard of.
"We retired the V series at number 13… We felt that V 13 was kind of where we were plateauing, so we killed it off. Some of the folks around us think that that was a really silly decision, but I really stand by it, because we kept the tenets of the project, the principles of the project, right 'til the very end, and as soon as we felt like we weren't honestly innovating in front of our customers, that was it, we're done."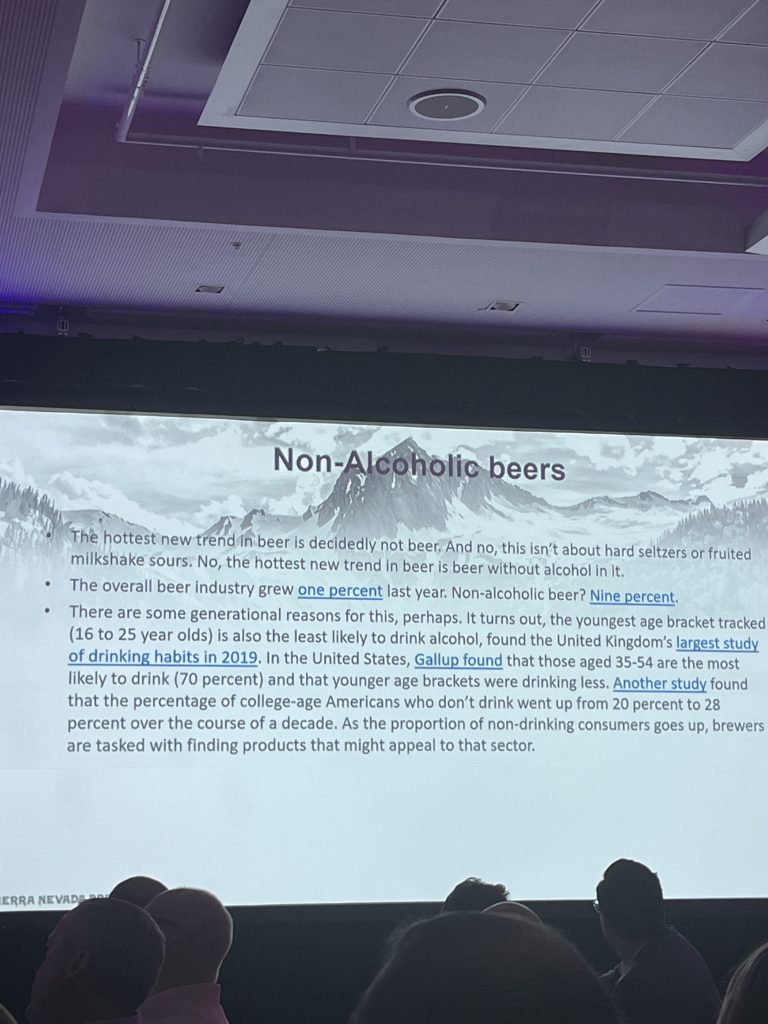 Future of craft beer
Both Jones and Grossman touched on trends that they think will take hold in the craft beer space over the next few years.
For Grossman, he felt that the booming non-alcoholic beer trend was likely to remain key for breweries in the near future.
"Beer consumption in the States is pretty much flat, and actually going down a bit. There's not many new drinkers coming into the fold, so we're looking at ways – how do we diversify?
"We came out with a kombucha line a couple of years ago, a hard kombucha, and we're looking at non-alcoholic beers.
"It's taken us several years to come up with beers that we're really happy with, and we finally nailed it. We're coming out with an IPA and a lager," Grossman continues.
"And another one hitting the market is hop waters – they're starting to become quite popular in the States."
Jones looked to the on-premise for his forecast of the category's future.
"I want to see us plumb the depths of more traditional drinking spaces. In the UK we have quite literally tens of thousands of wonderful pubs. They are community hubs, they're places that folk take refuge in. Somehow these establishments feel kind of unchanged, even though they're modern versions of the old public houses that would have been around hundreds of years ago.
"They're still vital spaces in our communities. So I think that there's something to learn from these traditional beer spaces… Traditional pubs, I think, are an untapped resource that we can look to to try and understand the social aspects of beers that have been around for hundreds of years, and how do we make sure we are actually operating spaces that anybody can walk into and feel great about being in."
He also believes that craft brewers will start to pay more attention to traditional styles of beer.
"In the UK we have an unbroken history, going back hundreds of years, of traditional breweries… We're surrounded by breweries that go back a long time, and we really pay attention to everything they do, and try to understand, how could they function in a way that craft beer could function?"
Hahn has his say
Given the presence of Sierra Nevada, it was only fitting that the last word of the event went to an icon of American-Australian distilling, Chuck Hahn.
"In Australia, we drink beer for a number of reasons: we drink beer for refreshment, we drink beer for relaxation, and we drink beer for flavour. And that's what we've been talking about," Hahn said.
"We drink beer for that social interaction that we're having right now… I think it's important that we pull all those things together.
"The way forward, I think, is to continue to have that flavour, and that social interaction, and to work with the government and the independent brewers to continue to have that interaction.
"It's really up to the craft beer industry to more this thing forward," Hahn concluded.
Cloudwater and Sierra Nevada will both be pouring beers at GABS.
GABS Sydney starts today at 6pm, and continues over Saturday, 3 June, with sessions opening at 11am and 6pm. The festival closes at 11:30pm each night.