Calabria Family Wines has released the new vintage of its Grand Reserve Barossa Valley Shiraz, The Iconic 2013.
The Iconic's fruit has again come from the Barossa Valley parcel owned by the Calabria family, which is home to vines that were originally planted in 1914, and which were restored by owner Bill Calabria.
"Someone was working hard in 1914 when they planted these vines, and we've done our very best to maintain the integrity of the fruit they produce," said Bill.
"This wine represents more than commercial success for me. I am only the caretaker for a small piece of the earth that will long outlive me, so it is important I work hard to preserve these vines and remember the families before us that made sacrifices to develop the magnificent vineyard that stands today."
The family bought the two vineyards in Nuriootpa, in the Barossa in 2010, but it wasn't until two years later that the vines started to produce a grape of a high enough quality that satisfied the family winemakers: the 2012 vintage of The Iconic was released last year.
"The Iconic means a lot to our family, and especially to my father," said Sales Manager, Andrew Calabria.
"His goal in restoring the centenarian vineyards was really just about putting the love back into the vines. They are old, brittle and incredibly fragile, and we all feel privileged to be able to not only touch and care for something that is 100 years old, but to be able to then develop a superb wine from those vines."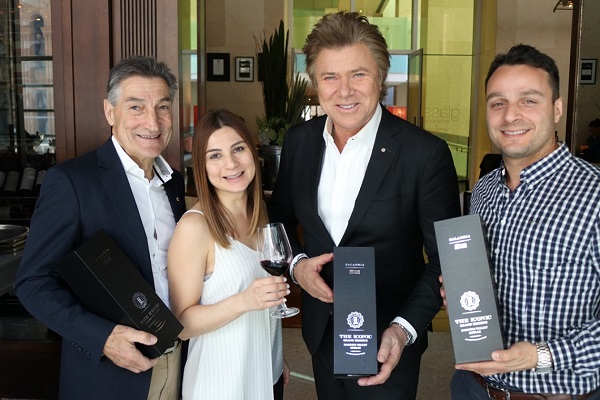 In February 2013 the grapes for this vintage of The Iconic were handpicked and sorted, before being was fermented in traditional open vats for seven days before being pressed to barrel. The wine then matured in predominantly French oak for 18 months prior to being bottle-matured for a further 12 months before labelling and release.
Winemaker Emma Norbiato described the wine as being, "Vibrant red with a dense hue in appearance with seductive and alluring characteristics. Brambly forest fruits and blackcurrant aromas weave through layers of classy oak. A tannic volume and density that carries across the entire palate, with fine grained tannins revealing white chocolate appeal."
Andrew added: "We're thrilled this wine has already received an international trophy from the largest officially recognised wine competition in the world, AWC Vienna, along with four gold medals from various wine shows, and we cannot wait to share this special vintage with consumers.
"It has been tough work restoring these vines to produce such a high quality product, but for us it is all about continuing to nurture these old vines for future generations to experience the joy they have given to us and embracing the history they contain."
The Grand Iconic Reserve is also described as being 'authentically Barossa' and has been crafted with longevity in mind with the family saying it will reward medium-term cellaring for 10 to 20 years.