A Classic Version for Margarita Day (22 February)

Glass: Margarita
Ingredients:
• 60ml Tequila
• 30ml triple sec
• 30 ml fresh lime juice
Method: Shake all ingredients with ice and fine strain into a chilled glass with a salted rim. Garnish and serve.
Garnish: Salt rim and lime wedge.
Comments: For a Tommy's Margarita, simply replace the triple sec with 15ml of agave syrup. Shake and serve the same way.
Like many classic cocktails, the exact origins of the margarita and its inventor have been lost in apocryphal stories and hearsay, though there are more than a few who lay claim to the honour.
The first known publication of a margarita recipe was in the December 1953 issue of Esquire, which was a recipe requiring a single ounce of tequila, a dash of triple sec and the juice of half a lime or lemon. Similarly, a recipe appeared in My New Cocktail Book written by G.F. Steele and published in 1930.
And again, a drink called the Tequila Daisy was mentioned in the Syracuse Herald as early as 1936 – incidentally margarita is the Spanish word for Daisy, which was in turn a common nickname for someone called Margaret. This feeds nicely into the theory that the margarita was a Prohibition invention that cropped up as people drifted south of the border seeking better drinking holes.
There was a pre-Prohibition drink called the Daisy, made with brandy, which was apparently reborn in Mexico with local liquor, i.e. tequila. Then, as Naren Young points out in his seminal article on the cocktail (published in Imbibe), there is the Picador, which is made with tequila, lime and Cointreau, as well as the fact that the Sidecar is an exceptionally similar drink – albeit with lemon juice and cognac.
There are many other versions of the tale, usually involving drinks made for famous dancers, vintage 'it' girls, and starlets, all with variations of the name Margaret, that were so delicious they were named for the beauty that first drank it.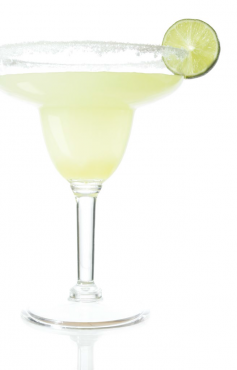 The most common "named for a historical identity" story involves Dallas socialite Margarita Sames, who apparently created the drink on a whim at one of her lavish parties in Acapulco in 1948 – unfortunately Jose Cuervo was already running ad campaigns for the  Margarita in 1945, so she's out of the running.
There are countless others, however, as Young points out, the lack of cocktail culture in Mexico paired with the fact that Mexicans simply don't drink margaritas, would imply that the classic tipple is in fact a Prohibition era twist on another drink, rather than a Mexican creation.
THE ORIGINAL
When you drill down, the margarita is simply a cocktail that consists of tequila, triple sec and lime juice, often served with salt on the rim of the glass. There are three main ways it is served: shaken with ice and on the rocks; blended with ice (like a boozy slushie); or straight up without ice.
So what is it that makes this the second-most drunk cocktail in the world (behind the martini)? According to Julio Bermejo, creator of the Tommy's Margarita (more on that in a minute), it is because the cocktail is a perfectly balanced mix of sweet and sour that makes you want to drink more every time you have a sip – and it is that balance that takes a while to nail.
Bermejo is a huge proponent of the necessity of high grade tequila – don't put something in your margarita that you wouldn't drink straight, basically. And while 100 per cent agave tequila should always be used, do your research – pure agave spirit is not in and of itself a marker of quality.
While silver or blanco tequila is the traditional spirit used in a margarita, there is a whole world of potential variations with reposado and añejo tequilas at the helm. Introducing the range of oaky, tasty notes that are on offer in those styles of tequila creates a unique take on the classic while not detracting from the sweet/sour balance that is the classic margarita.
Back to the Tommy's Margarita. Created by Bermejo, it forgoes the triple sec in favour of agave syrup in order to lower the alcohol content and bring the tequila to the fore of the nose and the palate.
The sweetener also works well given that the most common limes in Australia are Tahitian limes, which are naturally tarter than their Mexican cousins, which can throw out the balance of a classic margarita, necessitating some sweetening to meld the flavours.
While there has been a historically large variation in the styles of glasses in which a margarita can be served – including schooners – the traditional glass is the classic looks-like-an-upside-down-sombrero margarita glass, though cocktail glasses and rocks glasses are also common.
VARIATIONS ON A CLASSIC
Margaritas are ripe for experimentation, and we're not talking whether or not you serve it frozen or otherwise. Classic flavours of Mexican cuisine work perfectly with the drink, like at Lonesome Dove, Texas, where they muddle tequila with jalapeño and cucumber, for a refreshing a spicy point of difference.
Don't be afraid to look outside the box for herbal additions either. At Antique Taco, Chicago, they add rosemary simple syrup and a rosemary sprig garnish to create the Rosemary's Margarita.
Mezcal forward margaritas are also featuring heavily on menus around the world, with either mezcal floats on classic margaritas, or, like at Masa Azul in Chicago, with the spirits as the major player. Their Where There Is Smoke margarita is a play on words and flavours with the smoky mezcal hitting first followed by some fire from added serrano chilli.
Closer to home, Mi Corazon, Melbourne, has a whole section of its menu dedicated to margaritas, with the classic style lined up against some more interesting options – try the hazelnut margarita with vanilla – infused tequila and Frangelico; the chilli mango margarita with chilli-infused tequila, or the coconut margarita with coconut tequila, coconut milk and a toasted coconut rim. And the menu also hits on some key trends with the earl grey margarita (earl grey infused tequila, Licor 43, lime juice and peach bitters) and the espresso margarita (coffee tequila liqueur, Tuaca, creme de
cacao and a shot of espresso).
And then there is the option to go big, or go home – at Viktor & Spoils, NYC, you can order the US$69 Decadent Daisy with Don Julio 1942 añejo tequila, Grand Marnier 100th Anniversary, Del Maguey Santo Domingo Albarradas mezcal, and fresh-squeezed tangerine and lime juices.
TEQUILA VARIATIONS
As well as offering a solid range of flavour variations, there is plenty of potential for organising your margarita menu by type of tequila: blanco, reposado, añejo and special edition reserva. Julio believes that the classic cocktail is a great way to introduce drinkers to different styles of tequila in a non-threatening way (as compared to a straight up nip in a glass). And though he may be biased, Julio also recommends that the Tommy's Margarita is the best way to do so as it negates the interference of the triple sec on the nose, bringing the tequila to the fore.
Save
Save