Voyager Craft Malt and Cryer Malt have announced an exclusive partnership as the two companies look to bring more locally made malts to the brewing and distilling market.
That collaboration has kicked off with the release of the all-new light caramel Dexter Malt that's malted at Voyager in the NSW Riverina town of Whitton using Australian-grown Certified Sustainable barley.
Cryer Malt, the craft division of Barrett Burston Malting, will distribute Dexter Malt and will be adding further Voyager Malts to their portfolio in the future.
Voyager's Stuart Whytcross said in a media statement: "We've always had great respect for Cryer Malt and the work they've done to build and support the brewing industry.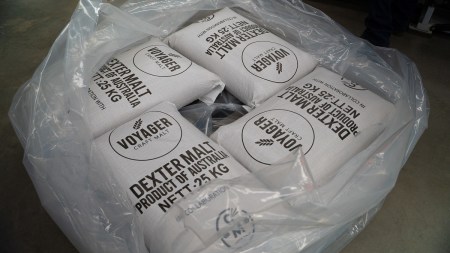 "Together, we have a much better opportunity to help shape the future of our industry, one that is both sustainable and forward-thinking. Our shared vision and values make this collaboration a natural fit, and we're proud that we've been able to work with the Cryer team on having a locally produced Dextrin malt available to Australian brewers."
Barrett Burston's director of sales and marketing Steph Howard added: "The development of a locally produced caramel malt is something that we are very excited about.
"Dexter malt marks the beginning of a partnership that we know will make a positive impact on both the brewers and distillers that utilise it and the industry as a whole".
The launch of Voyager and Cryer Malt's partnership with malt made from Certified Sustainable barley follows Bintani and Joe White Maltings collaborating with growers on opposite sides of the country recently to supply brewers and distillers with their own Certified Sustainable malt.
This story was originally published on Beer & Brewer, click here to subscribe to the weekly newsletter.