Carlton & United Breweries has joined forces with not-for-profit organisation GIVIT to deliver more than 25,000 cans of drinking water to some of the driest towns in Queensland and New South Wales.
The free drinking water will be distributed across Queensland's Southern Downs region from Warwick by the Salvation Army, while the Royal Flying Doctor Service will assist with distribution from a hub in Cobar.
Southern Downs Regional Council Mayor Tracy Dobie welcomed the donation as a real example of the true Australian spirit.
"It is heart-warming to see the level of support our region is receiving during these dry conditions, and this is not the first time Carlton & United Breweries and GIVIT have partnered to respond to a community in crisis," said Mayor Dobie.
"In the Southern Downs, the Salvation Army will oversee this generous donation from Carlton & United Breweries of more than 13,000 cans of drinking water.
"The Salvation Army team will ensure the donation is distributed to the people who are drought affected and need it most."
The free drinking water program for disaster relief was launched in December 2018 by CUB in partnership with the Queensland Government and GIVIT. In the 10 months since then more than 100,000 water cans have been distributed, to towns like Townsville after the devastating floods earlier this year.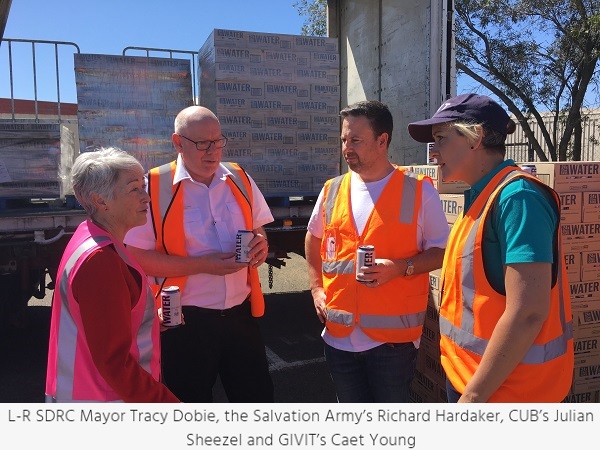 CUB's VP Corporate Affairs Julian Sheezel said 550 cases for Southern Downs and another 550 cases for Cobar had been dispatched from the Yatala Brewery outside Brisbane and will arrive Thursday.
"We helped launch this program to support Australian communities with limited access to drinking water, like those in the Southern Downs and around Cobar, because regional Australia has always supported us," Sheezel said.
"A drinking water program is a logical focus for our disaster relief efforts – water is a vital part of our brewing process and we've got canning capabilities and transport networks to make a program like this happen."
"This is a long-term initiative which will help regional communities for many years."
With both Queensland and NSW currently gripped by one of the worst droughts on record, GIVIT's Caet Young says providing clean drinking water is akin to liquid gold for regional towns.
"It's no secret our regional communities are doing their best to soldier on through this drought. However, this water, which is canned at CUB's Cascade Brewery in Tasmania, will go some way to relieve the pressure on personal water storages of farmers, small businesses and families across the region," Young said.
As well as the work of CUB and GIVIT, which connects those who need with those willing to donate, this water program relies on the generous donations of can manufacturers Orora, packaging suppliers Visy and cluster supplier GPIA.