Described as a 'bar with purpose', Daintree Sydney, which is based in the Rocks, is partnered with environmental charity HalfCut, to help aid reforestation efforts.
Tom Bulmer, Daintree Sydney's Beverage Manager, explains why this partnership came about.
"HalfCut has been working tirelessly as a social engine for change within Australia with a clear message that we have already lost 50 per cent of our rainforests through incrementalisation and we need to reverse this cost for the next generation. It is scary to think that this has started in Australia now," Bulmer says.
"We love Jimmy [Stanton-Cooke, HalfCut Co-founder and CEO] and he has cut straight to the heart of the problem."
Bulmer illustrates that the bar donates 50 per cent of all profits to the charity, and encourages guests to donate at table via QR codes.
"We keep these funds separated from the business with full transparency on a gofundme portal and intend to host many events and fund-raising activities to support the cause and to bring attention to what is going on," Bulmer says. 
"We have already raised $52,000 from within the initial fund-raising activities which translates to establishing 26,000 trees since opening our doors in July 2022. These funds are currently going toward a reforestation effort, Wawu Dimbi in the lower Daintree that was destroyed by cattle farming."
Bulmer also says that the HalfCut is working to train and employ people from local indigenous communities.
"As this work is completed, each lot will give custodianship of the land back to the Kuku Yalanji people as it should have been originally rather than selling these lots to property developers."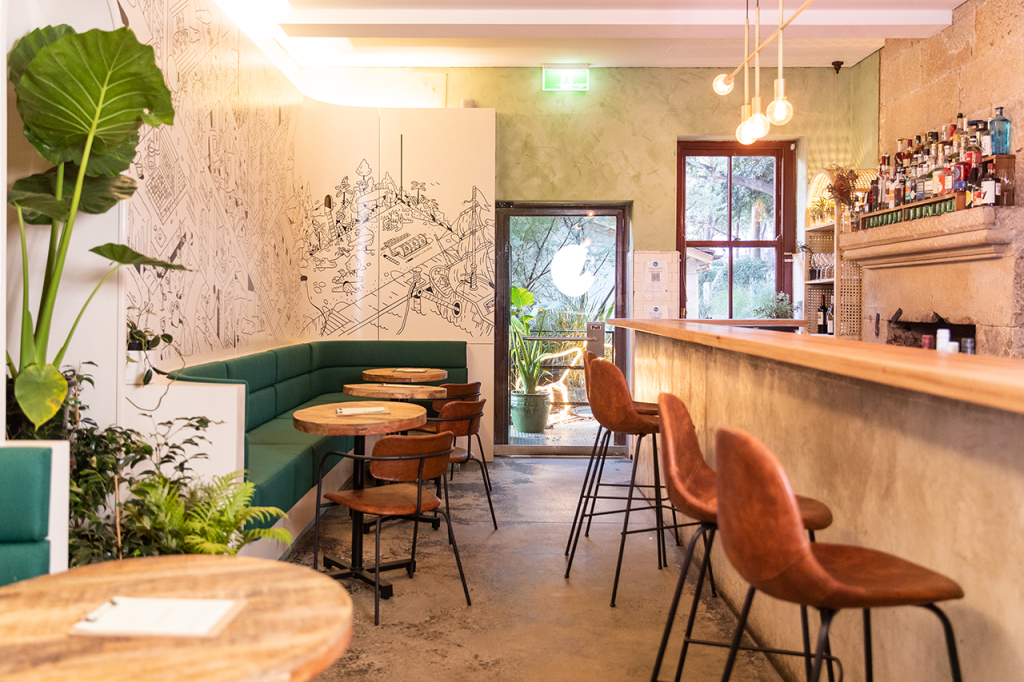 For Bulmer, this support for sustainability is now a crucial part of the bar's offering, and his understanding of good hospitality.
"The hospitality industry accounts for so much of the waste and the highest energy usage within city limits. For this reason alone I think we owe it to the world to be advocates for the restoration of the land that has given us so much," Bulmer says.
"We also must consider that it's our obligation because we are in a unique position to make this change. It's our responsibility to reverse the waste and focus on the next steps of sustainability by moving to carbon negative initiatives.
"Great hospitality has always been about your customers leaving happy and satisfied. Making the best drinks for your guests has always been about having enough of a cocktail vocabulary to satisfy them. Sustainability should be part of this vocabulary now, because there's no better feeling than knowing that the daiquiri you had is making a real difference in this world," Bulmer continues.
Read more about the bar's drinks offering here.
Beyond just fundraising, Bulmer and the team at Daintree Sydney are also trying to change culture surrounding drinking, with the menu featuring the 'carbon cost' of each item.
"Ninety-five per cent of our spirits are local, and the only international spirits are those that have strong charity or a sustainable focus," Bulmer says.
"All beer and wine have a focus on NSW locals and have a 'km travelled' next to their dollar price to consider the carbon cost of your choice. On your table you can use a QR Code to look at the money we have raised together and the real difference it is making.
"I can't imagine not including this as a 'real cost' of the drinks we make. It's so frustrating to hear about 'sustainable venues' that use solely international products and don't consider the carbon cost.
"Now I'm not saying don't use international spirits, just make sure you appreciate the choices you make when you do. If you can drink local spirits such as Hickson Road which we pick up directly from the distillery in The Rocks, then you should."
Bulmer and the management at Daintree Sydney have also built this carbon cost system into an incentives scheme for the staff.
"As part of the stocktake the team is given a 'carbon cost' for the month on top of the stock sales report. We are linking a lower km for the venue to sales and reward staff as they reduce the kilometres travelled," the Beverage Manager outlines.
Ultimately, this approach has proven popular with consumers too.
"Guests have loved being surrounded by the positivity of the cause. It makes them feel like part of the change and they can engage with as much as they choose, but also it's just about good service and delicious drinks as well. For many it has been a feeling of 'it's about time' that bars have taken the next step," Tom suggests.
"Sustainability has to be more than a dehydrated lime chip on a cocktail, in fact we probably shouldn't be running a dehydrator five days a week either. We have to start thinking about sustainability beyond the drink, as the majority of our waste comes from that which the customer never sees," Bulmer concludes.
Daintree Sydney is connected to The Keel, and is located at 106b George St, The Rocks, Sydney.
The bar is open from 4pm to 12am, Tuesday to Saturday.