Danny Celoni is three months into his role as the Chief Executive Officer of Carlton & United Breweries and he sat down to talk to The Shout about his vision and strategy for the business and the important role that CUB plays in the industry as a whole.
Celoni spent 17 years at Diageo, working in a number of key roles both in Australia and overseas before moving away from the alcohol industry to become Chief Commercial Officer and then CEO of PepsiCo, so he brings a wealth of experience to CUB and he's looking to use that experience to help accelerate growth, premiumise the portfolio and continue being a strong partner to the trade.
He told The Shout: "This is a great business with great momentum, and I mean it really does have momentum. We've got a strong portfolio of great brands like Great Northern, VB and Carlton Draught. We've got a strong RTD portfolio with Brookvale Union and strong seltzers brands plus Cruiser and Woodstock continue to go from strength to strength. So at a really high level we're in a great place and the portfolio is strong."
THREE MONTHS IN
Celoni started his new role in February and he said his targets for his first months in charge were threefold: "Number one was expanding on the Asahi agenda for the CUB business and that's one of accelerating growth. So my lens is about how do we accelerate growth, both volume and value across the channels we work in both off-trade and on-trade?
"Number two is how we continue to premiumise, the portfolio but also deliver a portfolio that resonates for different consumers in different occasions.
"And number three is really around how we continue to be a strong partner to the trade and how we are focused on growing categories, expanding penetration, driving frequency. Because while yes, we do compete in an environment, really the exciting place to be, especially when you're a market leader and I say that humbly, but when you're a market leader there are opportunities to grow the pie: grow the pie for our retailers and for our on-premise customers. Then the beneficiaries are the industry and yes, sure we will win within that, but if we stay focused on that, collectively, the industry benefits.
"So the first three months is really about getting out meeting the people across the country, where people are our number one priority and resource in this organisation, and they're doing a fantastic job and I'm really lucky to have joined this team who are already doing really well.
"Number two is meet all our great partners, both on-premise and off-premise and I've really focused in on customers, listening to what we've done well, understanding their issues, understanding their opportunities, understanding how we can improve. We've listened to that, we're taking that into the business and we're going to double down on that feedback.
"And number three is getting a tight strategy; Asahi has got a real multi-beverage agenda and that cascades down to CUB. We've a really strong non-alcoholic beverage portfolio that is driven through our ALB business, but we execute some of that as well. So the intent was how we get a broad portfolio focused on a laser sharp strategy that we can mobilise behind."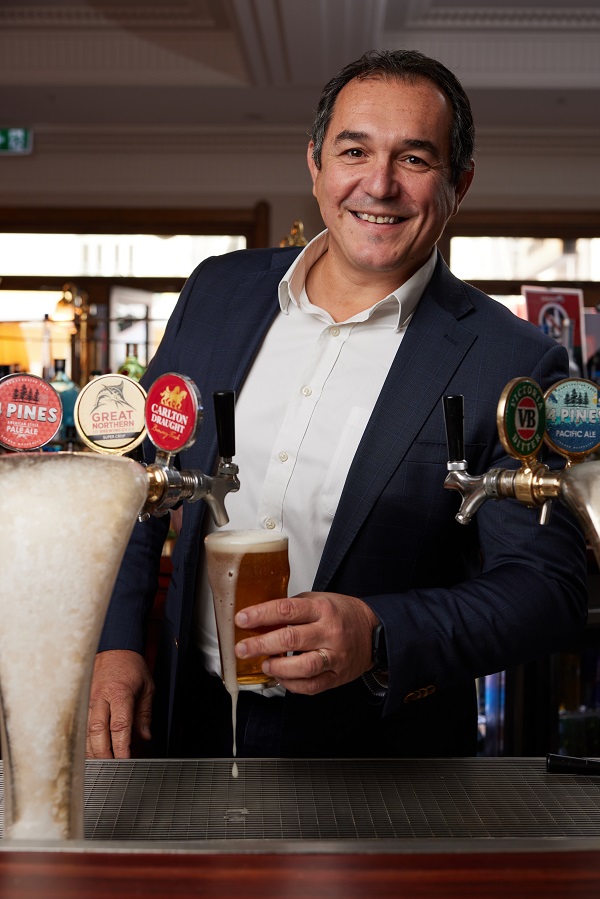 THE VISION
Speaking more long-term about his vision for CUB, Celoni told The Shout: "My vision for the business is to turn a really good organisation into a great organisation."
He added: "The way we're going to do that is step change our relationships with our trade partners, but also being at the forefront of understanding what consumers want, need and bringing that to life in a fast-track manner, and in a manner that actually leverages the scale.
"But ultimately, my vision for this business is that we become an indispensable partner in the industry, a partner that understands our customers' needs, understands our customers' challenges, our customers' opportunities, and where they genuinely feel like we are a seamless vertical in their business. We aspire to be an indispensable part of our customers' businesses.
"By understanding their strategies really well, connecting our strategic agenda, there will always be common commonalities between the way we work to really identify those and double down on those and collaborate with those in the right way. But I hope that if we do that properly, the industry benefits, not just about our business.
"My intent focus is to grow categories, to grow the pie in the on-premise, converting more occasions, creating more nights in the on-premise, so we're seeing more throughput. Some outlet owners might have two or three busy nights a week, our objective is 'how do we get two or three to three or four?' So we get more bums on seats, more consumers through the doors, and as the pie grows their turnover grows as a benefit, we all benefit. CUB's role is to always show up for our customers any way they need us to."
PANDEMIC RECOVERY
As we all know the COVID-19 pandemic has changed many aspects of consumer behaviour and their drinking occasions and Celoni said CUB has recently conducted research that has helped the business to understand consumption and occasions. He said this has helped the business to see "significant opportunities to tap into new areas and work with out retail partners on joint solutions to go after these".
He added: "I think there's real opportunity for us to create category strategies that are fundamentally focused on getting the right level of penetration and frequency up."
Looking at on-premise, Celoni told The Shout: "What we've seen is that during the pandemic, there has been more investment in the household, more investment in the entertainment in the household. So people have started to get comfortable with making home their mecca of entertainment, and on-premise environments suffered considerably. It got to a point where it's 30 per cent down on pre-pandemic periods. Now we're seeing that get back to slightly above 90 per cent, but the opportunity still exists to create more occasions and earn our consumers' right to leave their house and take that journey into the on-premise. We need to earn it, because what we're seeing today is, they have created some of those occasions at home, or in many cases those occasions just dissipate.
"So it's our intent now to work with the industry on understanding how we can leverage the assets that we've got and how we can get more consumers visiting more outlets, more frequently, by making sure that we're providing the right entertainment or we're partnering with them on the right initiatives certain nights, or provide providing the right incentives. We're making it our obligation now, to partner with on-premise to help drive footfall and we're taking a frontline role on that."
CUB and ASAHI
Following Asahi's acquisition of CUB, the Asahi Beverages business needed to recalibrate in order to ensure cohesion and understanding of how it now operates in the Australian market and with Australian customers.
Celoni explained to The Shout that this means there are three business units in Asahi Beverages: CUB, which now includes all the alcoholic beverages of the old Asahi and CUB businesses. Asahi Lifestyle Beverages (ALB), is the non-alcohol part of the portfolio and then there's Asahi Beverages in New Zealand. Each one of those business units has its own CEO who reports in the Asahi Group CEO, Robert Iervasi.
"The operating model is really good," Celoni said. "It gives the business units autonomy where we need it, but at the same time we get the leverage of scale of Asahi, the capabilities of Asahi, the efficiencies of Asahi, but ultimately Robert gives us the opportunity to run these businesses independently.
"So it's a big company with a multi-beverage portfolio and it gives us the ability to approach the industry with an almost one-stop-shop solution to alcoholic beverages, certainly when we talk about beer, RTD and cider and non-alcoholic products and that gives us the ability to offer more of a portfolio solution to our customers."
That portfolio solution does see the business units collaborating in certain areas, with CUB selling some of the ALB products like post-mix and coffee into the on-premise.
It is clear from speaking with Celoni that he has huge respect for what the previous leadership team at CUB has done for the business, and he is not about making a radical shake-up. He simply wants to make the organisation better. Better in terms of how it operates, its focus on innovation, sustainability and gender equality.
He told The Shout this latter aspect is a very important one for him and the business and that 41 per cent of the Asahi Beverages leadership team is female and the business is continuing to focus on getting that agenda even further ahead.
"We're now working to ensure our processes, our capability agendas, our support structures enhances the agenda and I'd love to learn from other industries how we can accelerate that."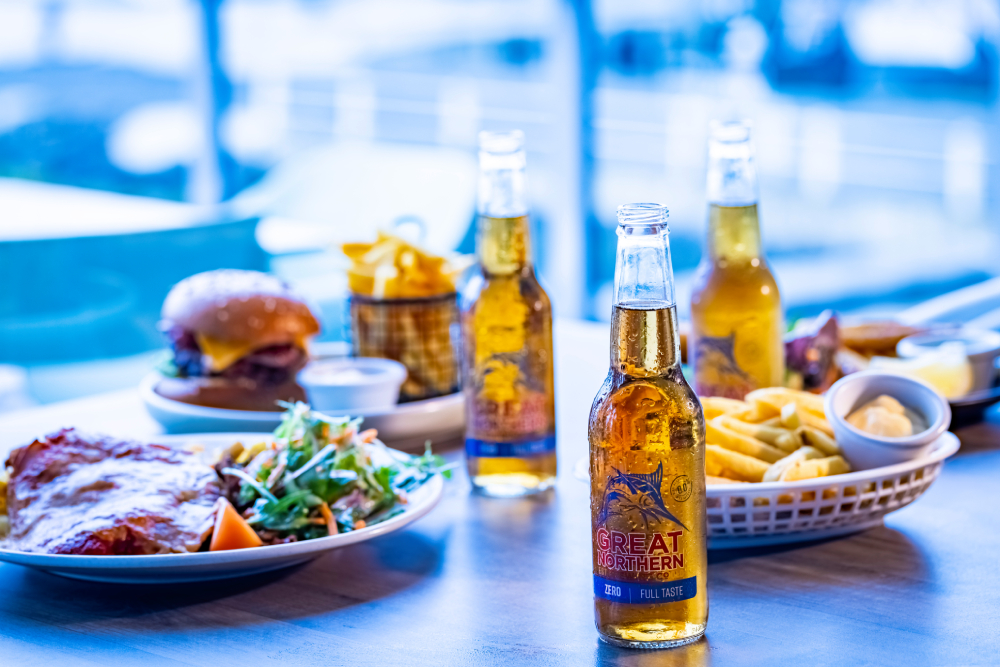 But looking holistically at the CUB business, Celoni is keen to drive it forward as a market leader that can help the industry as a whole.
He told The Shout: "I've been really impressed with the way Asahi take a true long-term view. When myself or Robert talk about the investments we are making, it's with a long-term outlook in mind. Of course we have daily P&L pressures, but what I've loved about what I have seen thus far is Asahi's long-term view on the business.
"Ultimately, and I say this with humility, I really do, as a market leader we have an obligation to help our industry prosper, we have an obligation to ensure our retailers become stronger, we have an obligation to grow categories and we have an obligation to ensure that our on-premise goes from strength to strength.
"The starting point belief is that if we expand this pie, the industry prospers. And if we're doing a good job internally and making sure our portfolio continues to show up, we continue to unleash the full potential of our people, we continue to do the right thing by the environment. Then there's an industry that has longevity and we have that as a starting point and of course we will be competitive in the middle. That's a ticket to the dance, but I think with a much bigger agenda in mind and that's for a prosperous industry, with strong collaboration with our retail and on-premise partners."