Ballarat's Dollar Bill Brewing owners Ed and Fiona Nolle received a big shock when their name was called for Champion Australian Beer, last night at the Australian International Beer Awards (AIBA).
For a moment, Fiona stood up and appeared petrified with joy, before landing a big hug around husband Ed (both pictured above on the right with Cryer Malt's Steph Howard), who also couldn't believe that their Gold Teeth wild ale had just won the night's most prestigious award.
Shortly after walking off stage, The Shout spoke with the happy couple, who were still beside themselves with amazement at what had just transpired.
"I'm on absolute cloud nine. We had no idea, no expectations and we're just buzzing," Ed said before Fiona added: "It was truly an incredible moment… everyone was looking at us and smiling and cheering. The beer family is the best family. People have got your back and they want you to do well and heck that's a nice thing to have."
In a night that brought more than 850 representatives from the industry to the Royal Agricultural Society of Victoria's Victoria Pavilion, 35 trophies were awarded to breweries from across the globe.
But none had as much success as Melbourne's Hop Nation Brewing Co. Who took home Champion Victorian Brewery, Champion Medium Australian Brewery, Best Amber-Dark Ale for The Buzz American Red (draught) and Best Pilsner for their Rattenhund (draught).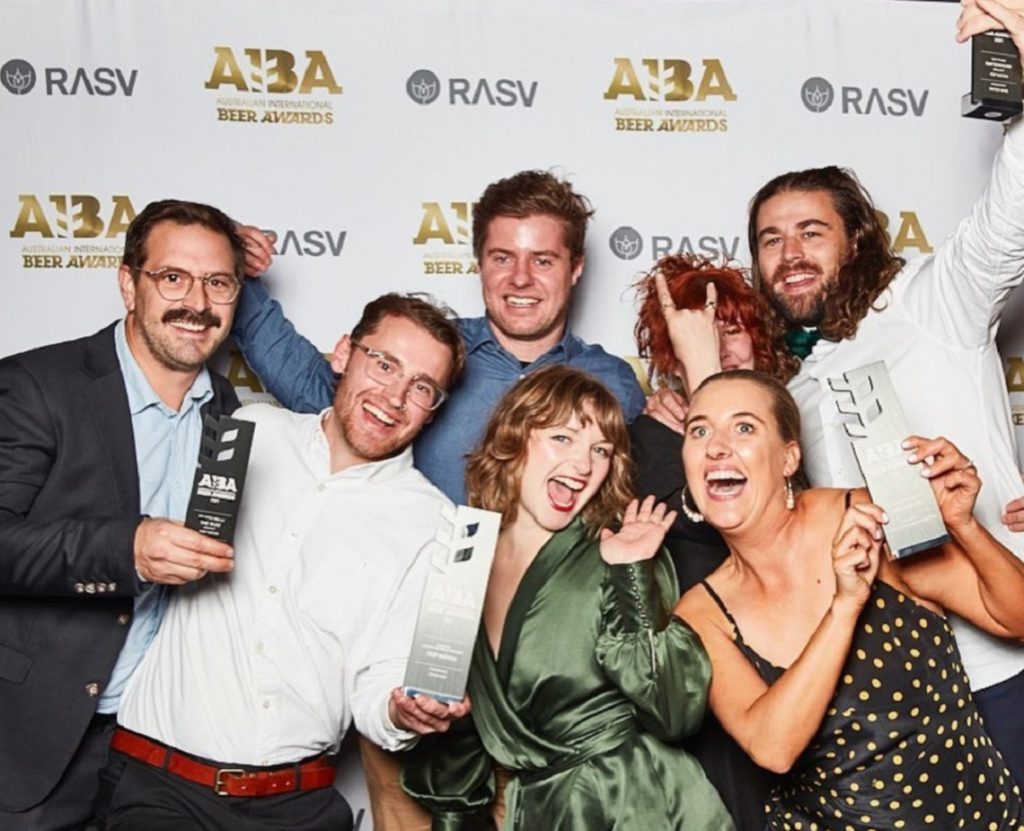 Co-founder Sam Hambour (pictured above on the far left) spoke to The Shout last night, saying after setting up and brewing in the new facility "had been a slog" but this recognition was the "pat on the back for the whole team that makes it all worth it".
"It's recognition for what we've been doing and we're all so happy. The recipes we've had for a while but the new facility has helped us get them up to the standard we always hoped for them."
While other founder Duncan Gibson (pictured above on the far right) added: "It feels super good, we're super stoked to have had so much success tonight and it's owed all to the whole team here."
It was a successful night for Victorian breweries, who snapped up 12 of the trophies, with Dollar Bill Brewing and Hop Nation taking out several awards alongside Valhalla Brewing, Two Birds Brewing Co., and Fixation Brewing Co.
Speaking of Victorian brewers' success, Hambour said: "There's a good community in Victoria, we chat and share knowledge a fair bit. Everyone is competitive but if you're short of something it's not hard to ring your neighbour up and ask for help. So I think with all the shared knowledge we're starting to bring the whole industry up."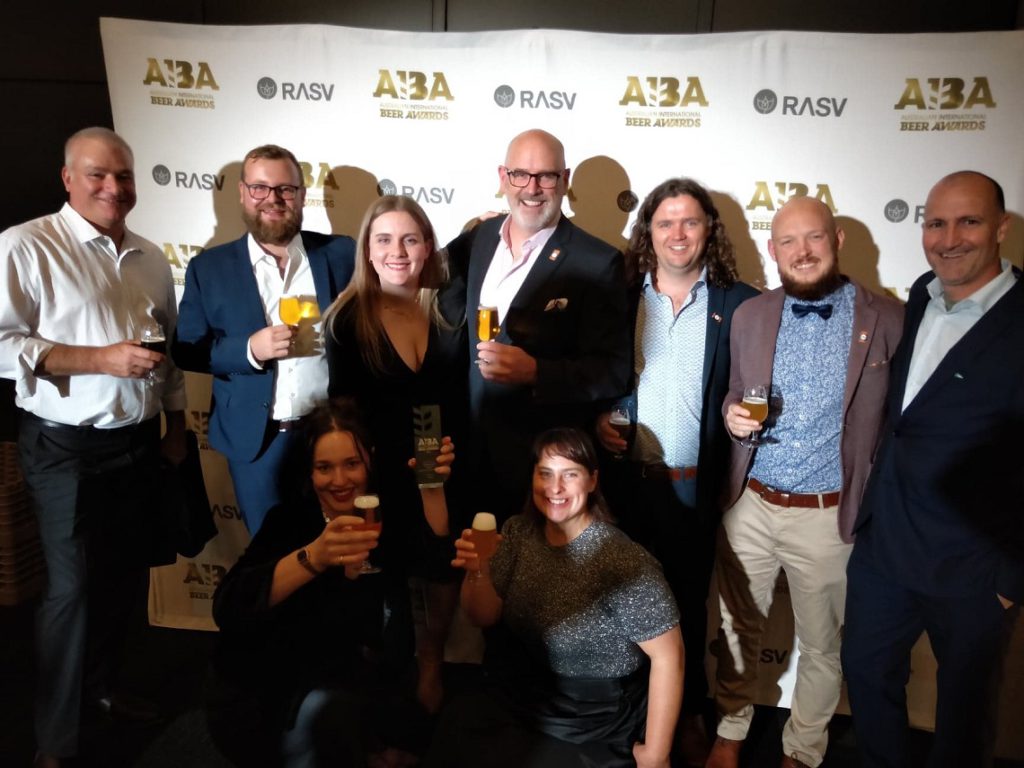 ACT's Bentspoke Brewery (representatives pictured above) added to their trophy case last night after starting off 2021 by taking top honours at Great Australasian Beer Spectapular (GABS) 2020 Hottest 100 Craft Beers with its Crankshaft beer, this time, winning Best Traditional IPA for its Sprocket Draught.
Other prestigious categories include Champion International Beer which went to Auckland's Deep Creek Brewing Company for their Sauvage, that had earlier in the night taken out the trophy for Best Wood- And Barrel-Aged Beer.
The 2021 AIBA award winners include:
Champion Australian Beer presented by Cryer Malt – Gold Teeth 2021 (packaged) Dollar Bill, VIC
Champion International Beer – Sauvage (packaged) Deep Creek, NZ
Champion Large Australian Brewery presented by Barret Burston – 4 Pines, NSW
Champion Large International Brewery presented by Barth-Haas – Deep Creek, NZ
Champion Medium Australian Brewery presented by Cryer Malt – Hop Nation, VIC
Champion Medium International Brewery presented by Kegstar – Nbeer, China
Champion Small Australian Brewery presented by Yakima Chief – Cheeky Monkey, WA
Champion Small International Brewery – Goose Island, South Korea
Champion Victorian Brewery – Hop Nation, VIC
Australian Gypsy Brewer Award – Valhalla Brewing, VIC
Gary Sheppard Memorial Trophy For The Best New Exhibitor – Hoppin' Frog, USA
Best Australian-Style Lager – Lager (draught) Two Birds Brewing, VIC
Best European-Style Lager (excluding Pilsner) presented by Weyermann – Lager (packaged) Mismatch Brewing, SA
Best International Lager – Coastie Lager (draught) Six String Brewing, NSW
Best Pilsner presented by Brews News – Rattenhund (draught) Hop Nation, VIC
Best Amber/Dark Lager presented by Joe White Maltings – Keller Door-Schwarzbier (draught) 4 Pines, NSW
Best Australian Style Pale Ale presented by Konvoy Kegs – Burleigh Twisted Palm (draught) Burleigh Brewing, QLD
Best New World-Style Pale Ale presented by Hop Products Australia – Cryotherapy Hazy IPA (packaged) Sunday Road Brewing, NSW
Best International-Style Pale Ale presented by The Post Project – King Road IPA (draught) King Road Brewing, WA
Best British or European-Style Ale (excluding IPA & Pale Ale) – Foghorn Hunter Kolsch (draught) Foghorn Brewery, NSW
Best Traditional IPA – Sprocket (draught) Bentspoke Brewing, ACT
Best Modern IPA – Lefties (draught) Cheeky Monkey, WA
Best Amber/Dark Ale – The Buzz (draught) Hop Nation, VIC
Best Porter (including Baltic Style Porter) presented by Weyermann – Valhalla Brewing Obsidian (packaged) Valhalla Brewing, VIC
Best Reduced/Low Alcohol Beer – James Boag's Premium Light (packaged) J Boag & Son, TAS
Best Non-Alcohol Beer – Tinnies Ultra Low Alcohol (packaged) Coles, VIC
Best Wheat Beer – Lowen White Beer (packaged) China Resources Snow Breweries Co, China
Best Belgian/French Style Ale – Le Petit Biere (draught) Stone & Wood, NSW
Best Fruit Beer presented by CHR Hansen – Gold Teeth 2021 (packaged) Dollar Bill, VIC
Best Wood And Barrel-Aged Beer – Sauvage (packaged) Deep Creek, NZ
Best Design – Label/Surface Graphic – Stubbie Refreshing Beer 330ml Pinnacle Drinks, NSW
Best Media presented by The Crafty Pint – James Atkinson, NSW
Consistency of Excellence Medal – Captain of the Coast (packaged) Pelican Brewing, USA / Obsession Session IPA (draught) Fixation Brewing, VIC