By Annette Shailer, editor Beer & Brewer.
Swinging open its doors last week is Freddie Wimpoles, a craft beer destination located in the former George Hotel in St Kilda, Melbourne.
With 13 rotating craft beers on tap, New York-style deli food, a welcoming hunting lodge with neon-lit American diner atmosphere, a poolroom and a jukebox, this is one venue worth checking out.
Liam Ganley (The Fifth Province, Lemon Middle and Orange) and Scott McKay are behind the rejuvenation of the historic venue.
"After taking over the George, I started researching the history of the hotel; it has a very colourful and interesting past. I found the history of the original owner particularly fascinating and thought he should get recognition for his contribution to the hotel," said Ganley.
The George Hotel was first established in 1857 and purchased by Frederick Wimpole in 1873. The Wimpole family ran the hotel for almost 80 years. Wimpole, who became mayor of St Kilda in 1886, was an astute businessman and avid beer lover, so much so that he became director of the Melbourne Co-operative Brewing Company based in Abbotsford in the early 1900s, which was later amalgamated and became Carlton & United Breweries.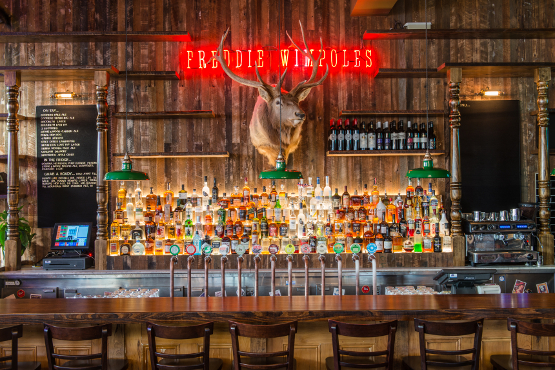 Craft beer will be first and foremost at Freddie Wimpoles, with the rotating taps pouring the best Australian and international craft beer, including names such as Feral, Mountain Goat, Brooklyn Brewery and Sierra Nevada. Plus with a takeaway license until midnight, the great bottled and tinny selection available can be enjoyed anytime.
For something stronger, 180 premium spirits will be on-hand as well as a tight cocktail list focusing on the classics but with their own unique twist; the wood chip smoked Old Fashioned is sure to please.
The drinks will be matched with classic New York deli-style fare, the best type of food to devour with a cold brew. The menu contains creations such as slow-cooked meat sub sandwiches, hot dogs, beef jerky and house-made pickled vegetables.
The entire space has been created using recycled and salvaged materials. Old floor joists and framing clad the internal walls, the bar is made from reclaimed doors and posts, and the shelving is constructed from reclaimed spindles and newel posts from old staircases. One wall is even tiled entirely with old beer cans.
With capacity for 150 people, Freddie Wimpoles hopes to be a destination for locals and visitors alike with monthly tap takeovers and a calendar of planned events.
Photos by: Eugene Hyland.