The Great Australasian Beer SpecTapular (GABS) is readying for its return to Sydney next weekend, which will see a huge range of brewers come together in the name of celebrating craft beer.
The 2022 GABS event features 117 brand new festival beers, brewed exclusively for GABS and so can't be found anywhere else in the world. Event organiser, Mike Bray, said this year the lineup of brewers is bigger than ever, with 75 breweries involved in the Sydney and Melbourne events.
Melbourne has traditionally been the biggest city for GABS, with 20,000 attendees recorded in previous years. Bray said the Sydney event has been more of a "best kept secret", but hopes that a number of elements will change this in 2022, including the move into the CBD from the previous GABS location in Sydney Olympic Park.
"Being able to host GABS at the ICC in Darling Harbour will just make accessibility that much easier for everybody in the city," Bray said.
"We've also added a Friday night session, starting at 5:30pm, so that's a great opportunity for city workers to roll down the hill into the ICC and have a fantastic Friday night of beer, wine, gin and whisky."
Another unique element for the 2022 festival this year, according to Bray, is the offering and activations of the brewery exhibitors. He described things like Balter's 'Tins of Glory' tinnie hurling competition, Bentspoke's roller racing challenge, and Ballistic's Paint and Sip workshop, where the best artworks will have the chance to be featured in a future Ballistic can design. There's also a three channel silent disco by iHeartRADIO, a five metre high Dinosaur at the Mountain Culture stand, and roving entertainment, among much, much more.
But Bray said the main highlight will be those 117 specially created beers, which showcase how creative Australia's brewing industry can be. In this lineup there is something for everyone, from no and low ABV through to high strength brews, beers influenced by desserts like lemon meringue and New York cheesecake, gluten free options and more.
As Bray said: "The brewery exhibitors have really gone to a level we haven't seen before…it's really all happening."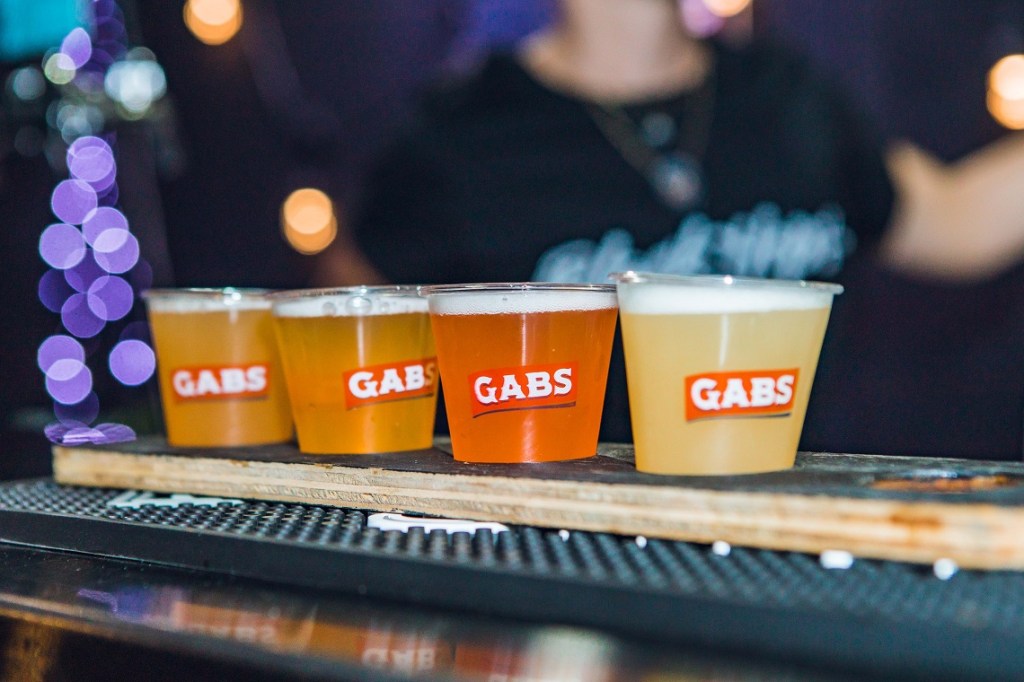 While GABS is known as a great place for the brewing industry to connect directly with craft beer loving consumers, it's also a unique opportunity for those in the industry to connect directly with a huge range of small and independent breweries, and find out what trends are impacting them.
"It's a unique opportunity for people in the industry to actually come together under one roof on one day and not only be able to sample a greater range of product from a ranging perspective, but also connect directly with the breweries," Bray said.
"There's 14,000 square metres of craft breweries in one place at one time. There's breweries you may discover that weren't on your radar, that are making trending beers and are really connecting with consumers – this gives you the opportunity to engage with them, taste the product and discuss potential future opportunities.
"It's also a great way to see where the industry is at and where it's going, by looking at what the breweries are thinking across that range of 117 beers. You can see that last year, oat based beers were really trending in our festival beers and that then came through in the rest of the year's trends."
Despite making a triumphant return to Sydney last year, and also enjoying the elimination of pandemic restrictions, Bray said putting together GABS this year has still been quite challenging. Freight costs, logistics and the ability to find enough staff and volunteers have all been impacted.
"It's still extremely challenging this year to put on events, but our biggest thing is that hospitality and events is an industry that's been really hard hit, so it's important for us to go to consumers and build this incredible opportunity to come out and support the industry. That's our appeal," Bray said.
GABS kicked off in Brisbane earlier this month, with the Sydney event set for 20-21 May. NSW residents can use their Discover vouchers to get discounted tickets too.
The Sydney event will be followed by Melbourne on 27-29 May and Auckland on 25 June. More information can be found on the GABS website.