In the first of a series of features around the build of the new Hickson House Distillery, Bars and Clubs talks to Barrelhouse Group's Julian Train about the venue's concept, the challenges and the progress.
Despite challenges including a COVID construction shutdown, workers being unable to attend the site and uncertainty over when the doors might actually be opened, there is still a massive amount of excitement in the Barrelhouse Group team over its Hickson House Distillery project.
After initially announcing the concept in February, the team has got down to working with designers, architects and builders to bring the distillery to life, and Co-Founder of Barrelhouse Group, Julian Train told Bars and Clubs, that while owning a distillery has always been a dream, they wanted to make sure the whole venue was right.
"It's been a long journey to get here, for me personally it's been a dream for 10 years to have my own distillery, so it's very exciting and has definitely been part of our vision for quite a while," he said.
"Mikey [Enright] and I are obviously hospitality people and we've had a reasonable amount of success at it and we feel pretty confident that we're pretty good at it. And what we both felt there was an opportunity to have an offering, what we loosely termed a proper bar and restaurant-feel within a distillery, as opposed to it being just a tack-on experience.
"So we really have put as much effort, thought and strategy into that side of it and we're passionate about the bar and restaurant side being enough of a standalone offer that people will want to come down just for that, let alone it being attached to a beautiful distillery."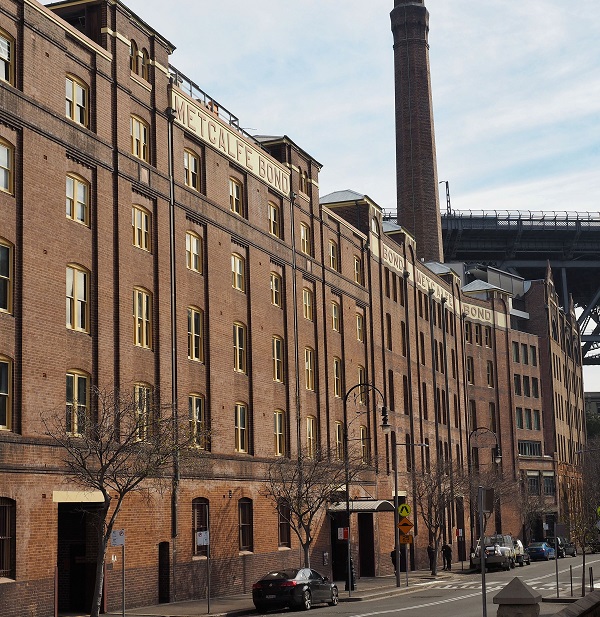 After finding Hickson House with its stunning architecture, heritage and accessibility, Julian and the team set up designing the interior and he explained, that it was a case of going with the team that had helped with their previous venues.
"We've got a really great team that we have worked with for a number of years, so have build designer, Josh Clapp from Steel and Stitch and Nick Frier from Complete Trade and we work with them on the layout, how it might look. Then we have an incredible interior designer Sara Mathers who has been working with us since The Barber Shop, she's done all our venues for us and has a fantastic eye that's aligned to the look and feel that we love as well.
"There's a lot of work early on making everything work logistically in those 2D renders, what's the flow going to be like, people doing tours and then overlaying that with Tim's need for a quite specific layout and obviously the safety standards.
"So there's a good amount of time with that and then Mikey and I get together and work through the bar side and the look and feel. We have never gone into a venue with a pre-conceived idea of what we want to build, we just go in and then the inspiration comes from the four walls and then Sara brings that to life.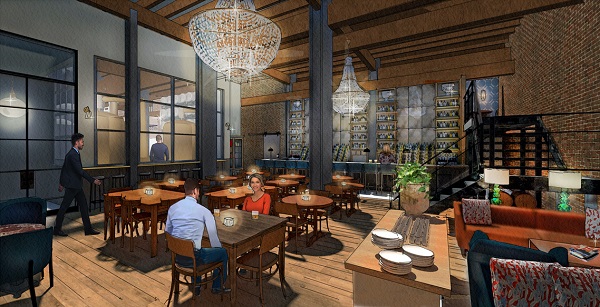 "From there Nick has this program called SketchUp and he's just a genius with that and he can say this door needs to move slightly over here, we have to move the bar there and he can make those tweaks instantly. It's amazing to sit down and work with someone like that, and it's great to have a team that we have a lot of trust in and that we've been working for eight or nine years."
So with the design in place, then comes the build and that's when problems started as Greater Sydney went into lockdown.
"Obviously we've had the COVID shutdown and so we are running behind where we would like it to be, so we're all very hesitant to put a date on opening at the moment," Train said.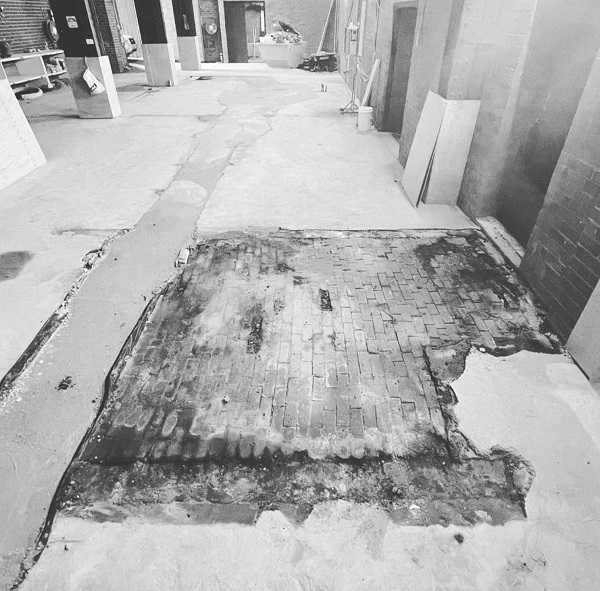 "We're having to do a lot of things the wrong way round. Normally you start a build in the ceiling and work your way down, but for whatever reason we haven't had a plasterer so we've had to reverse everything and go from the ground up. But I do feel like it could be a lot worse than it is and we're just taking it day to day.
"It's really nice to see things coming along, we've got the steel in for the beautiful mezzanine bar that we're building which is going to be a really high-end cocktail bar for about 35-40 people and that's going to be great for functions and events. It's a tiny little world up there but it's beautiful an it's quite cut-off so it's great to have that flexibility."
With the lockdown still in place and not showing much sign of easing Train did say they are potentially looking at a situation of having the bar ready but not being allowed to open it. However the distillery will be allowed to open, and the key focus is on the things they can control and in particular the next phases of the build.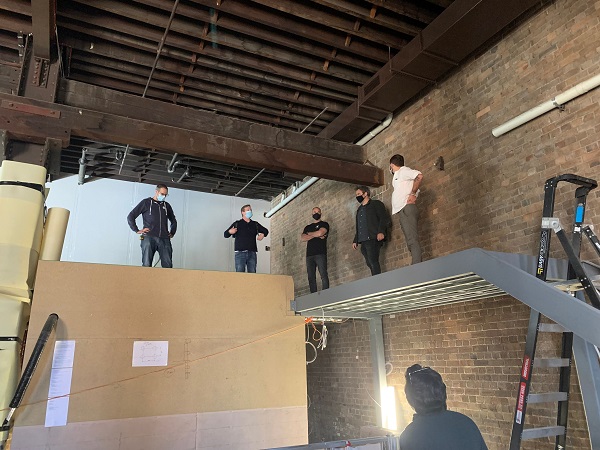 "In the next couple of weeks we're pouring the concrete floor, which is really exciting because we'll have our distillery floor completed and we'll be able to get our brew kit delivered and that's going to be a big occasion. That's a culmination of many years of hard work so it's going to feel great to see that coming in."
After that will come the stills and then the big windows that will separate the stills from the bar, but will enable customers to see the distillery from every point in the bar.
Despite the challenges the enthusiasm and passion Train has for this venue is unmistakable and he hopes it will bring excitement from the public.
"We're just going to have to wait until Gladys lets us open the doors and when we do open up I'm hoping there'll be a fair bit of excitement from Sydneysiders. We're going to need a lot of support, it's been a massive project for us, undertaken under pretty tough circumstance, so we're really hoping everyone else is excited about this as we are."
I don't think that's going to be a problem.
For all the latest bar and spirits news, subscribe to the weekly Bars and Clubs newsletter.