Last Sunday saw 400 visitors flock to the Pullman Hotel, Melbourne to attend the 'the largest gathering of Australian whisky ever'.
Boasting more than 30 distilleries with over 100 different Aussie drams on offer, The Whisky List's first Australian Whisky Show shone a spotlight on the nation's burgeoning whisky industry.
The show, which was held in partnership and concurrence with the Australian Distillers Annual Conference, had a waiting list of over a hundred people, and featured the likes of Lark Distillery, Archie Rose, Overeem and many more.
Oliver Maruda, Co-Founder of the Whisky List, told The Shout that there was something special about this event, the first of its kind in Australia.
"The atmosphere at this Whisky Show was the best we've ever had," Maruda said.
"The energy in the room was electric, and the attendees were so curious about all the whiskies and keen to meet the distillers, and more importantly, hear their stories," he continued.
And for Maruda, it was the lack of barrier between producer and consumer that made this event so exceptional.
"There is something truly magical about being able to chat to the distiller who hand-made the whisky you're sampling, and hear about the blood, sweat and tears that went inot making that delicious whisky."
Two exclusive bottlings were also on offer at the Australian Whisky Show: a Cognac cask finished Hobart Whisky, and a rum cask finished dram from South Australia's Iniquity Whisky.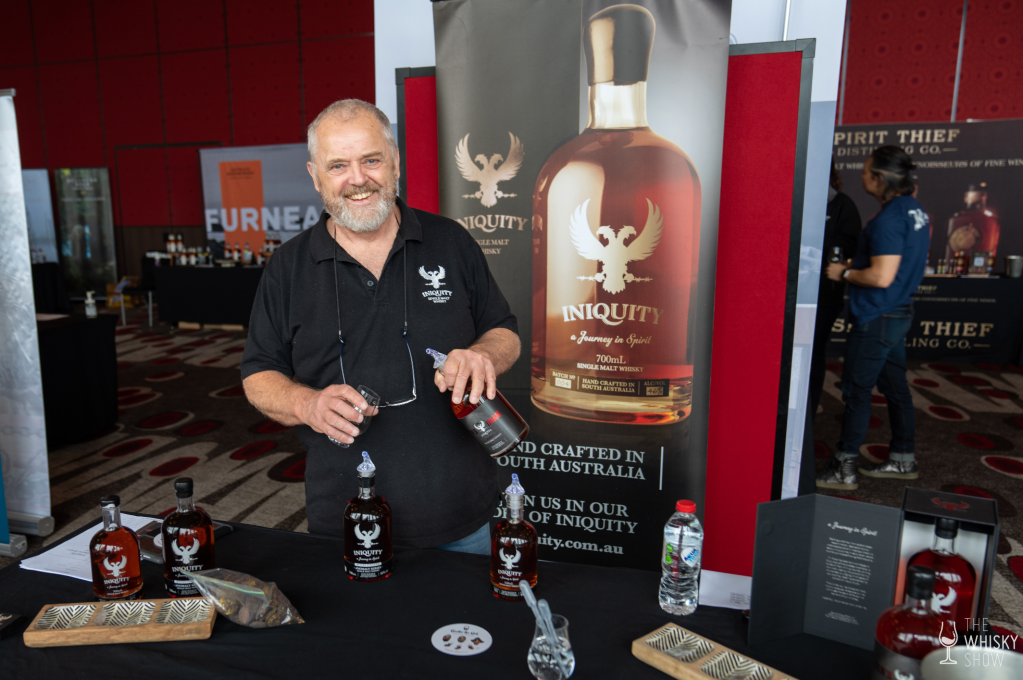 Other distilleries were also offering 'sneak peeks' of work-in-progress releases, including Overeem's Muscat Cask bottling and Backwoods Distillery's latest batch of its Red Gum Whisky (previous versions of which have sold out in minutes.)
David Ligoff, Director of Alchemist Events (who operate The Whisky Show) also agreed: there was something special about this show.
"We've been doing Whisky Shows for 12 years. Each year we always get a small presence of a few Aussie distilleries attending."
"COVID happened and finally we were able to do our first Whisky Show dedicated entirely to Aussie Whisky – which has always been a dream of ours," Ligoff said.
"The quality, the flavours, the diversity, it's incredible. And the feedback from the crowd has unanimously said this was our best show ever."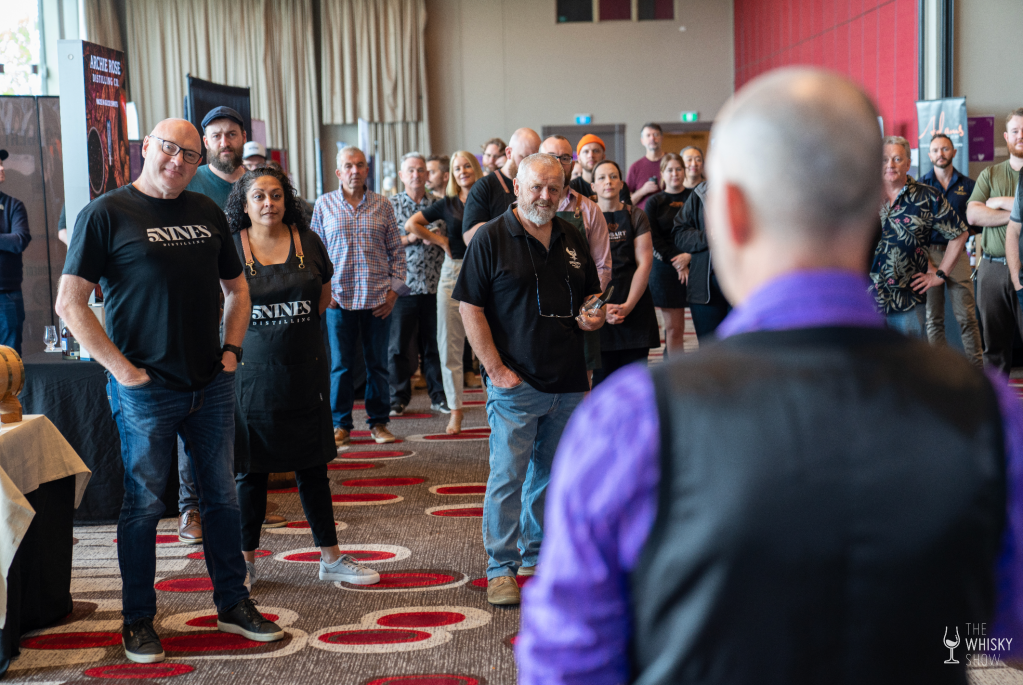 A whisky show entirely devoted to Australian spirit is an indication of how Australia's whisky industry has matured over the past few decades, expanding from a handful of producers to dozens of distillers across the country.
One man who has been there from the very beginning is Bill Lark, the 'Godfather of Australian Whisky', and arguably the founding father of the entire industry. Lark was at the Australian Whisky Show (as an attendee, rather than in a professional context) and gave his thoughts to Maruda:
"When Lyn and I started making whisky, we had no idea how much the industry would grow. Being in the room today surrounded by whisky-makers from all across Australia is just amazing to witness."
"It's just so wonderful seeing the entire industry flourish and seeing so many whisky drinkers excited about drinking Aussie-made," Lark commented.
Indeed, the trends Maruda noticed during the show reflect Australian whisky's expansion and maturity: "The price of Australian whisky is slowly reducing year on year."
"Consumers are on the look-out for taste versus value for money, which is why both the Hobart Whisky Signature and Hellyers Road 12 Year Old, being both around the $150 to $160 mark performed extremely well."
"The other major trend is that it's not all about Tasmanian whisky anymore," Maruda said.
"Australians make whisky in all states now and the love and support for distilleries across the board has massively jumped. Tasmania and Victoria had the largest presence at the show, with distilleries from NSW, WA and South Australia also in attendance."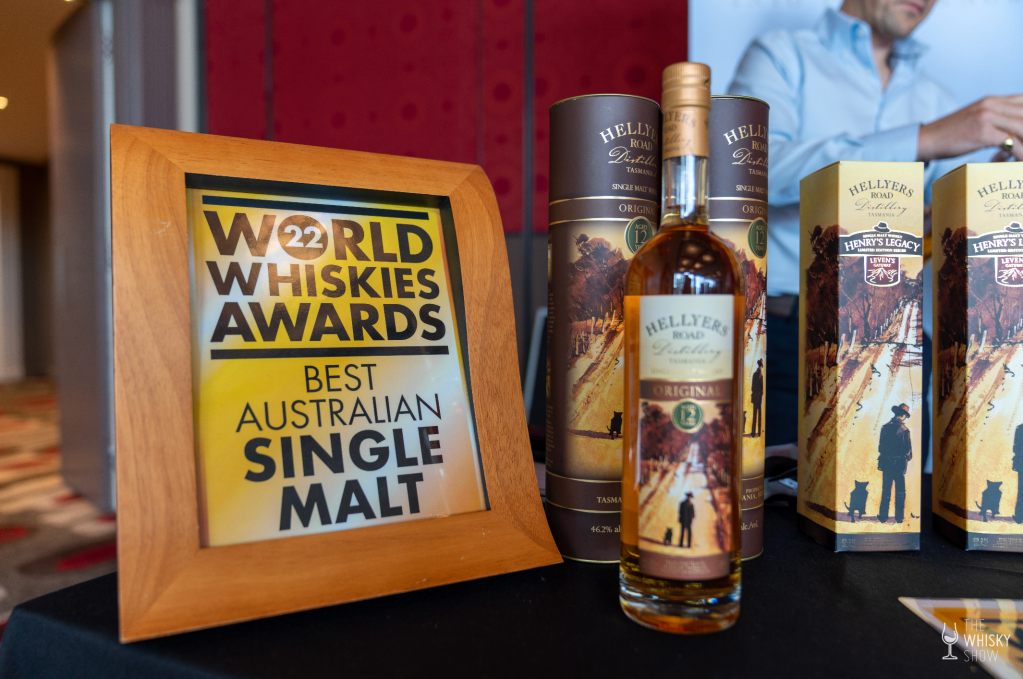 Drinkers were also invited to rank the whiskies they tried on the Whisky Show app, with the top five as follows:
Hobart Signature – 4.73/5


Adams Cask Strength Pinot Cask – 4.44/5
Archie Rose Rye Malt – 4.44/5
Hellyers Road Original – 4.44/5
Killara Tawny Cask – 4.32/5
An honourable mention went to Overeem Port cask, which just missed out at 4.30/5
The Whisky Show is touring state capitals, with dates of – Hobart: April 30, Sydney: May 20-21 (World Whisky Day), Adelaide: June 11, Canberra: June 25, Melbourne: August 6 and Brisbane: October 8.