Ivy Mix, co-owner of Brooklyn's Leyenda and co-founder of the Speed Rack competition, sat down with The Shout's sister title, Bars and Clubs, to talk about cocktail trends in the US summer and how to curate a stellar cocktail list.
With summer just ending in the US and the weather starting to warm up Down Under, we may well see some American trends make their way to Australia over the coming months.
For Ivy, one of the most surprising new drinks trends is the rise in beer cocktails.
"Beer cocktails are becoming very popular. People are topping things with lager rather than Prosecco. […] People will come in and ask for a lager spagliato. Spagliato had that big trend, and now people will be like, 'I want it with beer.' I don't even know where it's coming from but people are asking for it," she laughed.
We are already seeing a handful of Australian bars offering beer-based cocktails, such as Micheladas at Sydney's Bad Hombres, Boilermakers at Melbourne's Whisky & Alement, and the Peel Street Corpse Reviver with beer at Adelaide's Maybe Mae.
Another prominent trend has been the demand for strong and punchy flavours.
"I feel like everyone just wants high flavour, lots of flavour cocktails. Just as flavourful as possible. Anything spicy is going to be a number one seller on our menu. Anything with a fruit that someone can recognise and a spice, they don't even care what it is. We had an aji amarillo drink on the menu, which is a Caribbean chilli. No one has any idea what it is, but we said chilli afterwards and they were like, 'Oh yeah, that sounds great,'" Ivy described.
We've already seen a lot of enthusiasm for the spicy margarita, which we can expect to carry into other classics and new recipes.
It doesn't look like the moderation trend is slowing down any time soon, with consumers ordering low-ABV versions of drinks or switching between alcoholic and non-alcoholic drinks over the course of a night. Ivy has noticed the difference compared to a few years ago, where customers were reticent to pay much for a non-alcoholic cocktail.
"Maybe because of COVID and things opening back up, people just really want to be around people for as long as possible. You can only have so many drinks in the one night, so they just stretch out their night longer," Ivy commented.
She is also seeing bartenders reimagining the highball.
"A Tokyo high ball was very popular for a while, just Japanese whiskey and ultra-bubbly soda. Now people are starting to make their own sodas," Ivy noted.
In the masterclass sponsored by De Kuyper, Ivy demonstrated her recipe for a passionfruit soda, made with citric and malic acid, passionfruit liqueur, and soda water.
"You see people being able to offer a housemade soda at very low or no ABV, or we can put some sort of booze in it. [It's a] choose your own adventure. It's not quite so precious. It's not like 'No, you must have this particular type of single grain whiskey in this thing.' It's like, 'Yeah, put some gin in it!'"
Ivy warned against "samey" cocktail menus, and encouraged bar managers to introduce some variety.
"It is important to have a big array on your menu. We're in the era of one hit wonders and Spotify playlists, which is fine, but people have forgotten an album, which is what a menu is," she said.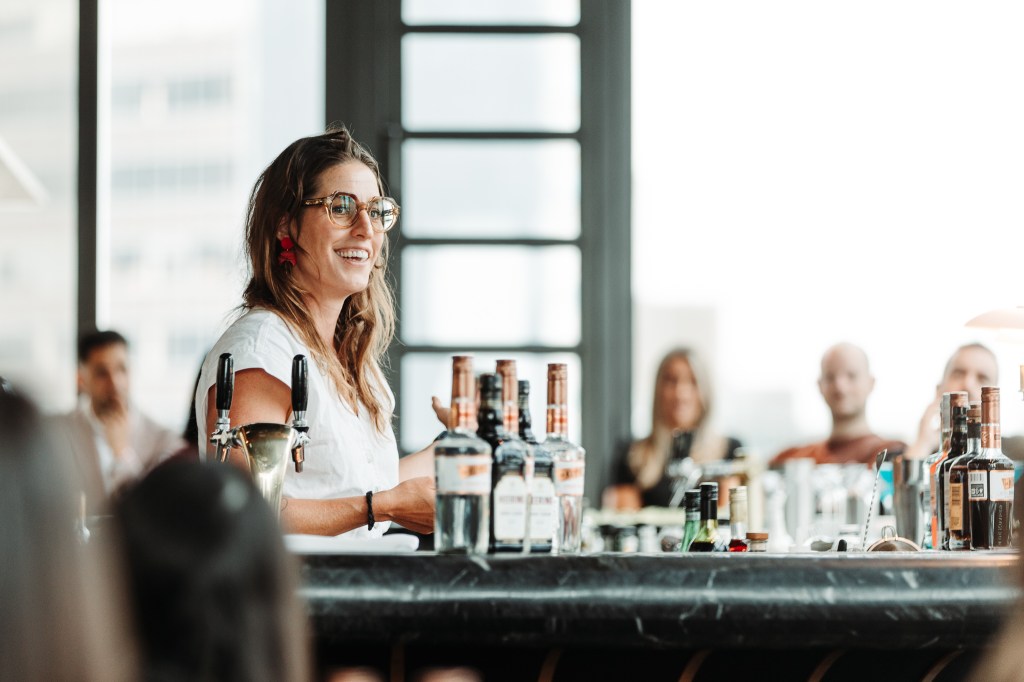 When creating a new cocktail recipe, Ivy explained that she first tastes the base spirit, and then describes the flavours from that spirit. From there, she builds on and contrasts those flavours with other ingredients. For Ivy, a cocktail should take the drinker through a journey, and she emphasised the importance of contrasting flavours in creating complexity.
"We're about to change our menu at Leyenda soon, and one of our bartenders is doing this lavender and Pisco and floreal [drink] and I was like, you have to put on the breaks. Something has to make a punctation mark here, there has to be an idea behind here that makes it more start, beginning, and end," Ivy commented.
Ivy Mix is currently touring Australia with De Kuyper, with tickets still available to the masterclasses in Melbourne and Brisbane.