Northern Beaches band Lime Cordiale have entered the world of brewing with the release of their new beer brand Largo Brewing. Louis and Oli Leimbach, the brother duo behind the band, have combined their love of the planet and easy drinking beers to bring Largo's first range to market.
Consisting of a sessionable Clean Lager and The Dawdler mid-strength beer, the new range tells a nostalgic story of the brothers' favourite pastime.
"Largo has a lot of us inside it. While the word Largo in music means slow, it holds another nostalgic meaning for us too," explains Louis.
"When we're not touring, there's nowhere we'd rather be than surfing 'til dark. That's what we did growing up and that's what we call a Late Arvo Glass Off. What's better than taking it slow with a beer to top it all off?"
Reflecting on their journey creating a tasty beer that leaves a positive mark on the planet, Lime Cordiale spoke to The Shout about how they got the ball rolling.
"Doesn't everyone want to create their own beer? It was surely on our bucket list, so when the opportunity came up, we jumped at it," Oli explained. "We spend a lot of time touring and drinking beers, so creating our own beer which is sessionable was pretty enticing."
Since their management made contact with Pinnacle Drinks two years ago, the brothers have been working away on the new release. Being carbon neutral was a deal breaker for the boys, and the creative control afforded by Pinnacle meant they were able to put their personal touch on the beer in more ways than one.
"Every Largo tinnie also features Louis' distinct handmade artwork while its name tells the story of two of our great loves – music and surf," says Oli.
"Louis designs all of our artwork, album covers, merch designs and tour posters – he always has. He's a lino-cut artist which is a very time-consuming process. He meticulously carves the design into a piece of linoleum, rolls it with ink, prints it and then colours it.
"We were on the road touring the USA and Europe so the tour bus was covered in these little chunks of lino. They were everywhere. In our clothes, in cups of tea… but you've got to let him have his space and do his thing.
"We got to be involved from start to finish across all the processes, creative and technical. It definitely feels like our lil baby."
Speaking about the environmental concern that went into the making of Largo, Louis explains how important it was for the beer to represent a fusion of Lime Cordiale's surf-rock energy and eco-consciousness.
"Largo is Lime Cordiale in a can. Crisp and clean in more ways than one, Largo Brewing has been developed to not only be bloody tasty but to also leave a positive mark on the planet thanks to its carbon neutral status.
"Being avid surfers and growing up in the bush, our environmental impact and carbon footprint is something we are very aware of and are constantly looking for ways to improve it.
"We've always loved the environment, but we're also very aware of the impact we are all having on it. As musicians who spend a lot of our time on the road touring, we have quite a large carbon footprint which feels like a little bit of a contradiction to our beliefs.
"We're on a mission to look at solutions for positive impacts, touring solutions, green riders and our everyday lives so when the conversation around Largo began we wanted to make sure all partners involved had the same mindset.
"Everyone's been working hard to make sure Largo does the least amount of harm, so we can enjoy the beer and feel good on all levels. Beer drinking should be a totally positive experience."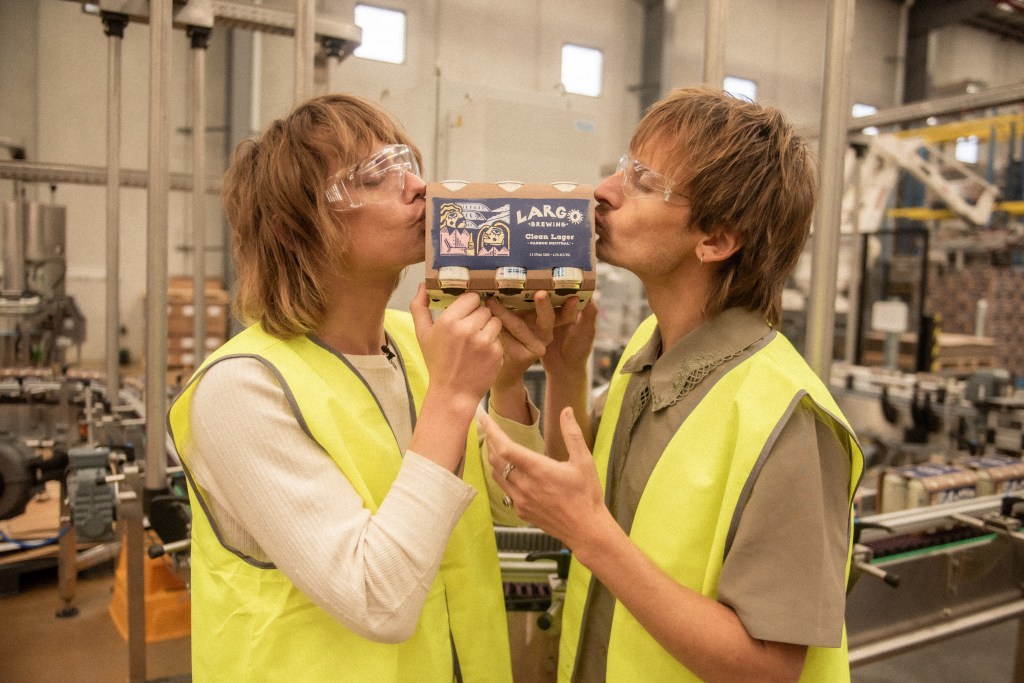 "Discovering processes at every step of production that allowed our beer to be carbon neutral and certified by Climate Active was heaps exciting," added Oli. "Plus, having an excuse to taste test beers wherever we went was very important.
"There are three main elements we have worked towards to help Largo Brewing become carbon neutral – production, reduction and offset. We use unmalted barley to save energy in the production process, the brewery we partnered with is powered by solar energy, we skipped the filtration process and used Ammonia refrigerant to cool the beer and almost 100 per cent of our waste is recycled, plus 100 per cent of our packaging is recyclable.
"In the parts we couldn't be completely carbon free, Largo Brewing invests in Australian carbon credits with Green Collar."
Lime Cordiale hosted Largo Brewing's launch party at the Harbord Hotel in Freshwater, close to where the boys grew up, with an intimate gig and Q&A session. Inviting friends, family and media to celebrate the launch of their new beer, Louis and Oli wanted to honour the importance of live music in pubs to both customers and emerging artists.
"Live music is extremely important, it's part of our Australian culture and playing in pubs is where it all began for us. We have a huge amount of respect for any venue, big or small, that's supporting live music.
"Some of the best music in the world comes out of Australia, and we really need to be supporting this as much as possible."
Largo is currently on tap at Freshwater's Harbord Hotel, North Sydney's Commodore Hotel and Newcastle's Mereweather Hotel, set to expand into popular Queensland and New South Wales venues in November.