By James Wells
Lion has confirmed its biggest investment in new product development this year with the launch today of Iron Jack mid-strength Australian lager.
Lion will release Iron Jack simultaneously on Monday 4 September in all states across both on-premise venues and off-premise retailers in three formats – 330ml bottles, 375ml cans and on tap.
"There is a market for contemporary and sessionable mid-strength beer, with really low bitterness and a bit of hop aroma to start with, but finishes really clean," Lion brand director, Jack Mesley told TheShout in an exclusive interview to launch the product.
"We know our drinkers are looking for new beers they can relate to and we've had some fantastic feedback about Iron Jack. We will be making every effort to ensure this beer available in every store and bottle shop right across the country.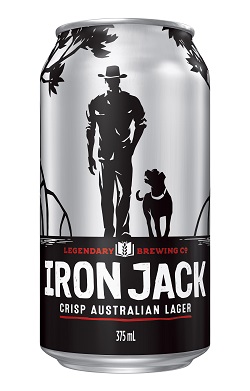 "We have identified that well-being and moderation are going to be the drivers of the category going forward. So for us, this beer is going to be all about targeting the classic beer drinker who is thinking more about moderation than he has before and also to help him to continue to engage with the beer category.
"The target drinker will be in the regional and large population belts in the outer metropolitan areas who head off to the bush regularly or get in their 4WDs on the weekend for a short trip into the bush to live that outdoor lifestyle.
"This is a new product – people are looking for more ways to be able to moderate and they want more brands to meet their mid-strength needs, we think we are meeting a need by having more offers in the mid-strength space alongside XXXX Gold, Hahn SuperDry 3.5 and Heineken 3. Off-promotion, this will retail for about $48 a case," Mesley said.
"The values of masculinity are what we have built around this brand – positive masculine values and positive statements of intent to appeal to every man. What we have tried to do is bring to life those positive values – strength, integrity, loyalty but we want to frame masculinity in a positive way."
In support of his loyal best mate, Iron Jack will give back and will also be partnering with charitable organisations to help working dogs right across the country.
"The use of the man and his dog in the brand imagery signals loyalty and is a short cut to a lot of those softer positive traits of masculinity. To execute this, we are going to partner with working dog charities and dog rescue organisations and little things like branded dog bowls for pubs so the tradie or the farmer that rocks up with the dog in the back of his work ute and is going in for a beer and can leave Blue out the front for a drink of his own," Mesley told TheShout.
One of the key innovations introduced for Iron Jack is the printing of the latitude and longitude coordinates of over 100 different locations under the bottletops that identify fishing locations, four-wheel drive tracks, camping areas and regional pubs throughout Australia.
"The whole purpose of the information under the bottletops is to get guys out into the wild and forge a reputation. We want them to wonder where that location is, and when they have found it consider getting active, grabbing some mates and heading away for a weekend. This ties into the 'What Are You Known For' brand tagline, which challenges guys to live an active and positive life."
The large scale launch of the Legendary Brewing Co.'s first chapter, Iron Jack, will be supported through a multi-channel advertising campaign, ongoing content and influencer activity, event activations and sponsorship, on and off premise activity as well as social media and PR.
"Rather than using a big TV ad, we are really building this from the trade out by working with our customers first. The on-premise is going to be super important for us and we have also had great customer conversations in retail as well with all of the big banners heavily engaged with launch plans ready to go for launch," Mesley said.
"In terms of the mid-strength category, XXXX Gold remains for us our number one priority and is still the biggest beer in the country and with The Ashes coming up we have some big plans around the cricket sponsorship and this remains a key priority. But with the launch of Iron Jack, we are seeing consumers increase their repertoire. So while XXXX Gold will remain a foundation product for a lot of the consumers we are talking to, we have also found they are looking for more options to moderate and we believe these products can work together. XXXX Gold lit that fire under the mid-strength category and the more choice we can give consumers to meet their wellbeing needs – the better for customers and the better for everyone."
"We know our drinkers are looking for new beers they can relate to are we've had some fantastic feedback about Iron Jack. We will be making every effort to ensure this beer available in every store and bottle shop right across the country.
"Our sales force is already in market having great conversations with our customers about this launch and we welcome all the trade to reach out to us at Lion if they're interested in getting their hands on some Iron Jack," said Mesley.