Victoria's night time economy growth leads all other states, thanks to Melbourne's boosted night life.
Research from the The Council of Capital City Lord Mayors (CCCLM)'s Local Government Safe Cities Network, shows that the night time economy of Australian cities produced nearly $134bn turnover for the 2017-2018 year.
CCCLM Chair and Lord Mayor of Hobart, Anna Reynolds, said that this ninth year of the study presents significant learning opportunities by analysing the capital cities and member-councils contributing to the report.
"This important research captures the scale, diversity and direction of the development of Local, State and Territory and National night time economy activity," said Reynolds.
"This research supports city councils' decision making by measuring existing strategies and developing policy that contributes to providing safe and vibrant city experiences."
There was growth in every state economy's turnover, with the highest growth seen in Victoria. Although Sydney remains the city with the most concentrated night time economy, its growth rate is only roughly half of that of Melbourne.
Melbourne's Lord Mayor Sally Capp said the city's high growth rate illustrates the success of the Victorian policies regarding night life.
"Our night-time economy is incredibly diverse with entertainment and food leading this revenue growth," Capp said.
"These figures demonstrate that Melbourne is Australia's events and cultural capital. We are a 24-hour and international city, with lots of people working and living in our city centre."
Chair of the City of Melbourne's Prosperous City Portfolio, Councillor Kevin Louey, said Melbourne should be proud of this growth.
"Our night-time economy continues to move from strength to strength, and we've been working hard with business and the community to activate Melbourne at night. The transformation of Melbourne from the early 90s to 2019 is incredible," Louey said.
The news of soft comparative growth in Sydney comes ahead of the Select Committee on Sydney's Night Time Economy's report to parliament by the end of this month, with NSW Premier Gladys Berejiklian already conceding that "it's time to enhance Sydney's nightlife."
Executive Director of the Sydney Business Chamber, Katherine O'Regan said the city's lock out laws are to blame for impacts on the night time economy.
"The lock out laws have negatively impacted business activity, jobs and Sydney's attractiveness as a major national and international tourist destination," said O'Regan.
"It's more than just changes around alcohol related venues, it's about supporting businesses that contribute to the city's night life including retail, restaurants, arts and cultural activities."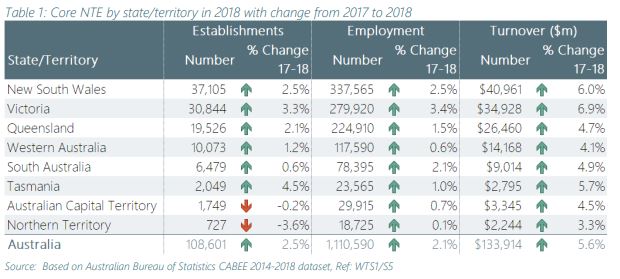 The research shows that all factors researched experienced growth, albeit softer than previous years. The number of night time economy establishments country wide grew by 2.5 per cent, increasing employment in the sector by 2.1 per cent, with a sales turnover growth of 5.6 per cent.
Of the establishments included in the night time economy, Drink venues account for only eight per cent, a figure which the report states continues to decline. Food and Entertainment venues, on the other hand, continue to grow at a substantial rate.
The report says that this data illustrates the impact of "rapidly evolving social trends" on cities night life economies, which shifts activities away from drinking.
It notes that "consumption of alcohol in Australia has recently fallen to the lowest levels since the 1960s, people aged between 18 and 24 are drinking less frequently than those in older age categories and the range of non-alcoholic after dark activities appears to be expanding."
The report is available in full to the public here.