There has always been a debate in the industry over how a menu should be constructed and presented to customers, with maximalist vs minimalist at the fore.
To be perfect honest, neither approach is really right or wrong – it just depends on the style of your venue, and the availability of your staff on the floor.
While the world famous Bulletin Place has a short, curated list on a piece of butcher's paper that hangs on the wall, another world famous venue, Eau De Vie (Melbourne or Sydney) has a hefty tome that features a cornucopia of cocktail options.
The former works with the bar's stripped back appeal, and the latter works because there is a bartender on the floor to guide every customer through their choices.
Entering the fray with their new menu is Melbourne's The Rum Diary – "a hard core, unapologetic rum flinging and rum drinking bar".
Owner Hamish Goonetilleke says that the venue has purposefully created their list as the exact opposite of the current trend for minimalism.
"We want people to be engrossed, involved, learn new things and most importantly be entertained by the list," he says. "And also enjoy the flavours of the drinks."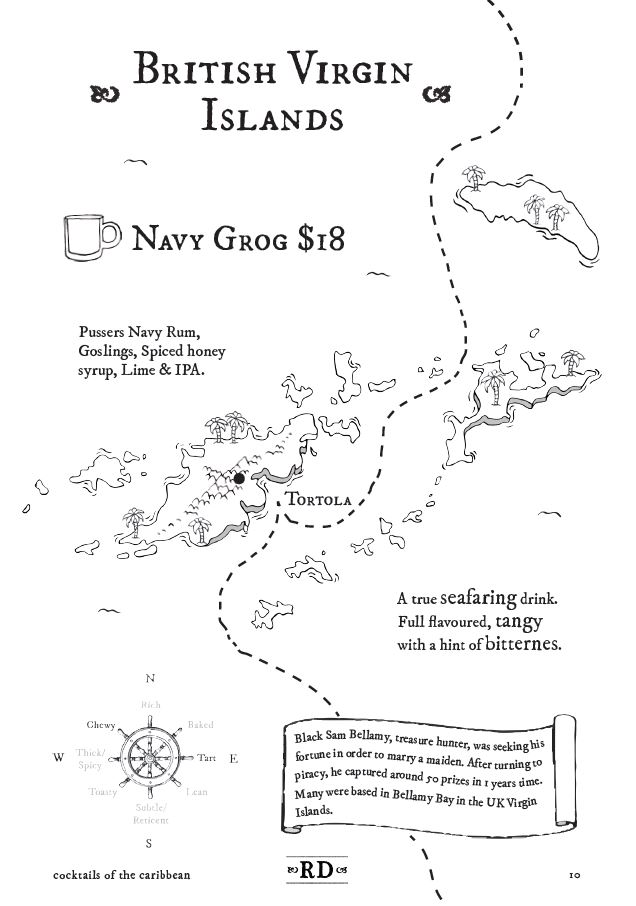 The list is limited to 12 cocktails, with each drink based on a country in the Caribbean. The style replicates old-style nautical pirate maps and guides the reader through – from "X" marks the starting spot" to "the treasure chest" at the end. Along the way there is plenty to catch the eye including ships, krakens and sea gulls – all in the name of fun.
According to Goonetilleke, he is very happy with the design – by Saxall Design – particularly the flavour wheel icon which appears on each page. The graphic is designed to help guide the reader toward the flavours they feel like drinking by pointing out what drinks fit where on a spectrum.
As for what is on the list, drink-wise, Goonetilleke says that when opening the bar three years ago he deliberately steered away from tiki drinks all together because he wanted to be taken "seriously".
"But now we've established a great culture at the bar it's time to go back to fun and really step it up a notch," he says. "This is about being creative, showcasing a passion and love of rum and the nuances of different rum styles, and bringing customers into a world where they feel like they are in a different place to enjoy themselves."
With months of work from the bar team poured into the cocktails, the menu is certainly a glimpse into the effort required to create a menu that truly embodies the spirit of a venue.