Asa Boardman, National Sales Director of Milton Rum Distillery, spoke to The Shout's sister publication, Bars & Clubs, about his hospitality journey, Milton Rum's USP, and surviving the recent flooding in Brisbane.
By any measure, Milton Rum Distillery has had as tough start to 2022. Severe flooding in South East Queensland ravaged the distillery's operations, including destroying reserves of aged spirit that the company had built up over three years.
"The flooding just absolutely devastated us," says Boardman.
"Just wiped us out. We lost 90 per cent of everything we had – labels, corks, shrink wraps, mobile bars, POS equipment – everything you can think of to run a business was gone."
Most damaging though, was the loss of stock, both barreled and aging.
"We lost all of our barrels. And we lost pallets and pallets of stock," Boardman continued.
The loss of cask-aged spirit is likely to be what stings most – not only because of the significant expense of the barrels themselves, but because of the time invested in aging spirit and opportunity costs associated.
"We had been aging our barrels for three years," Boardman says.
"That was really hard on us. We didn't want to bring in anything from overseas. We wanted to do our own molasses ferment and age the rum correctly, so we had a genuine product."
"Unfortunately the floods destroyed that."
Somehow, Asa is still able to see the lighter side of the situation.
"Essentially, there's a lot of drunk bull sharks in the Brisbane River," Boardman says.
Asa's levity in the face of calamity is perhaps a skill he has developed through decades in the hospitality business, in which he has worked since he was a teenager.
Prior to Milton Rum, Asa had owned and operated restaurants and bars for 25 years, having founded Cobbler Whisky Bar in West End, and owned and operated Kettle and Tin restaurant in Paddington.
"And I was the founding member and owner of Bare Bones Espresso in [Fortitude] Valley, which is actually where I got my knowledge of production," Boardman adds.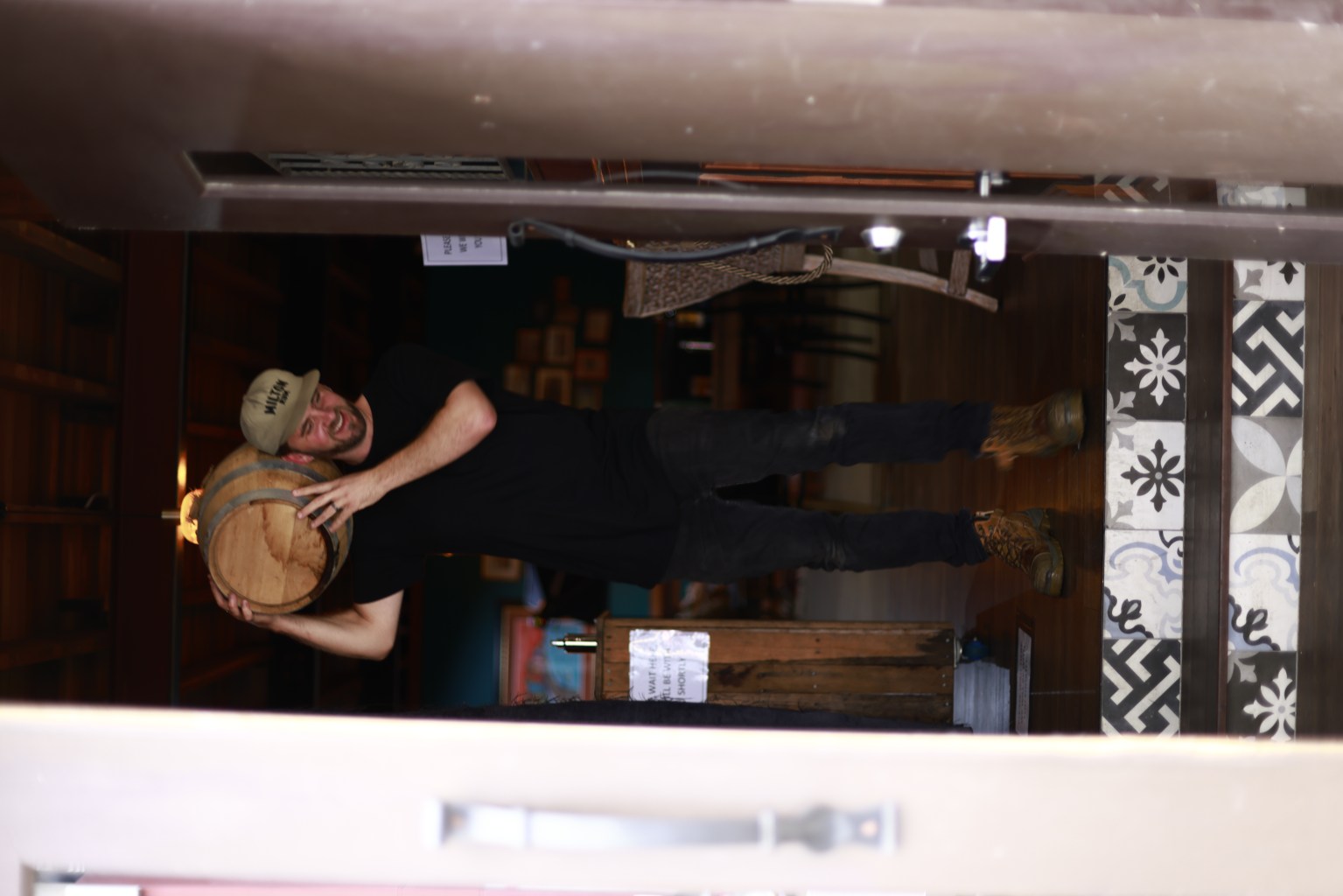 After all this experience, Boardman founded Milton Rum Distillery with Alexander Bell ­– a chemical engineer who first had the idea to revive the distillery.
"Apparently out of a hundred people he asked, I was the first to say yes. We just decided to build a small bar and distillery together – our first initial distillery was 13 square metres, and from that we expanded," Boardman explains.
It seems as if flooding is inextricably tied to the story of this distillery.
The current iteration of Milton Rum Distillery is a rebirth of a 19th century rum-makers, once one of Queensland's largest distilleries, which itself was wiped out when the Brisbane River spilled its banks in 1890.
Reborn in the 21st century, Milton Rum took the Eastern Koel bird as its emblem, as this bird was said to fly ahead of storms to warn of their arrival.
Milton Rum will be hoping that the Koels will be flying in its favour after a move to a new location, Albion's Craft'd Grounds – an opportunity that arrived as a moment of providence, exactly when the distillery needed it.
James Rennell, the builder and Founder of Craft'd Grounds, invited Milton Rum to move to the new site after the floods. Originally, Boardman and Bell had been helping Rennell to build his own distillery, but after the floods, Rennell invited Milton to set up shop in Craft'd Grounds.
"After the floods happened, he said: 'Look guys, let's not worry about my distillery, just move in, get yourself set up.'"
"We were on the bones of our arse. [Rennell] was an absolute stellar, honourable bloke who has pretty much looked after us, and he's been helping us get the new place fitted out, and we're about to launch it at the end of next month."
The new location will feature a small bar where, working alongside Collingwood Black Espresso, Milton Rum will offer a small menu of signature cocktails.
The loss of Milton Rum's aged stock has meant a shift in gears for the distillery, redoubling the focus on 'cane spirit'. One such expression is an interesting Brazilian style Aguardente, produced by Milton's Head Distiller, Henrique Mazzeu, a native of Brazil.
"Henrique produces that himself, that's kind of his baby. He drives to the Sunshine coast and picks up his own cane juice every so often, and essentially its molasses and cane juice in a 50/50 ferment," Boardman explains.
"It's distilled in a two-plate pot still, so it's essentially following the same traditions and methods. It makes the best Caipirinha, and it has a large following in the Brazilian community in Brisbane – we can't hold onto the stuff long enough."
Explaining what Milton Rum has to offer the on-premise, Boardman places the emphasis on the spirits' adaptability.
"They're very malleable. Working in cocktail bar, you can really experiment," Boardman says.
"Our Silver Rum has a lovely coconut flavour – tropical. Our Spanish Inspired Dark is actually aged in bourbon oak, so it has a very bourbon note with oak staves and vanilla."
Boardman is also keen to highlight one of the distillery's more interesting bottlings.
"The Dark Coffee Rum – we call it 'Coffee Storm' – is probably one of our most unique products," Boardman says.
"We basically have a separate spiced rum that we do, which is spiced with pimento and cacao, and then we dilute that back after the distillation process, but instead of using filtered water, we dial it back with a cold-drip, single origin Peruvian coffee."
"Ultimately, its an Espresso Martini in a bottle."
Milton Rum also produces a spiced cane spirit, which the distillery suggests serving in a Spiced Old Fashioned.
Finally, speaking from his considerable experience, Boardman had some messages for those in the hospitality industry after a challenging couple of years, both for Milton Rum, and the on-premise as a whole.
"The hospitality industry is generally tough work, it's hard work, and sometimes it's thankless work," Boardman says.
"Perseverance is key – perseverance and carving out your niche and what you love to do, because at the end of the day, there are career opportunities in the industry."
The recent experience of Milton Rum is a testament to the value of this approach.
Click here to subscribe to the Bars and Clubs weekly newsletter.