Modus Operandi Brewing has officially thrown open the doors to its new production and hospitality venue in the Newcastle suburb of Merewether, celebrating with a launch event last night.
The new venue begins with large glass sliding doors, opening into a large pavilion with a six metre pandanus tree. The double sided bar houses 36 taps of fresh beer, while the production facility features a three vessel, 40 hectolitre brewhouse.
The launch has been a long time in the making, with Co-founders Jaz and Grant Wearin receiving approval for the build in August last year, fulfilling a long held dream they always wanted to accomplish.
Speaking at the launch event about the history of Modus leading up to this point, Jaz said: "Modus was born from very humble beginnings. Grant and I have always enjoyed beer and the occasions that go with it. A brewery of our own was always a distant dream, and looking around, I still can't believe we're here.
"In 2012, we decided to give up our day jobs, get on a plane to the USA, and buy a motorhome called Sheila. We travelled around the states for six months, learning all we could about very good crafted beer.
"We took amazing inspiration from those six months and we arrived back in Australia with some serious beer knowledge and a determination to brew high quality and innovative beers. We actually originally searched for a site in Newcastle, but nothing quite presented itself.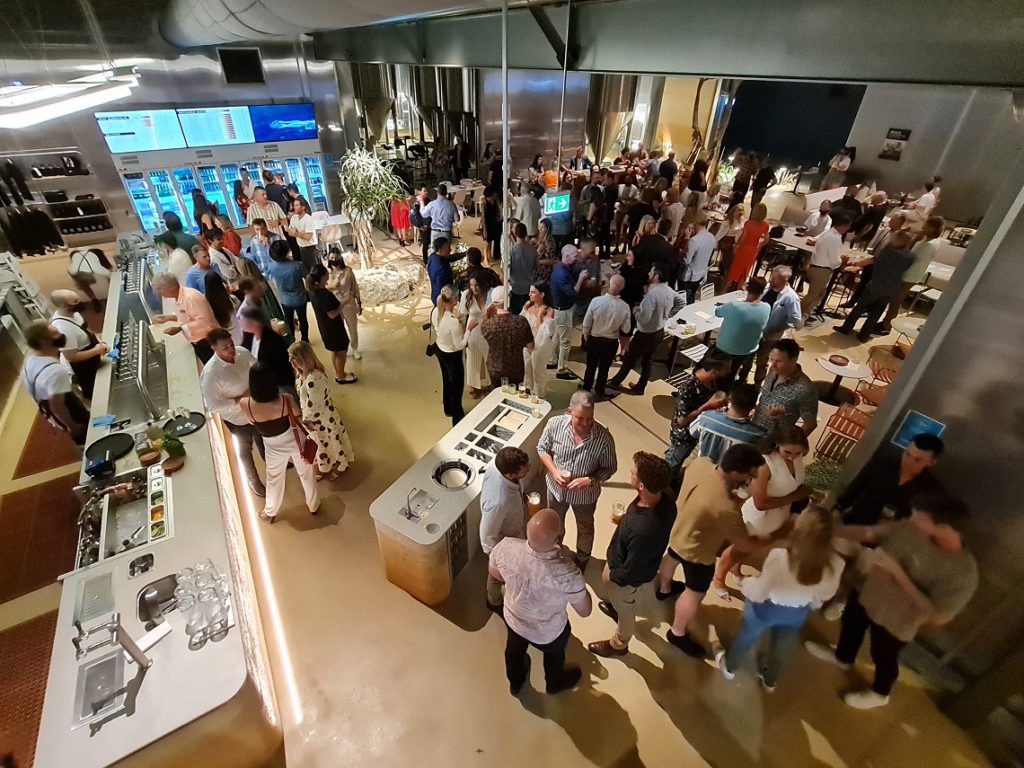 "Within these last seven years, we've humbly picked up some of Australia's most prestigious awards, brewed hundreds and hundreds of beers, been at the forefront of innovation, grown our team from three to 53, created Nort (our non-alcoholic brand) and as you're experiencing today, we have built our second dream brewery, and to be able to share this with you tonight is a real pinch yourself moment."
Grant said this is the fourth attempt Modus has made at a Newcastle brewery, which makes the team even more proud to finally open the venue. He said "it means the world" to the Modus crew to reach such a milestone.
According to Grant, the Modus connection to Newcastle starts with two things: the city's love of a good beer, and Grant's mum and her family. Building from these are another two things that are core to the Modus business – sustainability and community – and these are both core pillars of the new venue, with several sustainable measures in place for beer production and the running of the wider business, as well as associations with local sports clubs and initiatives.
"Although not born in Newcastle, I'm very, very proud to be coming back here and making this our place of business. We've moved our head office here and we're proud to now call this our home," Grant said.
"The space here is vibrant and humming, just as we want it to be… Modus Merewether wants and aims to stand out for the right reasons, beyond drinking the freshest beer you'll ever taste. It's an experience."
Closing out the event was Lord Mayor for the City of Newcastle, Nuatali Nelmes, who welcomed the Modus to the area and noted that it was a fantastic outcome that the business could move here.
"It really is a symbol, I think, of the revitalisation that's happened through the city over the last seven years," the Lord Mayor said.
"I think it's fantastic that you've taken your passion and delivered that through to us here."