After years of hoppy dominance in the craft beer space, signs are that the lighter flavours of lager are growing in popularity with discerning beer drinkers.
Lager has a long history of popularity in Australia – with some of the nation's favourite beers firmly sitting in this subcategory. The style first emerged in modern-day Germany sometime in the 15th century, and the beer takes its name from the word for 'storehouse', a reference to the cool cellars and caves in which it was fermented.
The first Australian lager, Excelsior, was brewed by the Cohn Brothers in 1882. They were soon followed by American immigrants, the Foster brothers, who arrived with refrigeration technology (making it easier to recreate the cool storehouses of Germany) in 1887, while Castlemaine Brewery and Quinlan, Grey & Co produced its lager in 1889.
A spokesperson for Australia's largest independent family-owned brewer, Coopers Brewery, explained how its lagers are produced to National Liquor News – with some similarities to how the original German brews were created.
"Coopers Lager beers are made using Coopers Pilsner malt specifically malted for this type of beer. The hops variety used generates subtle floral and tropical notes without being too overpowering," the spokesperson said.
"Fermentations are pitched with a traditional lager yeast strain at low temperatures to establish slow fermentations. This creates a crisp refreshingly balanced beer that is smooth and easy drinking."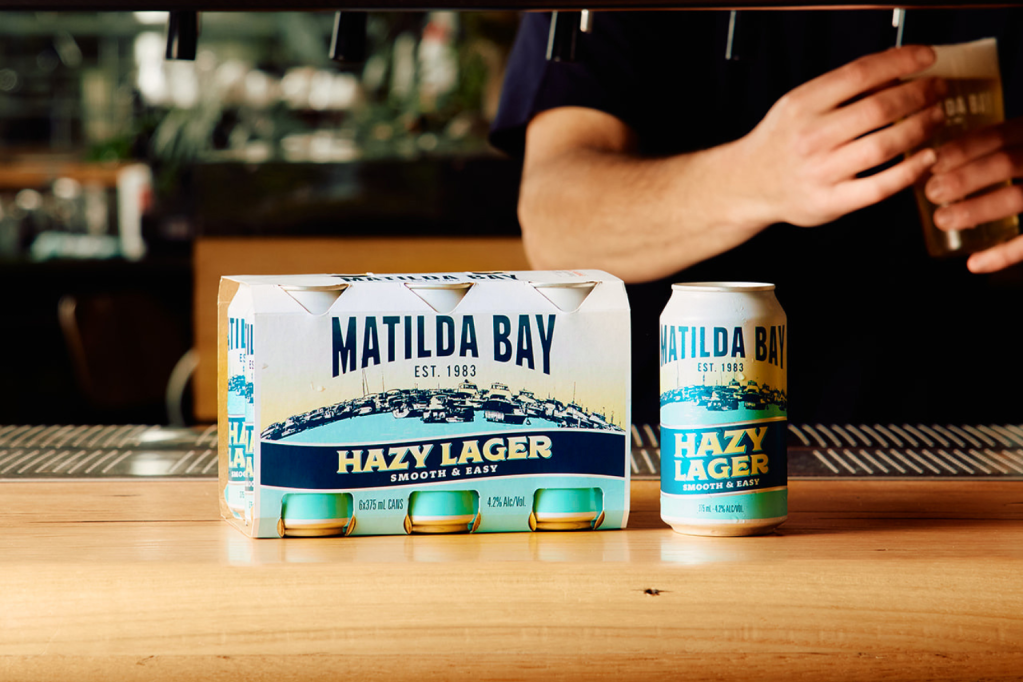 Finding a home with craft drinkers
There can be little doubt that lager is the most regularly drunk beer style in the world. According to Brand Finance, a market research firm which offers estimated valuations of brands, all of the top ten most valuable beer brands in the world in 2022 had lagers, or lager-like beers, as their main product.
It was partly in response to the ubiquitous nature of lager that the craft beer movement was formed, with drinkers looking for more strongly flavoured beers, usually independently made by smaller producers.
Yet, in a recent survey of craft beer drinkers conducted by specialist online retailer, Beer Cartel, lager was one of only two styles to actually grow in popularity. Co-founder and Director of Beer Cartel, Richard Kelsey, told National Liquor News why he thought this was the case.
"There is definitely a degree of people that are re-finding lagers – reminding themselves that there are some incredibly well-made beers out there that are simple in their flavour profile," Kelsey commented.
"A lot of the growth in craft beer in Australia in the last decade has been through pale ales and IPAs, but there has also been a degree where craft has been really pushing the envelope to the max in terms of flavour profile.
"Some of these new styles and flavour profiles are bringing new people into the category, but in some respects it is also alienating people. I think lagers are providing drinkers the opportunity to embrace a well-made, easy drinking craft beer and that still very much has a place amongst people's consumption occasions."
In the same survey, the pale ale/XPA style, while remaining the number one style, declined in popularity by six per cent. IPA/double IPA also recorded a decline in popularity, falling by seven per cent, and dropping out of the top two. Nevertheless, Kelsey does not think this means that Australian craft beer drinkers prefer lagers to the crafty mainstays of IPAs, pale ales and hazy styles.
"I don't think they are favouring it yet, but they are definitely re-engaging with beers that have those profiles, particularly when you think of lagers and pilsners," Kelsey said.
"We are seeing growth but it has a long way to catch-up to these two beloved styles [IPAs and pale ales].
"It's also been one area that a lot of breweries have not necessarily had any focus on over the last 10 years, but they are now finding that is a really good mover for them, particularly if they have a bar at their brewery."
Michael Shearer, Coopers Brewery General Manager, offers a wider perspective on the lager style's resurgence with drinkers.
"Lagers, and specifically craft lagers, continue to gain popularity across Australia," Shearer says.
"Lagers represent more than 80 per cent of total domestic beer sales in Australia and are a favoured style, particularly among many flavour-conscious consumers.
"There are many factors contributing to the rising popularity of lagers, and specifically craft lager, in Australia. This includes the range of excellent Australian lagers to choose from and the great tasting low-carb options among them. The strong initial response to Coopers Dry 3.5 has been evidence of that."
There appears to be more to come from Coopers in the lager subcategory too, following the release of Coopers Dry 3.5, the brewery's first mid-strength lager. Recent performance of this beer demonstrates lager's continued value to retailers.
"Coopers Brewery has a long tradition of supplying beer in the lager category and it's an area we intend to further develop," Shearer said.
"During an initial six-month trial, Dry 3.5 in 375ml cans became one of the top mid-strength brands sold in NSW independent retailers. It also ranked as a top 10 brand at several mining sites in Western Australia and so earnt its place in our portfolio."
Combining trends
The other style that recorded a significant gain in popularity in the Australian Craft Beer Survey was hazy/NEIPAs, growing by 13 per cent. What makes waves in the craft beer category tends to trickle out into the more conventional beer industry too, and there are signs that these trends are resonating outside the craft landscape.
Matilda Bay, owned by Carlton & United Breweries (CUB), recently released Hazy Lager, with the brewery's Head of Marketing, Benjamin Cairns, explaining how this beer combines both styles.
"The obvious difference between most conventional lagers and Matilda Bay Hazy Lager is the haze, giving the beer more body and character. The other point of difference is that Matilda Bay Hazy Lager uses 30 per cent Australian rice in the grain bill which is unique to Australian lagers, this gives this beer a sharp freshness," Cairns says.
"We were always planning to introduce a lager to the range, and leaving the beer unfiltered to give the beer more body and character was key to the idea."
As with Coopers Dry 3.5, Cairns believes the performance of this beer is indicative of the strong market for craft-styled lagers.
"It's quickly become a significant part of our portfolio, and we've been overwhelmed by how well it's been received and embraced by trade customers and consumers," Cairns adds.
"Lager is the 'go-to' for most Australians, it's more than likely the first beer that many people experience. We'd love to see mainstream lager drinkers 'trade-up' to our Matilda Bay Hazy Lager, to experience a lager that's been hand-crafted with quality ingredients and brewed with skill and passion."
CUB has also returned a heritage lager brand, Reschs Real Lager, to the shelves in NSW. The revival of this brand came after a concerted campaign from the Reschs Appreciation Society, and is a testament to increasing consumer attraction to familiar styles and brands, according to Reschs Brand Director, Sarah Wilcox.
"Classic and heritage beers, like Reschs, are enjoying a resurgence as consumers return to solid brands they know and love. We saw this during the pandemic, as people turned to familiar, nostalgic products and experiences," Wilcox outlines.
Knowing who is buying and when they are consuming is key for retailers looking to take advantage of the increasing interest in lager.
"Like good wine, consumers are choosing beers based on taste and occasion," Wilcox says.
"Lagers have always been popular, but they are now attracting a newfound popularity as beer drinkers explore the different varieties of beer on offer."
Cairns agrees, and ultimately is heartened by lager's recovery with drinkers of craft and craft-adjacent beers, saying: "There's a time and a place for all beer styles. I don't think that Australian consumers are getting 'over' hopped beers, I believe that Australian consumers enjoy choice, and quality and taste.
"The growing availability of quality lagers is a re-correction of a style that's been under-represented, and it's great to see consumers embracing the craft."