La La Land wines proudly announce the addition of a Garnacha and Vermentino to the range, both available throughout Australia. Both wines are vegan friendly and made to challenge traditional wine conventions. Distributed by Red + White.
An eclectic collection of new generation wines, La La Land wines are crafted from lesser known grape varieties, which thrive in the warm Mediterranean climate of north west Victoria in Australia. The La La Land range also includes a Malbec, Tempranillo, Pinot Gris and pale, dry Pinot Noir Rose (RRP $18).
Stylistically, La La Land wines are flavoursome, generous and made with creative flair to challenge traditional conventions. All La La Land wines are vegan friendly and crafted with minimal intervention, so that the fruit can do all the talking.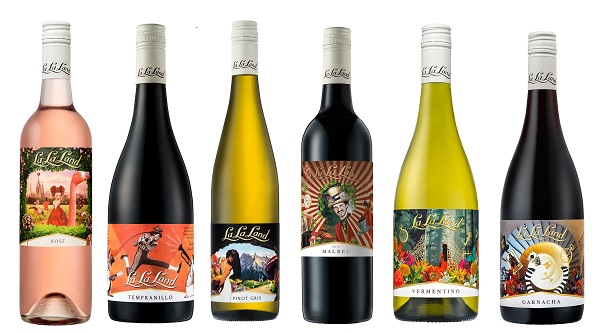 La La Land Vermentino is the ultimate warm weather wine with freshness in spades. Crafted in a Sardinian style; aromatic, slightly richer and a touch of oak for texture. Exciting flavours of zesty lime, pear, nectarine and with a racy, mouth-watering finish. Perfect with anything seafood!
La La Land Garnacha (Spanish for Grenache) is a real charmer and made for food. Smooth, rich red berries and a trademark hint of cinnamon and spice. Sourced from local grower vineyards near Mildura, this is 100% Grenache, cold soaked, macerated on skins and given a little time with American oak to add roundness and showcase the vibrant fruit. Fire up the BBQ!
Available now to the independent trade and restaurants.
Distributed nationally by Red + White: Tel 1300 780 074
Produced by Wingara Wine Group. For more information, please visit www.lalalandwines.com.au