Tim Szonyi, Stoli's Global Vodka Category Leader, addressed the brand's reaction to the Russian invasion of Ukraine, change of name and future plans to revitalise the category in conversation with The Shout.
Like many Russian-influenced brands, Stoli (previously known as Stolichnaya) came under fierce scrutiny following Russia's invasion of Ukraine on February 24, 2022. The effect was pretty immediate, as Szonyi explains.
"I've been with Stoli since about September of last year – part of the remit for me coming in was how do we reinvigorate this brand on a global basis," Szonyi says.
"We were starting to set that strategy through the first part of this year – and then, war in Ukraine breaks out, and anything that had an origin from Russian, or sounded Russian – there was immediate backlash throughout the world for obvious reasons.
"That threw our strategy out the window and put us on the defensive to make sure that people really knew the true facts about Stoli," Szonyi continues.
In response to the invasion of Ukraine, Stoli rebranded, dropping the historic Stolichnaya name, which has been the subject of a prolonged trademark war with the Russian state-owned Soyuzplodoimport company. The brand also reiterated that its manufacture occurred outside Russian jurisdiction, in Latvia, and ended all production links with Russia by sourcing 'non-Russian alpha grade spirit' from Slovakia.
A personal issue
Moreover, Stoli pointed to the fact that its owner, Yuri Shefler, is himself an exile from Russia, who fled the country in 2000 due his opposition to Putin's regime. Shelfer is a British and Israeli citizen who, along with Stoli's Global CEO Damian McKinney, has condemned the invasion of Ukraine.
"I think the thing that's worked well for us is we came out with a very forthright opinion of what we believe of the Russian Regime, not the Russian people, and what the Russian Regime is doing to take away people's liberties and freedom, which is exactly the polar opposite to what we stand for as a brand," Szonyi says.
"It is a very personal issue for Mr. Shefler, who continues to be chased by Putin for trade and trademarks for the brand all over the world. So that, for us, was very important."
Nevertheless, Szonyi says, the company did experience an understandable slump in sales earlier in the year.
"Certainly, we saw a downtick on our sales for the first couple of months, when it was easy for consumers to feel they were doing their part by boycotting anything that sounded Russia," Szonyi explains.
"In the US, and even here in Australia, there were a few people, retailers and venue operators that felt, for reasonable reasons, that we were a Russian brand still.
"So we had to go very much on a journey of delivering the facts and really restabilising our brand for what we believe in, and the values we believe in."
Stand with Ukraine
Most crucially of all, Stoli has committed to providing real, tangible action to help people suffering in Ukraine and neighbouring nations as a result of the conflict.
"More importantly, what we stand for is the freedom and liberty of all people, and we follow through on that," Szonyi says.
"Nothing speaks louder than action, right? So for us that's what we've really focused on. We've partnered with World Central Kitchen and Chef [José] Andrés, who continues to make hundreds of thousands of meals a week for those who have lost their homes or who have been forced out of their homes both in Ukraine and in other bordering countries."
Recently, Szonyi and Stoli hosted a gala dinner which raised $33,000 for World Central Kitchen (WCK) in the first event that the brand has hosted itself, having sponsored other fundraising efforts around the world. The gala is part of a broader campaign, which aims to gather USD$1m by Ukrainian Independence Day, August 24.
"Globally we're doing a lot. We've just done a pop-up in New York, so that was a bar owned by a Ukrainian family, and we've taken that over with them with all proceeds that we raise for the next three months goes to WCK," Szonyi explains.
"That's a really big, high impact, high visibility to-raise-awareness-piece that we can make a lot of noise about in arguably the number one city in the world for spirits consumption."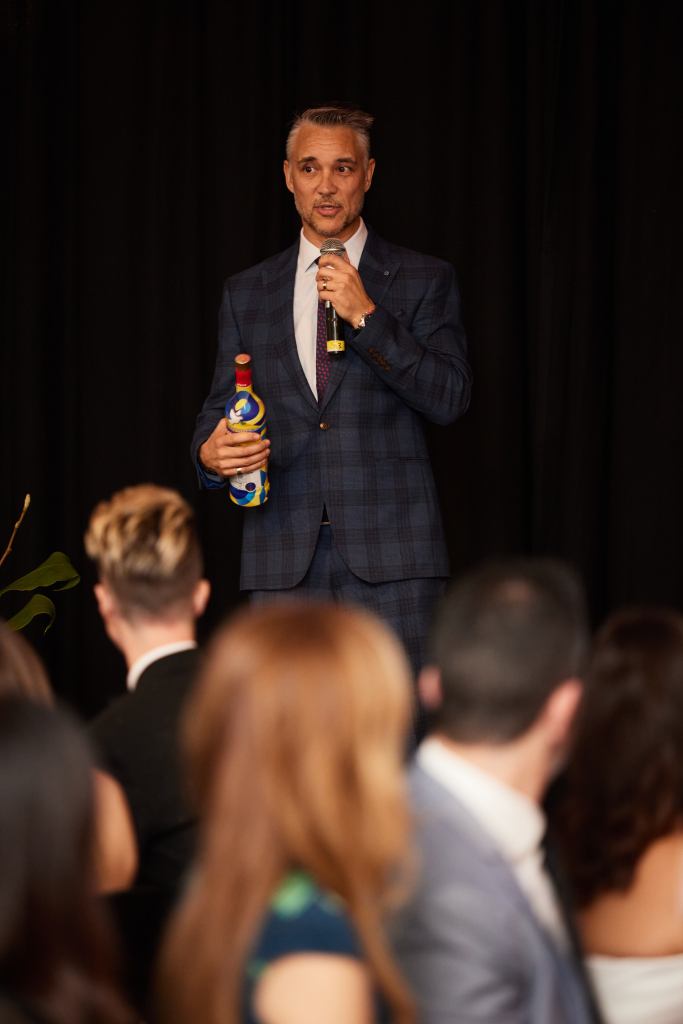 Cocktails for Ukraine
Stoli have looked to support WCK in other ways, too. In the on-premise across the UK, Europe and parts of Asia the company has operated a program called 'Cocktails for Ukraine'.
"That is where we go and work with our on-premise partners to create relatively simple, classic cocktails. There's a bit of a twist on those, and a portion of those sales goes back to WCK."
Moreover, the Stoli C-suite are getting directly involved, as Szonyi outlines: "Our CEO flew into Ukraine about three weeks ago now and spent time with WCK giving meals and preparing meals, just to get a real sense of what were actually contributing to."
"Also [Stoli has started] to work with our distributor over there, who's actually started up business again, trying to get them back to 'a normal' and making sure we were doing everything we could to support them through that start-up."
Indeed, Szonyi told The Shout that despite the obvious catastrophic effects of Russia's invasion, there were signs of a revival of the Ukrainian liquor retail sector.
"I wouldn't say it's traditional hospitality, it's certainly a little bit more underground, and people at least being able to buy, even if it's off-premise sales to have at home or wherever they may find themselves," Szonyi says.
And having moved certain supply and production out of the country, Stoli is now looking to aid the recovery where it can.
"We're trying to do everything we can to support the country and move our production, supply chain back there."
Finally, Stoli will also look to help those in Ukraine through the sale of its limited edition #StandWithUkraine bottles, with a portion of the bottle's proceeds going to WCK.
"The limited edition bottle we created – we did that in record time, start to finish in under a couple of months. I've got 20,000 cases of that landing in the US this month, and that's a big part of our fundraising effort, with the US being our largest market."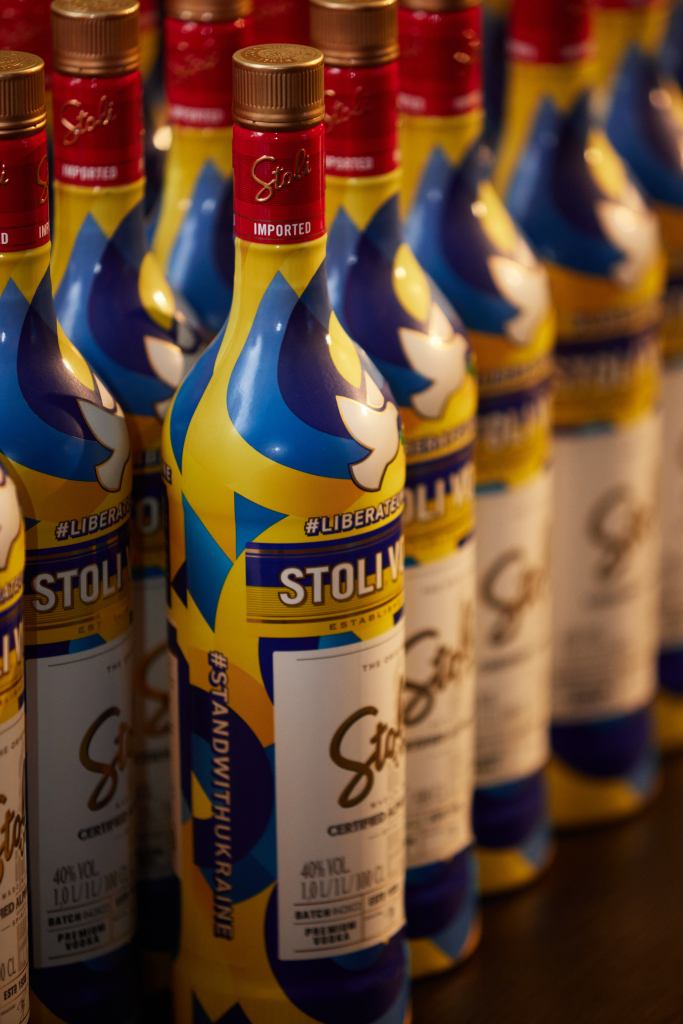 A new generation of consumers
As with any business decision, Stoli's rebrand is not entirely altruistic, with Szonyi recognising that there was a chance for the company to connect with a new audience.
"When you think about consumers today, they're more socially conscious and aware of the brands that they purchase or consume. They expect more of them. Not having an opinion is not an option," Szonyi says.
"Our strategy always was to recruit a new generation of consumers. What better way to be able to do that now to be able to go out and say we stand for something that we think is important for the world.
"And we're going to show you that by going about and actually changing to formally to Stoli as our name rather than Stolichnaya."
Szonyi believes there's now the opportunity for Stoli to "bring some excitement to the vodka category, as it's probably the category that's slipped away a little bit as gin, and even rums and tequilas have taken the spotlight."
Alongside advancements in Stoli's global campaign 'Liberate Your Spirit', which was launched in 2021, retailers, consumers and on-premise operators are likely see new products released by the brand soon.
"We've got another limited edition product coming here in the back end of this calendar year, we're also working on some new flavoured vodkas that we're going to be launching between North and Latin America."
Ultimately though, Szonyi says Stoli has taken action to support Ukraine in accordance with the brand's values, alongside the values he holds personally.
"It's really important for us. My father is Hungarian and came here at the end of the Second World War, and basically I see history repeating itself again in Europe unfortunately."
"I think at times we can all feel like we're only one small person, and how much can you actually impact, but certainly, I think that the opportunity I have with Stoli to be able to raise our voice and awareness, and help people on a very direct level – it's a real privilege to be honest," Szonyi concludes.