At a ceremony held at NSW Parliament House last night, venues and staff from across the state were honoured for their work representing NSW wines.
The awards have been hosted as a stand-alone event by NSW Wine Industry Association since 2019, when they were given a refresh and a renewed focus on sommeliers and staff.
Angus Barnes, Executive Officer of the NSW Wine Industry Association, was MC for the night, and introduced the awards by saying: "We want to recognise those wine lists that support the produce from the great state of New South Wales – the first state of wine."
President of the NSW Wine Industry Association, Mark Bourne, echoed Barnes' words.
"We're here to night to recognise and celebrate those sommeliers and venues that share our passions for the historic, diverse, and innovative wines that are crafted in the first state of wine: New South Wales.
"It's fitting that tonight we're just a few minutes stroll from the site where the first vines were imported and planted by Captain Arthur Phillip in 1788. Now, 230 years later, the New South Wales grape and wine industry plays a very significant part in the regional economy and life."
Awards were presented by The Right Hon. Stuart Ayres, state MP for Penrith and Minister for Tourism. Opening the ceremony, Ayres provided some key statistics that spoke to the sheer scale of the NSW wine industry.
"The wine industry across New South Wales is significant. I think it's something like 506 individual vineyards, 378 cellar doors and 36,000 hectares of active vineyards," Ayres said.
"I think it's really important that we take the opportunity to celebrate success, so much about tonight is recognising high achievers and celebrating successes."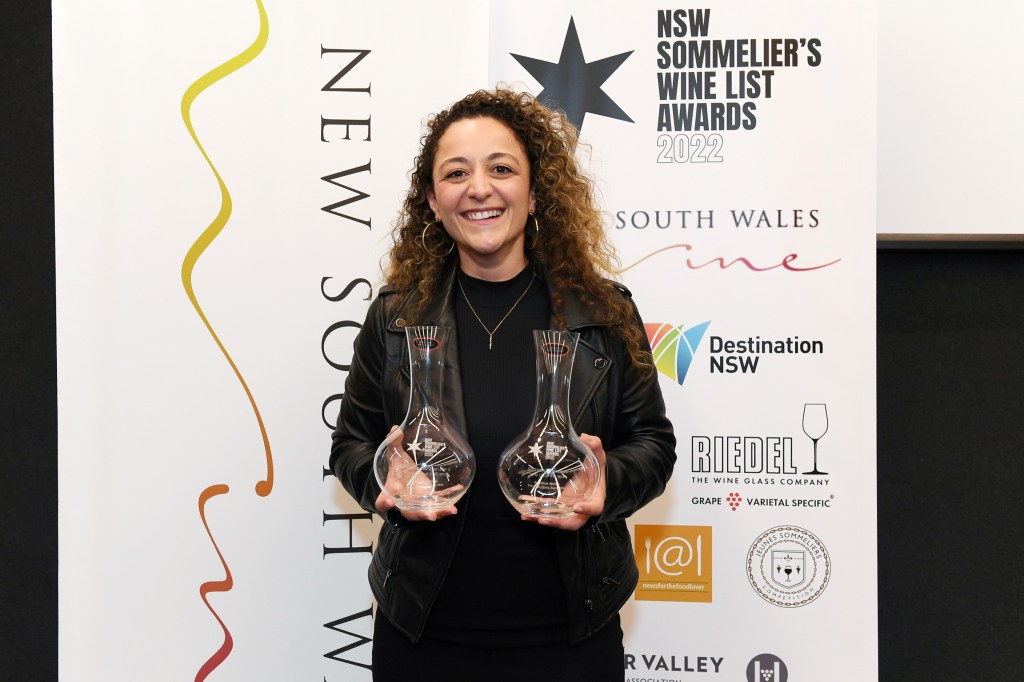 Dual wins for The Blue Door
The winner of the flagship prize, the 2022 NSW Sommelier's Wine List of the Year was Angelica Nohra, representing The Blue Door restaurant in Surry Hills. It was a good night for The Blue Door, which also received the award for Best NSW Wine List in a Sydney venue with less than 40 seats.
The Blue Door Co-Founder, Dylan Cashman, told The Shout: "It's great to see Angelica get recognised for all her hard work. We only serve NSW wines, and to see people enjoying it and appreciating it – that's great!"
The Blue Door now has a wine list of some 150 NSW Wines, picked out by Nohra, who also spoke to The Shout about what the prizes mean for her, her team and the venue.
"For us it's an acknowledgement that you can do it – the customer isn't always right, you can offer people something that they think isn't what they want – the amount of people that walk in and say 'oh I don't drink NSW wines,' but then, to be able do a wine pairing with them with things like Garganega, Tempranillo and Nebbiolo, it just blows their minds."
The diversity and sustainability of styles was something Nohra was keen to stress in her conversation with The Shout.
"We're looking at our method of sustainability, and the fact that [NSW winemakers] are planting more European varietals, and that we can promote that.
"Semillon and Shiraz – they take so much water, and yes, we've got plenty of water right now, but we're going to be in drought again. But people are being conscious of what the future is going to look like and doing some pretty cool stuff."
Prizes for The Blue Door's two awards included automatic entry to the national Australia's Wine List of the Year Awards, and a $2000 bespoke Riedel glass fit-out for the venue.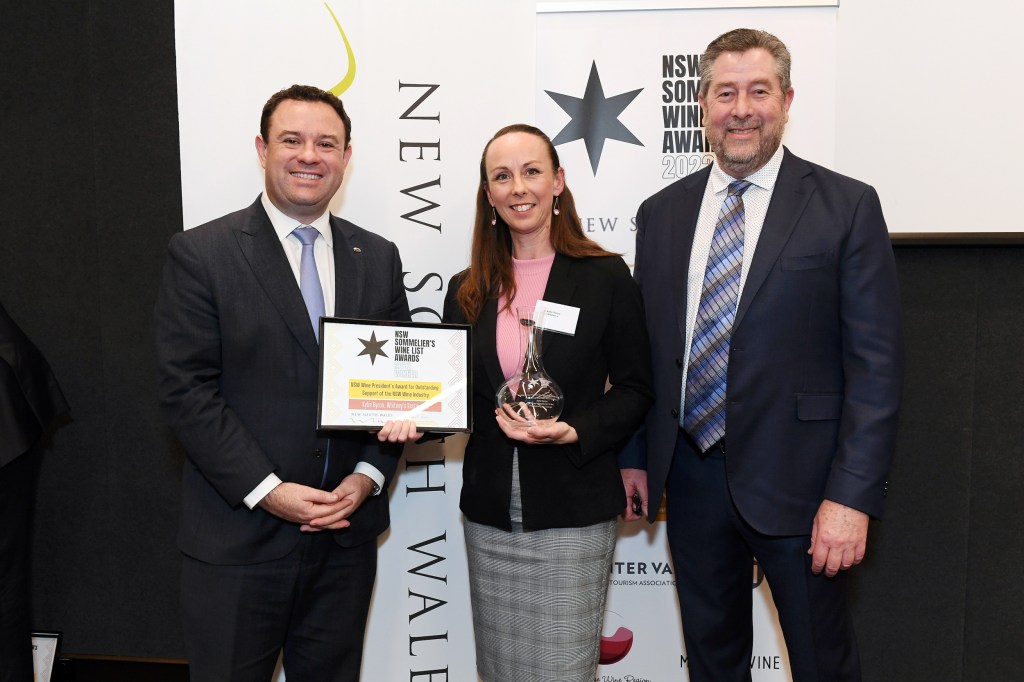 Whitney's at the Remington gets Presidential approval
Another high-profile award, the President's Award for Outstanding Support of the NSW Wine Industry, was given to Kylie Byron from Whitney's at the Remington in Orange. This is a special award selected by the President of the NSW Wine Industry Association, Mark Bourne, and given 'someone that has shown real commitment to showcasing the wines from NSW.'
Byron explained what the prize meant to her venue: "As a new venue, we've only been open 18 months, it's a big, big deal for us. I'm really proud. My wine list is 100 per cent NSW wine and 90 per cent Orange wine, and we like to support local. So it's great to see that rewarded."
As part of the award, Kylie wins a trip to 'the birth-place of Australian wine, the Hunter Valley, including accommodation, a food and wine matching experience and a range of expertly guided winery tours and gains automatic entry into the 2022 Australia's Wine List of the Year Awards.'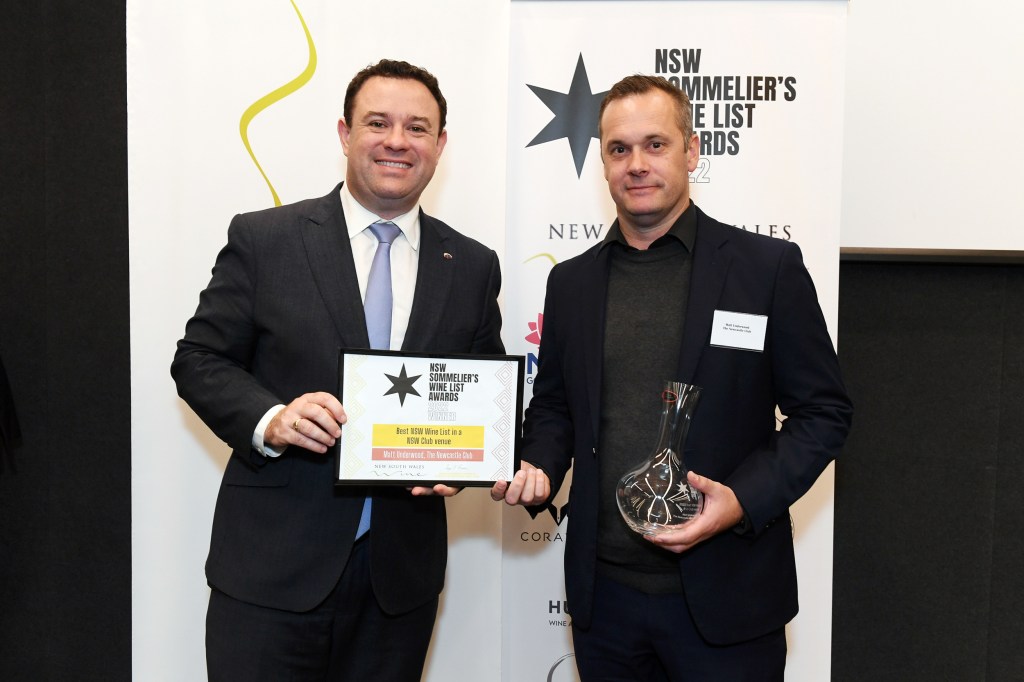 The Newcastle Club triumphs in new category
Matt Underwood at the Newcastle Club picked up the inaugural award for Best NSW Wine List in a Club venue, and told The Shout that the prize was a reward for a significant period of work promoting NSW wines.
"I've been at the club for 15 years now, so, slowly trying to push Hunter Valley and NSW wines, so [the prize] is a little nod to the work we're doing already."
When asked what these events mean for the NSW wine industry and venues in general, Underwood said: "They're very important, and I'm going to be honest, there should probably be more of them. I think out of Sydney everyone loves NSW wines, but I think that it's more internally, in Sydney, that it needs to be pushed."
Honourable mentions went to: The Bowral Bowling Club, Tattersalls Club Sydney and Singletons Diggers. As part of this prize, Underwood wins a trip to the Mudgee wine region, including accommodation, a food and wine matching experience and a range of expertly guided winery tours.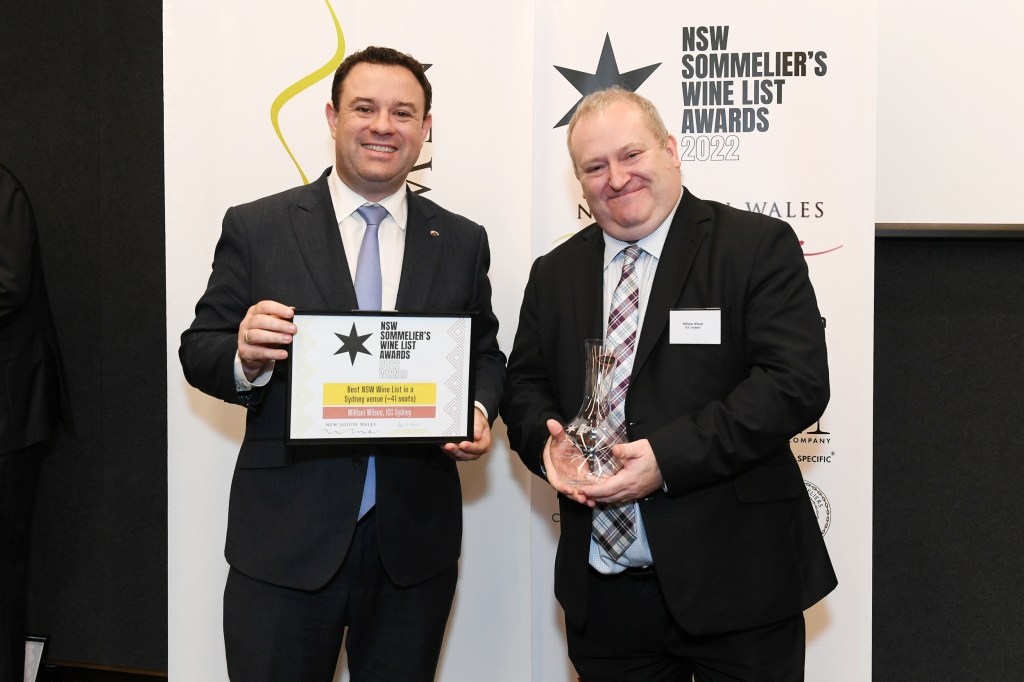 The ICC wins coveted Sydney prize
Best NSW Wine List in a Sydney venue with more than 41 seats went to William Wilson, representing the ICC Sydney Darling Harbour.
One of the most contested prizes in the list, this award was described as 'another big category with many strong finalists.'
Wilson spoke to The Shout after receiving his prize.
"We sit in a different category, so it's just really fabulous to be standing up here besides the company [of other venues]."
Nevertheless, Wilson felt that there was more that could be done to support the growth of NSW wines.
"I think what we're doing is really important, but we need more. The Minister [Ayres] said he wanted to add one NSW wine onto every single wine list in NSW. I think we should be adding half a dozen.
"Your local wineries give you local stories, the quality is right up there. Why wouldn't you be supporting your local produce?"
Wilson wins an immersive trip to the Canberra District wine region.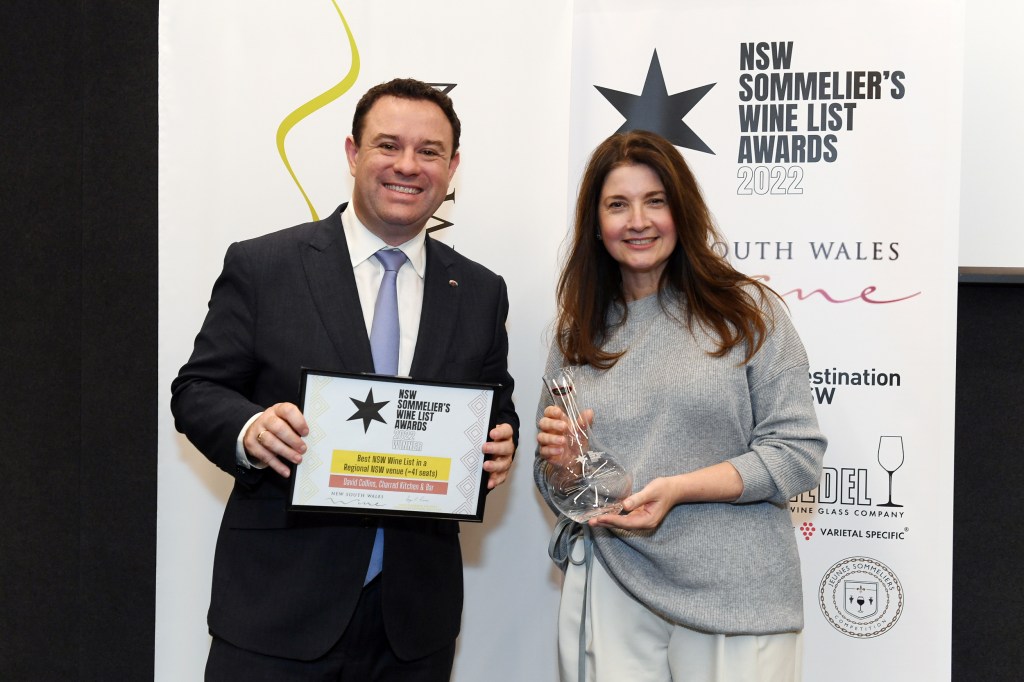 Charred Kitchen & Bar wins biggest category
David Collins from Orange's Charred Kitchen & Bar picked up the gong for Best NSW Wine List in a Regional NSW venue of more than 41 seats.
In a statement to press, the NSW Wine Industry Association said that this prize was 'the largest category of finalists, again highlighting the quality in regional NSW, and giving the judges a tough job.'
'In the end, the title went to David at Charred for a wine list described as "an ambassador for NSW wines".'
Collins and Charred receive two Coravin Pivot wine preservation systems.
---
In all, there were 35 finalists across the eight categories, with each finalist entitled to use the title 'NSW Wine Star' over the next year. The awards were judged by Dane Richards, GM and Head of Reviewing Australia for Gault&Millau, Mark Baulderstone, MD of Riedel Spiegelau Nachtmann Australia, and Lyndey Milan OAM.
A full list of winners can be found below:
2022 Best NSW Wine List in a Regional NSW venue (<40 seats) – Renee Wallace from Birch Restaurant, Moss Vale
2022 Best NSW Wine List in a Regional NSW venue (>41 seats) – David Collins from Charred Kitchen & Bar, Orange
2022 Best NSW Wine List in a Regional NSW accommodation venue – Andres Aragon from Blaq at The Kyah Hotel, Blackheath
2022 Best NSW Wine List in a Sydney venue (<40 seats) – Angelica Nohra from The Blue Door, Surry Hills
2022 Best NSW Wine List in a Sydney venue (>41seats) – William Wilson from ICC Sydney, Darling Harbour
2022 Best NSW Wine List in a Sydney accommodation venue – Samantha Belt from QT Sydney
2022 Best NSW Wine List in a Club venue – Matt Underwood from The Newcastle Club, Newcastle
2022 NSW Wine President's Award for Outstanding Support of the NSW Wine Industry – Kylie Byron from Whitney's at The Remington, Orange
2022 NSW Sommelier's Wine List of the Year – Angelica Nohra from The Blue Door, Surry Hills