On Friday, the Duke of Enmore hosted its 666th night of live music under the ownership of James Thorpe's Odd Culture group.
Earlier in the week, the pub had been the venue for a 'meeting of minds' between Lord Mayor of Sydney Clover Moore, Thorpe, Newtown state MP Jenny Leong, and members of the bands FANGZ and Downgirl.
Thorpe, who is the CEO of Odd Culture, commented on the dire situation for live music in NSW.
"The state of play is that there are just 133 registered live music venues in NSW. Our group is incredibly invested in live music and are committed to changing this startling statistic.
"Where we invest in live music, we see a really strong return in trade. People want to go out and experience live music and we are really passionate about providing it for free in our venues."
Thorpe outlined the importance of smaller venues in fostering the careers of Australian musicians.
"We need more hospitality operators investing in live music, especially smaller venues as there aren't a lot of places for local, up-and-coming bands to play," he said.
"It's a problem we have always had in Sydney but it's particularly bad at the moment with only just over 100 venues left for musicians to play at."
Odd Culture and Thorpe are hoping to rectify this situation, with new Newtown venue, Pleasure Club, due to open in August. The venue is the first in the area to receive a late night licence in over a century, with Pleasure Club set to welcome live music seven nights a week, until 4am. Between this venue and The Duke, the hospitality group expects to put on more than 600 gigs a year.
Newtown MP highlights need for funding
At the event, The Shout spoke to Leong about the challenges facing musicians and why the hospitality industry is so important for supporting artists.
"Live music has suffered so much in recent years with all the lockouts and the complete lockdown during COVID. Artists, creatives are struggling and the cost of living is real," Leong said.
"This [event] to me is an opportunity to come out and support the idea of live music being available and free in pokies-free venues which is amazing."
Leong, who is a Greens MP, also highlighted the kinds of actions the government can take to help support live music and music venues.
"One of the things we can do is actually make sure that creatives have access to money, grants, funding, to be able to put on live music.
"That doesn't just mean going to the big end of town, it also means supporting independent artists and independent spaces, community spaces, to be able to foster and grow live music.
"We don't just want to have nighttime options for people to engage with that's just all about drinking booze, or all about really expensive, inaccessible restaurants, or venues, or paid-for concerts and gigs that actually lots of people can't afford.
"The idea of having local music in our local pubs and clubs is a way to be able to see live music that's accessible to the local community."
Leong acknowledged the importance of bringing onboard the local community, with noise complaints a significant challenge for venues looking to host live music.
"The other thing that is really, really critical is making sure that we're doing it in a way that has brought community and neighbourhood support. So that way, we're not seeing a contradiction between people who live locally, and people who want to play music all hours of the night.
"I'm really keen to make sure that we're bringing the community in Newtown and King Street on board, and that they are 100 per cent committed to the idea of seeing live music and creativity on our streets."
Musicians give their verdict
The issue of noise complaints was also flagged by Jameel Majam, bassist and member of FANGZ.
"I take my hat off to any hospitality owner that has the guts to take on operating a
live music venue. We've seen many venues close due to simple things such as noise complaints.
"I think if government bodies could be there to help the venues it would be greatly appreciated. After all, the end goal is to have somewhere to perform and provide enjoyment and good times," Majam continued.
This being said, Skarlett Saramore, member of 'femme soul punk' band Downgirl, sees reasons to be cheerful.
"We lost everything during Covid and now that we are all together again, it is bringing the music community closer than I have ever seen it. After what we have been through, and for the first time in my life, I am seeing bands come together and support each other like never before.
"The industry is stronger than I have ever seen it and Government support is vital," Saramore concludes.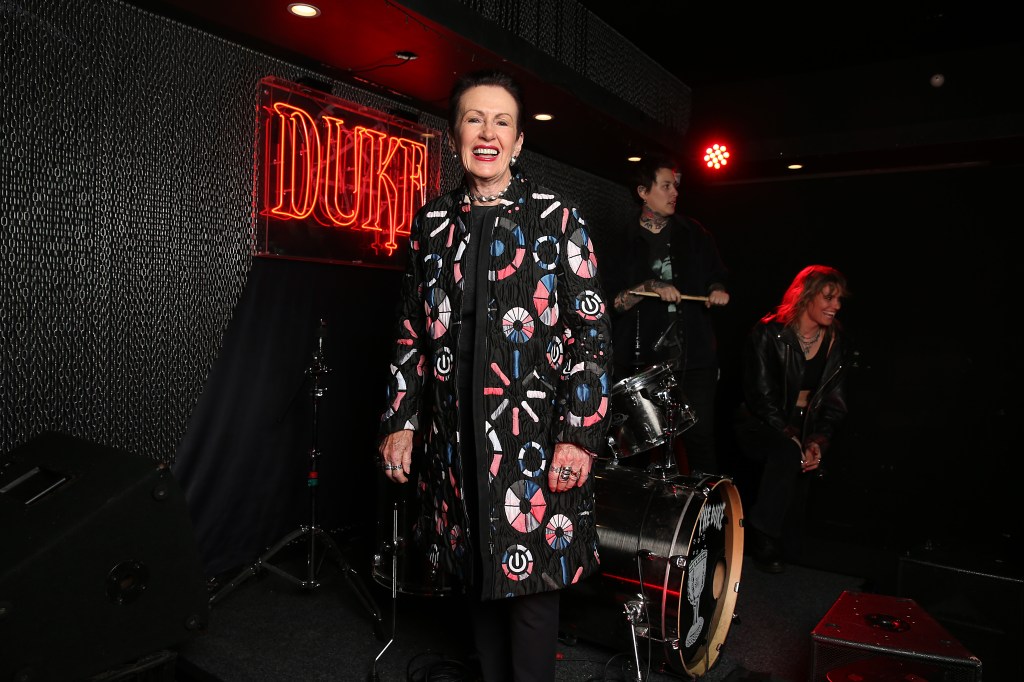 Lord Mayor talks government support
After the event, Moore spoke further about the importance of live music to the local economy, and how the City of Sydney Council is looking to support musicians and venues.
"Sydney deserves a safe, vibrant and diverse nightlife, and live music is an essential pillar of our $5 billion night time economy," the Lord Mayor said.
"Over the incredibly tough years of lockouts and lockdowns, the City has remained steadfast in our efforts to make it easier for businesses to operate longer, later and in new ways. We know that during these years, many live music venues in Sydney ceased trading, which is devastating for business owners, bands and artists and the broader music-loving community alike.
"We are the only NSW Council with a dedicated night-time economy team, we've created a Live Music and Performance Action Plan, hand out hundreds of thousands of dollars in grants annually to support entertainment and hospitality businesses, and released a Late Night Trading Development Control Plan which enables later operations while incentivising live music.
"It will take all levels of government to ensure that our artists and creatives have spaces to express themselves within, and that hospitality venues can sustain live music programming.
"I love the vibrancy of inner city living, and without creatives, much of that life ceases to exist," Moore continued.
"Sydney is turning the tide and working toward the kind of nightlife our global city deserves," she concluded.