Following a successful crowdfunding raise on the Birchal platform, Perth-based Old Young's Distillery is hiring a sales team to crack the Eastern states.
The planned sales drive comes after Old Young's raised over $2.7m in 23 hours, reaching the $2m mark in just six hours. This investment success follows closely upon Old Young's triumph in the Craft Producer of the Year and Brand Innovator of the Year in the Icons of Gin awards in London at the end of February.
We spoke to James Young, Founder and CEO of Old Young's Distillery about a fortnight that changed everything for his business.
"You have transformative moments, I think… These two things happening within two weeks of each other has the ability to completely transform what we do, and how we do it. Which is really exciting," Young said.
Young was particularly delighted by the awards recognition, as he explains.
"What it means to the distillery is this huge vote of confidence in what we do," Young said.
And as a result of this twin success, processes and strategies that the distillery was undertaking have been telescoped.
"It pushes some time-frames forward. We were looking to push into export markets as a part of this raise, but that [award] accelerates that, because we don't want to walk into a UK distributor in a year and a half and say: 'We won Craft Producer of the Year 18 months ago.'
"We want to say: 'Hey, we won it three months ago.' So from my point of view, it's definitely pushed forward some agendas."
Young believes that the awards have significantly helped the distillery increase crowdfunding investment.
"It becomes symbiotic. Because the awards, without a doubt, have helped the raise.
"Normally expressions of interest start with a huge number in your first couple of days, and then it kind of fades out. Whereas we go this huge kick in the second week when the awards were announced.
"And of course, I think what it did was give those people who were already interested – now they're nailed on, because they sudden go: 'Hey, we were interested before, and they've won this' – it gave people this enormous confidence that something they were thinking of investing in was a smart move."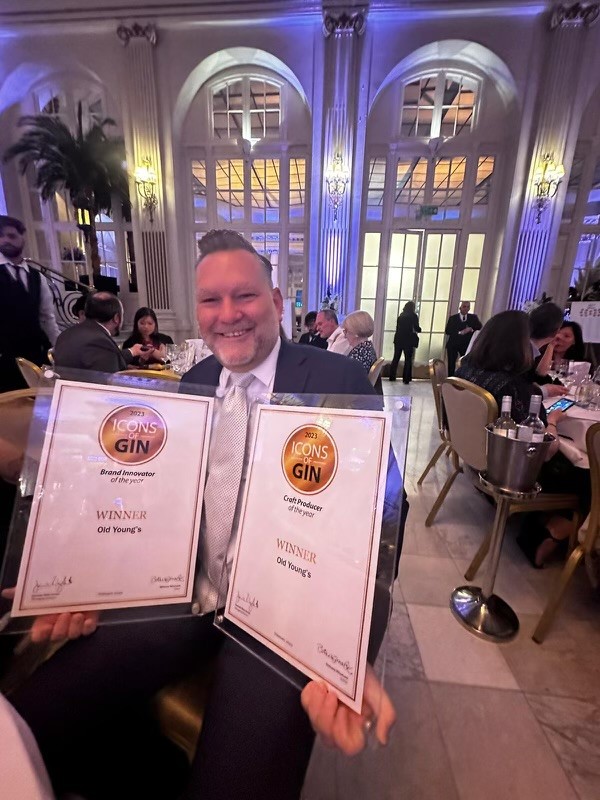 The Shout enquired as to how the new sales team is likely to operate.
"We're looking for someone in Brisbane, someone in Sydney, someone in Melbourne, as a start point, and then probably a National Sales Manager," Young said.
"It's the boots on the ground that we haven't had. To be perfectly honest, I started out in that tiny little 36 square metre shed… It's a good problem to have had but we basically for the last six years tried to keep up with demand, so pushing sales wasn't a priority."
In particular, Old Young's will be looking to crack the on-premise, using their recognition as a key point of difference.
"We can leverage the awards, and we can leverage the fact that the way we think about our products is slightly different," Young said.
"We've got products that we know sell, so Pavlova Vodka is completely unique, and it makes banging cocktails – and when those cocktails go on lists they sell."
Ultimately, the distillery is aiming to become synonymous with Western Australian spirits.
"Each state has its champions. So whether that be Four Pillars in Victoria, Archie Rose, Manly Spirits or Poor Tom's in Sydney, or in Adelaide Hills, Never Never or Prohibition. We absolutely see ourselves at that kind of level for WA.
"If someone's going to put together a backbar and says: 'We want to have something from WA, something from South Australia, something from NSW and have a good spread,' then we would want to make sure that we're front of mind in that conversation. And you don't do that unless you've actually got reps out there in the market."
Increased production and a Cathedral of Gin
Old Young's has added a new still and a new bottling line as part of its investment in new production capacity, both of which just need to be turned on, Young told The Shout.
The main focus with this production growth will be expansion of the core range to allow the entrance into new markets, but some NPD can also be expected, initially through the distillery's in-house gin subscription service, The Juniper Society. This provides an excellent resource for trialling and testing new products.
"We've got the Juniper Society, so that's where we put our shiny things in front of people," Young says.
"There's a couple of bars here who just take a membership of Juniper Society and then that gives them that new gin everytime."
Gins sold through the subscription service are not even available at the distillery's cellar door.
More salient for retailers and the wider on-premise, though, is Old Young's predicted entrance into RTDs and brandy.
"In terms of NPD – definitely canned RTDs, definitely a gin and tonic, and definitely a pavlova spritz coming."
The distillery founder suggested that these RTDs could be in the market as soon as three months' time.
Moreover, like other producers, Young is admandent that the Australian brandy revival is on the way.
"I believe, down to my very toes, that brandy's time is coming. It might be seven to 10 years' time, but I am so certain of this."
"We're a Swan Valley location, to me it makes perfect sense, and it's something I've always wanted to make. I'm really passionate about gin, and I'm really passionate about brandy.
"Brandy takes a long time to mature… You need to be putting stuff down now to be ready for when it will happen," Young adds.
Finally, Old Young's distillery also has ambitious plans to construct a 'Cathedral of Gin'.
"We bought a piece of land about a kilometre from the distillery – a stunning piece of land. It's four and a half hectares, 45,000 square metres, with 400 metres of river frontage," Young says.
"We want to do something of a similar ambition, not similar design style, but similar ambition to what the [d'Arenberg] Cube is in McLaren, so something really iconic, something really special."
The d'Arenberg Cube contains five levels, featuring different experiences related to the making of wine. Young is hoping to do something similar, and is in conversations with several leading architecture firms. An exact construction date has yet to be announced, but Young is hopeful of opening "in a few years".