The Parliamentary Friends of Australian Spirits launched in Canberra earlier this week, attended by a range of politicians and members of the distilling industry. This article, authored by Spirits and Cocktails Australia, describes the event and what such a group can mean for the industry.
The launch of Parliamentary Friends Of Australian Spirits was undeniably the hottest ticket in town when politicians returned to Canberra in early February for the first parliamentary sitting of the year.
Hosted under clear summer skies on Queens Terrace at Parliament House, the evening event offered Australia's political leaders and their staff the opportunity to sample a range of this country's best spirits, and to meet the hardworking and innovative people behind the labels.
The non-partisan group is co-chaired by Labor MP Brian Mitchell and Nationals Senator Perin Davey, and was actually created more than a year ago but had been unable to stage an official launch until 2021 due to COVID protocols.
Sponsored by the Australian Distillers Association, featured distillers included Four Pillars, Archie Rose, Granddad Jack's, Manly Spirits, Larrikin Gin and Sunshine & Sons, with additional tastings available from more than 20 local distillers from every state and territory.
Co-chairs Mitchell and Davey told the crowd the Parliamentary Friends of Australian Spirits was the fastest-growing parliament group on record, with the event quickly booked out. More than 30 MPs and senators attended, including Cabinet Minister Sussan Ley and Leader of the Opposition Anthony Albanese. The Prime Minister issued a reluctant apology, despatching a number of his most senior staff in his absence.
While the mood was sociable, the event carried a strong message. Earlier in the day, Spirits & Cocktails Australia and the Australian Distillers Association had publicly released a joint PreBudget Submission calling for urgent reform of punitive spirits tax regime, which has made Australia's spirits tax the third highest in the world.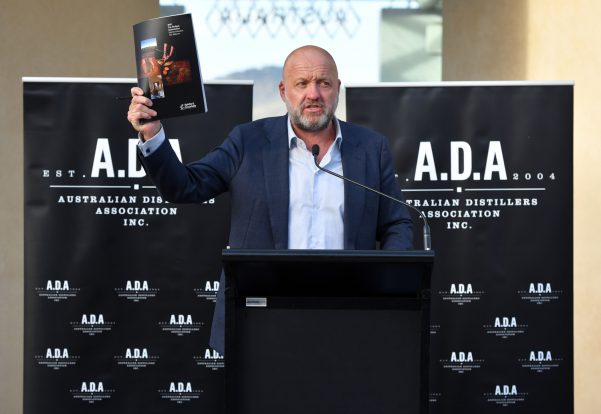 The Submission also makes the case for an increase in the excise refund limit, from $100,000 to $350,000, to grant craft distillers an equivalent level of support to small wine producers.
"About two-thirds of Australian distillers are based in rural and regional communities," ADA President and Four Pillars co- founder Stuart Gregor told the Parliament Friends of Australian Spirits crowd.
"They don't want a hand out, they just want a fair go. When they grow, we know the benefits will flow from the farm to the glass. They'll create more jobs, buy more produce from rural suppliers and help attract tourism to their communities, but they are being held back by this punitive tax burden."
Spirits & Cocktails Australia chief executive Greg Holland spent the week alongside Gregor, leading a delegation of distillers through a hectic schedule of MP meetings where they made their case for reform. Holland showed the parliamentarians independent modelling to demonstrate that a fairer spirits tax would actually increase tax revenue, by stimulating growth and business activity.
"Australia's out-of-control tax is now so high, it is actually suppressing demand, meaning less revenue than if the tax rate was lower," he said.
"This simple change would mean more money in government coffers to spend on social services and other investment as the economy recovers from COVID, as well as a much-needed stimulus for our distillers and the tourism and hospitality sectors.
"What's more, we know Australian spirits can compete on the world stage and they have the potential to become a lucrative export earner. But right now you can buy a bottle of Australian whisky or gin in the USA and pay less than you pay here. That's just crazy."
See some of the pictures from the launch below.
Image credit: Mark Graham
Header image: some of the distillers and politicians in attendance.