A small Australian distillery was this week forced to recall some of their gin after they realised some bottles contained hand sanitiser. 
Apollo Bay Distillery in Victoria recalled their SS Casino Gin sold through the Great Ocean Road Brewhouse (Tastes of the Region) between 5pm June 5 and 7:30pm June 7. Nine bottles sold over this time period were labelled as gin but actually contained hand sanitiser. All of these affected bottles have now been recovered by the distillery, within two days of the recall's announcement.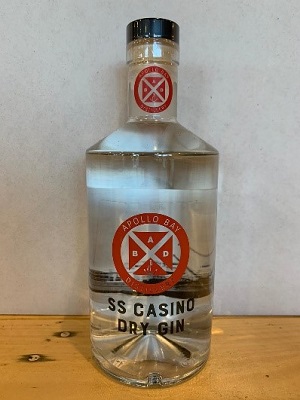 "The bottles were incorrectly labeled and had no seal. We understand they are not toxic," read a statement on the distillery's social media that urged affected customers to return the bottles for a refund or exchange.
The hand sanitiser in the bottles contained 1.45 per cent glycerol and 0.125 per cent hydrogen peroxide which should not be consumed. Side effects of consumption could include nausea, headaches, dizziness, bloating, vomiting, thirst and diarrhoea and anyone with these symptoms was recommended to seek medical advice. 
A recall notice for the product through Food Standards Australia and New Zealand (FSANZ) said: "The recall is due to non compliant labelling ([Nutrition Information Panel] not listed on the label) – 80 per cent ABV ethanol and Glycerol and Hydrogen Peroxide added. The product is labelled as gin, however it is not gin. The bottles are not correctly sealed, they can be identified as having no shrink wrap seal."
A spokesperson for Apollo Bay Distillery said: "We can now confirm we have recovered all incorrectly labelled bottles from the product safety recall we issued on Monday 8 June.
"We are very sorry this occurred. Rest assured we will be following up our procedures to ensure this does not occur again. We'd like to thank those who were affected for being so understanding. We are in the process of fully refunding and providing a replacement product to those impacted. Thank you to everyone who shared the recall, and the media for publicising it, as this enabled us to recover the products quickly."
This is the first known instance that such a mistake has occurred, after distillers across the country and around the world began pivoting to produce hand sanitiser as the COVID-19 pandemic caused demand for disinfectants to sky rocket. In Australia, this was also followed by the Therapeutic Goods Association cutting red tape to make it easier for distillers to produce the sanitiser, and Prime Minister Scott Morrison commending businesses for doing so.