Red Bottle Group has proven the value of playing to your strengths, being well represented in the finalists of the recent Retail Drinks Industry Awards for 2021.
The independent retail group, based in the Sydney CBD, had multiple stores and staff nominated in four out of five of the categories it was eligible in. Nominations included Liquor Store of the Year, Online Liquor Retailer of the Year, Young Liquor Retailer of the Year and Liquor Store Owner of the Year, which was won by Red Bottle's own Scott Towers.
To be recognised in so many areas amongst a fierce competition of bigger groups and chains is something that Red Bottle Group and its individual stores have been incredibly proud of. Andrew Mckay, Red Bottle Group Trading Manager, said the success is largely driven by the core goals of the group.
"Ingrained in the Red Bottle DNA is our desire be the best at what we do, be that bricks and mortar retail or online, whilst also having a sense of fun along the way," McKay told National Liquor News.
"I feel this comes across in our relationships with our suppliers, our store managers and in turn flows through to the end customer experience, which is why we received the number of nominations that we did."
For Red Bottle Group, a key part of delivering on these core goals and remaining competitive in the liquor retail landscape is to always play to the group's strengths.
McKay described such strengths and said: "A Red Bottle Store Manager enjoys a level of autonomy over their store that is not enjoyed in big chains or other independent groups. Each store has a unique location and demographic even though they are geographically close, so having a well-trained and competent manager that can tailor their range towards their local 'village' allows us to satisfy a wide range of customers across the Sydney CBD.
"In the online space, we do not have the large resources of the chains, so we do not focus on price driven campaigns. We play to our strengths of a unique range of specialist products and exceptional service, similar to our retail philosophy."
These strengths are built on both an individual store level, but also shared on a wider group level, with 100 per cent compliancy to promotional programs and monthly manager meetings where staff are encouraged to share ideas.
"Of course, this cannot be achieved without a better trained and informed team in our stores, so we have a focus on training and developing our managers and future managers, and where possible promote from within the group," McKay said.
Strength through adversity
The recognition at the Retail Drinks Industry Awards was all the more special coming off the back of an incredibly difficult 2020 for Red Bottle Group. A major challenge that it experienced came back to the CBD locations of its stores, which were without the usual business that comes with city workers, corporate customers, travellers and international students.
However, Red Bottle Group was able to navigate such challenges to come out successful on the other side, as McKay noted.
"Because of the sound structure of the group and our ability to reduce some costs and stock holdings, we were able to keep all staff employed which is very important in a family run business," he said.
The group was also able to use the quieter times in a way that would help stores bounce back quicker through education, training and upgrades. Six store managers went through WSET level two courses, a number of stores undertook internal Sake training courses, and many key suppliers provided other training sessions in different areas across their portfolios.
On a business front, Red Bottle Group undertook range reviews, design and layout improvements, a revamp of the website and a reinvigoration of the corporate sales team. There was even a new store opened in the suburb of Redfern, as well as the acquisition of The Australian Wine Centre in Circular Quay.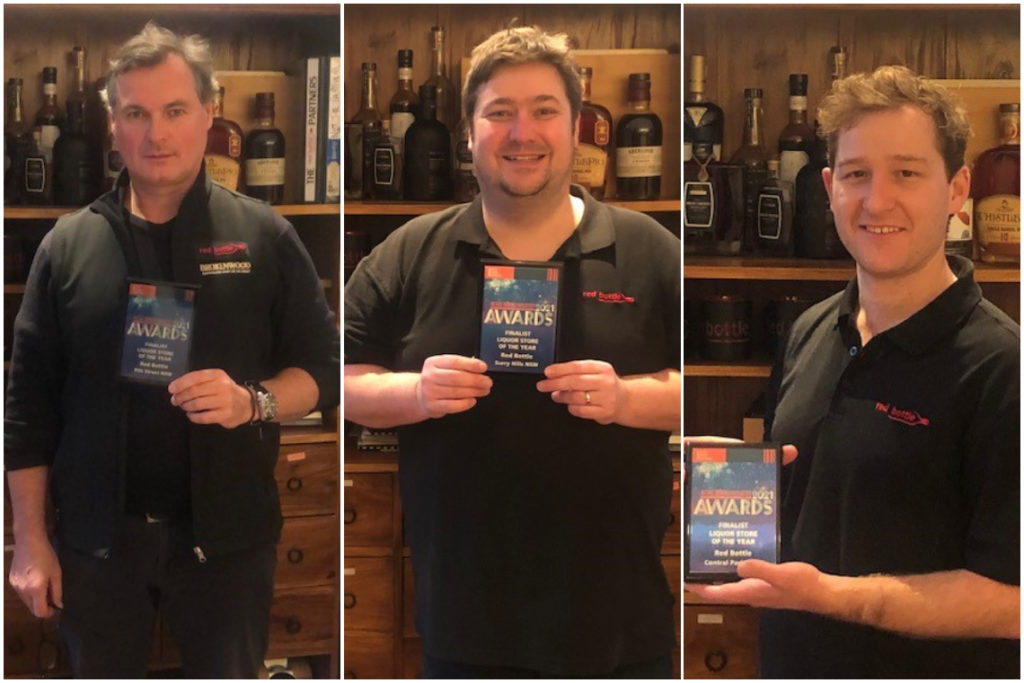 A winning formula
McKay said that Red Bottle Group as a whole was incredibly proud of all of its nominations throughout the Retail Drinks Industry Awards.
"It was a great result for us as group to be recognised in so many different categories, especially as a family owned and operated independent business. It shows us that even though we have experienced a very tough trading year, we have hopefully got the right plans in place to better set up for the future," he said.
The experience was made sweeter with a win for Red Bottle Group, after Scott Towers took out the award for Liquor Store Owner of the Year.
Speaking to National Liquor News about the win, Towers said his success is driven by the collective efforts of the Red Bottle Group.
"This was an award for the entire group, and I was extremely proud that we had so many mentions of the Red Bottle brand on the night. As an independent business, it felt good to be up there with much larger chain businesses, especially in areas such as Online Retailer of The Year," Towers said.
"When you have all your eggs in one basket, being the Sydney CBD, and we have the city close down, it makes you realise you need good people around you, as a business is only as good as its staff. Without the team we have, none of these nominations would have happened.
"The award means that we have the right people in the right roles in the business to make a difference and to make it work. Having been in retail liquor for many years, it's good to know we are not only very relevant, but also we do what we do well and have fun along the way, which is important to me."
Towers said that the reason the wider Red Bottle team works is due to the alignment and influence of values from management, down to the individual stores and teams, which creates a positive culture for the business.
"It's a good mix of experience and younger enthusiasm that allows us to challenge each other to continually improve. I feel this direction we set at Head Office flows through to our stores and is ultimately reflected in the service and experience we offer to customers. I am very proud of the culture at Red Bottle," he said.
Finally, in reflecting on the accolade, Towers thanked Michael Waters and the Retail Drinks Australia team for the recognition and support, through both the awards and the Liquor Retail Summit which preceded them.
"The Retail Drinks team do a great job as a voice for our industry and without them, we would not be having these conversations," Towers said.
Did you know?
There are four ways you can keep up to date with everything from National Liquor News:
Follow along on our socials – Facebook, Instagram and LinkedIn