There were 100 different spirits exhibitors on display at Vinexpo Asia 2023, held between 23-25 May at Singapore's Marina Bay Sands.
While first and foremost a wine show, Vinexpo Asia attracts buyers of different kinds from around the region, and has obvious appeal for spirits producers looking to access the lucrative Southeast Asian markets.
This was the reasoning that Jack Youden, Brand Ambassador for Australian spirits company, Thirsty Group, gave for attending the show.
"We've been on the Australian spirits radar for a while now, probably five years, with our Vodka."
Thirsty Group's flagship product is Baxter Vodka, but the group also makes a range of liqueurs under the Aubrey Liqueurs brand.
"And our main focus was – we'd thought we'd come and pay a visit and see if there were opportunities to expand and grow. At the end of the day, we see ourselves being a bigger brand, and being able to stretch into other countries," Youden said.
"We didn't think we would get the exposure that we have – it's been sensational, we've been really climbing."
Youden said that Thirsty Group had received interest from markets including "Korea, Japan, Singapore, Indonesia, Cambodia – a lot of really incredible places to have our brands involved."
Although Vinexpo is "really dominated by wine," Youden believes there are benefits for spirits producers in general, and for his brand in particular.
"I think being the only Australian spirit here has been a huge advantage for us as well… Just the exposure for our brands, and getting bottles into people from other countries hands, and seeing where they go with it," the Brand Ambassador said.
"There's a lot of respect for Australian products, I think we are pretty renowned for alcohol, whether that be beer, wine or spirits. It's been really incredible for us, especially with the liqueur side of things, to stand out and be a little bit more different. In terms of the spirits, they're getting great traction."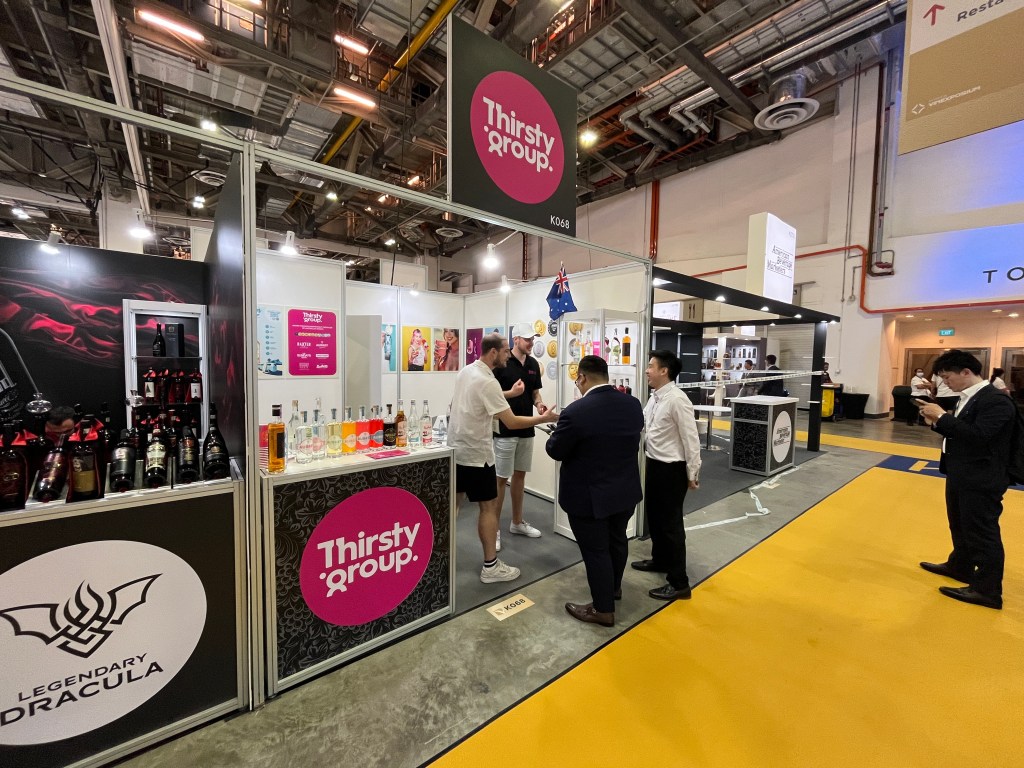 Teeling reconnects with customers
Irish producer, Teeling Whiskey, had one of the more significant spirits stands at Vinexpo Asia, and attracted interest from trade visitors. The Shout caught up with Martin Lynch, Teeling's Asia-Pacific Commercial Manager (previously ANZ Commercial Manager), to hear how the exposition had gone.
"We've been coming to the expo since 2016… So this is our third time at the expo," Lynch said.
"We're in the early years of looking at Asia markets, so [Vinexpo Asia 2023] was a good gateway landing point for the region to meet buyers and potential distributors and partners for Asia and Asia-pacific."
Lynch states that these appearances at previous shows mean that Teeling is well-positioned in 2023 to reconnect with Asia.
"We have benefitted a lot from the previous shows, because we have long standing partnerships that we have gained from earlier attendances at the show.
"So for us, going to Vinexpo 2023 is a platform to meet all our partners from China, Singapore, Vietnam, Japan etc. and see them face to face for the first time since the pandemic, and get a better understanding.
"There's a limited number of these kind of events that happen in Asia… but if you go to an expo, particularly Prowein in Dusseldorf, there's a huge spirits section now.
"Spirits are still quite small in terms of segments within the shows, but I think it's continuing to increase. For us, it will continue to grow as brown spirits, premium spirits, whiskey, grows in the region. You'll see more opportunity for these kind of events to feature spirits brands, there'll be more appetite to come here, and we've certainly seen the benefit," Lynch said.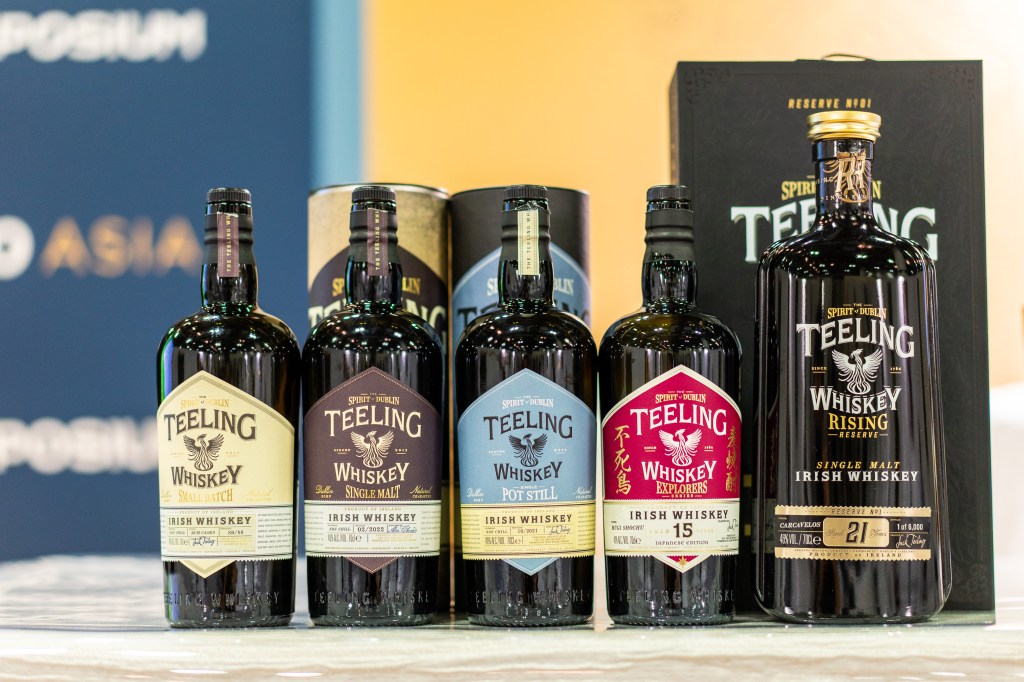 Gin on the agenda
Another spirits exhibitor at Vinexpo was Nordic Gin House, a Danish brand that produces collaborative spirits from around Scandinavia.
Jakob Vallentin, Distiller, Founder and Managing Director at the company, explained why he'd made the call to come to the show: "Vinexpo, by name, is wine but there's a lot of interest in strong alcohol in Asian markets in total."
At the stand, Nordic Gin House was displaying its range of gins, alongside a vodka and single malt whisky.
"We're not trying to make a revolution in the business… So what we do here, is make a good representative from the Nordic area, making the best that we can. My ambition is to make the best Nordic alcohol ever," Vallentin explained.
And in terms of markets where he's finding the most traction, Vallentin said: "We are in Japan, China, Cambodia, Myanmar, Vietnam – looking for Thailand, Indonesia, Malaysia and Philippines here."
Cognac commands an audience
Cognac is a natural fit for Vinexpo Asia, given the strong presence of the French pavilion, and the origin of Vinexpo as a Bordeaux-based exhibition. Cognac also has a strong following and cultural standing in Southeast Asian markets – to the extent that XO is used as a catch-all signifier of quality in Hong Kong (hence XO sauce, which contains no Cognac).
Édouard Peyrat, one of the directors of the family-run Peyrat Cognac is well-placed to assess the spirits contingent at Vinexpo Asia, and trends in the market. His stand boasted not only Peyrat's flagship Cognac, but Moko Rum, and Villa No. 16 – a French single malt whisky.
"For Asia, Cognac and whisky, it is important. Rum is not a big business," he says.
And Édouard's perspective is reflected in the numbers: almost 20 per cent of the spirits exhibitors at Vinexpo Asia were Cognac or Armagnac producers.
Édouard explained what had brought the brand to the wine show.
"We are looking for new partners, new importers and new distributors in Asia – for us, Singapore, it is a big platform for business, and it's important to be here.
"We are pretty happy to be here, because we have new prospects, new potential customers," Édouard concluded.