After Australia took pride of place as Country of Honour in Vinexpo Asia 2018, expectations were high as 74 Australian wineries made the journey to Singapore for Vinexpo 2023.
And the occasion did not disappoint, as Paul Turale, Marketing GM for Wine Australia explains.
"It's been really positive… It got progressively busier and busier as the day went on. Today [Wednesday, 24 May], since the doors opened it's been constant, and talking to most of the winemakers on the stands exhibiting, they've all been kept pretty busy."
'A real opportunity'
As it was Singapore's first time hosting a Vinexpo Asia trade show, Turale says there were some interesting differences in the mix of visitors compared with previous trade shows.
"I think it's a bit of test and learn here in Singapore as well.The buyers that we have in the trade are probably slightly different to what we've had historically.
"I think the consensus is, within that F&B space, probably more of the Somms and front of house teams we've seen coming through – but look, they're all potential customers. We want to be talking to them," Turale continues.
In particular, Turale feels that Australian wine is well placed to benefit from local food preferences.
"I think the main reason for being here is our strong belief in the opportunity around Southeast Asia. We've talked a lot around diversification from a market perspective, but I think there's also the diversity of what we produce in Australia, given the continent of wine.
"We are in a space where most of the cuisine in Australia is highly representative of what we're seeing through the Southeast Asian market – those flavours and spices – and a lot of the wines that are being produced to match what we're eating and drinking in Australia are absolutely geared towards the various markets here.
"North America, Europe are always going to be traditional and always going to be strong markets for Australian wine, but I think there's a real opportunity in Southeast Asia."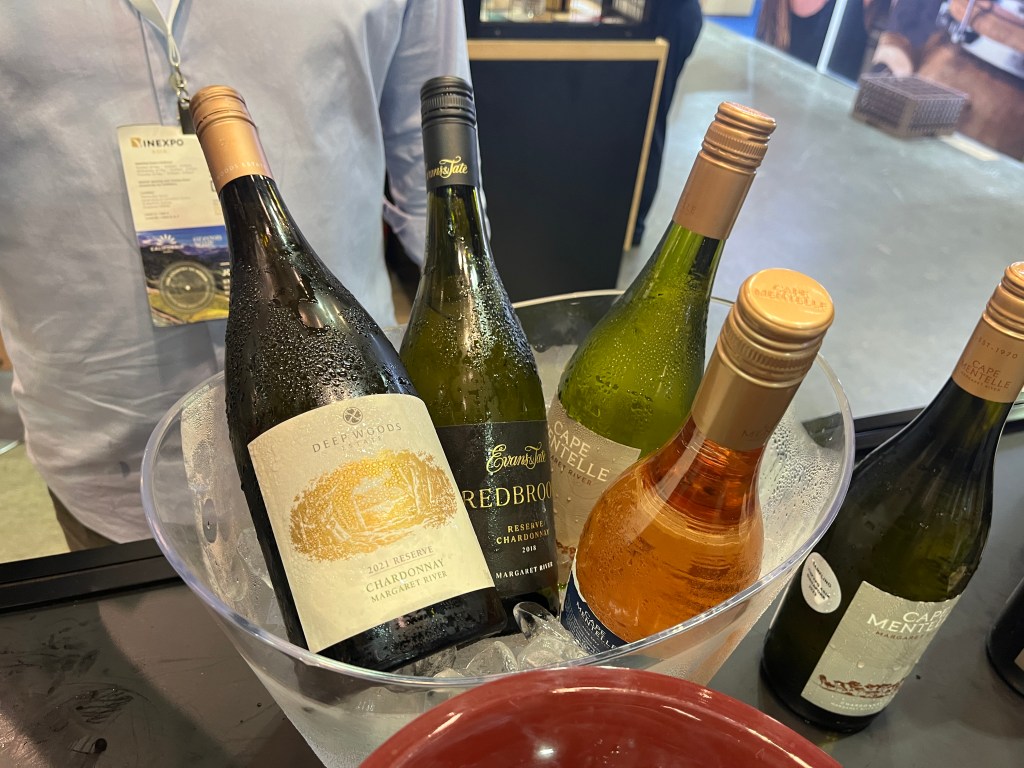 Fresh and food-friendly the significant trend
Turale hits upon what most exhibitors told The Shout. Across the board, Australian producers said that fresher styles, more easily paired with the cuisine of the region, were proving popular with Asian buyers.
"Australia has definitely, a purity and flavour profile that I think resonates. Quite fruit-driven, soft, easy-drinking wines is good," said Andrew Calabria, Sales & Marketing Manager at Calabria Wines.
Producers speaking on background stated they had seen interest in the sparkling and sweeter styles of wine, and this is a trend that James Wilson, Senior Regional Manager, Asia Pacific & Emerging Markets, from Casella Family Brands has seen too.
"So in Asia, particularly Moscato products do really really well. So we have a regular, a pink, and there's a red Moscato as well. So that sort of sweeter style is good for new wine drinkers. That's always been strong," Wilson explains.
Traditional varietals are continuing to hold their appeal too. Caroline Evans, CEO of Wine Yarra Valley, says that the wines the region is known for are naturally appealing to buyers.
"Where the Yarra Valley is famous and our biggest production is in Chardonnay and Pinot Noir, so everyone's really interested in those wines."
Adrian Sparks, Chief Winemaker and General Manager of Mount Pleasant, noticed something similar with his region's wines, saying: "Being from the Hunter Valley, Hunter Valley Semillon's obviously the thing that everyone wants to try, which is good, because it's a world class wine, people know it, and it's a way to get Hunter wines in there and NSW and Australia following in behind."
Ben Heide, Winemaker at Patritti, found that non-alcoholic products were connecting with buyers.
"We've got some non-alcoholic products, so there's actually been quite a lot of interest there. That's interesting to sort of see those trends we've seen in Europe, Australia and the US, that sort of NOLO trend coming along, and seeing that's also of interest here."
And the Clean Green aspect of Australian products that was highlighted by the Australian High Commissioner to Singapore seemed to also resonate with Asian buyers. Annmarie Harris, Group Marketing Manager for Overstory (which owns Small Wonder winery in Tasmania, and Wayfinder in the Margaret River) found that their organic products were appealing to importers and distributors.
"We've had a lot of questions about whether or not we are organic, what kind of sustainability we're doing on the property. So for us, it's been a great opportunity to tell that story."
She also found that food pairing was of significant interest for potential buyers.
"We picked the grapes early for a higher acidity, lower alcohol and lower sugar, which makes a more elegant, delicate style of wine… That works really well with Asian flavours."
Nations taking an interest
Evans also believes Vinexpo Asia has been fruitful for the Yarra Valley.
"It's actually been amazing. The Yarra Valley decided to take a regional stand here at Vinexpo, and we also did it at ProWein a few months ago to elevate the region as a producer of premium wine, and it's been super successful.
"We found that trade and media was seeking us out, which was really flattering, because they're starting to understand that Australia is a diverse wine producing country with a lot of different regions."
In terms of markets that seem to be particularly interested in Australian wine, Evans says it's a broad church from across the region.
"Obviously Singapore is a relatively mature market for Australian wine, but I still think there's an education piece coming from Australia about premium wine regions like the Yarra Valley, Margaret River and McLaren Vale.
"So the buyers that have had an Australian wine portfolio are now looking to expand from the traditional high profile regions. We've had people come through from Korea, Vietnam, from Malaysia – and everyone's equally interested, I think, in terms of a premium offering.
"Regarding producers on this stand, I've already sent them more than 25 really strong leads from importers, distributors in multiple countries, through to food and beverage directors, head chefs, Sommeliers."
The on-premise interest was something that Sparks had noted too.
"Singapore's got some of the best restaurants in the world and high end places, I think there's a real need for our wines in there. I know Burnt Ends has got O'Shea [Maurice O'Shea, Mount Pleasant's premium Shiraz] on the list. So there's definitely places for it, it's about us finding the right people."
One nation that cropped up time and time again in conversations was Vietnam, also previously highlighted by Christopher Beros, a Director at California Wines.
Ellie Vince, Chief Marketing Executive for Brown Family Wine Group said that she'd seen "a bit of interest in no-alc from Vietnam."
Gemma Bates from Howard Park Wines had also witnessed a lot of Vietnamese interest.
"I think Vietnam has been the biggest of the lot… They're a huge emerging market for Australian wine, so it's really fantastic to speak to distributors and any industry people from that region."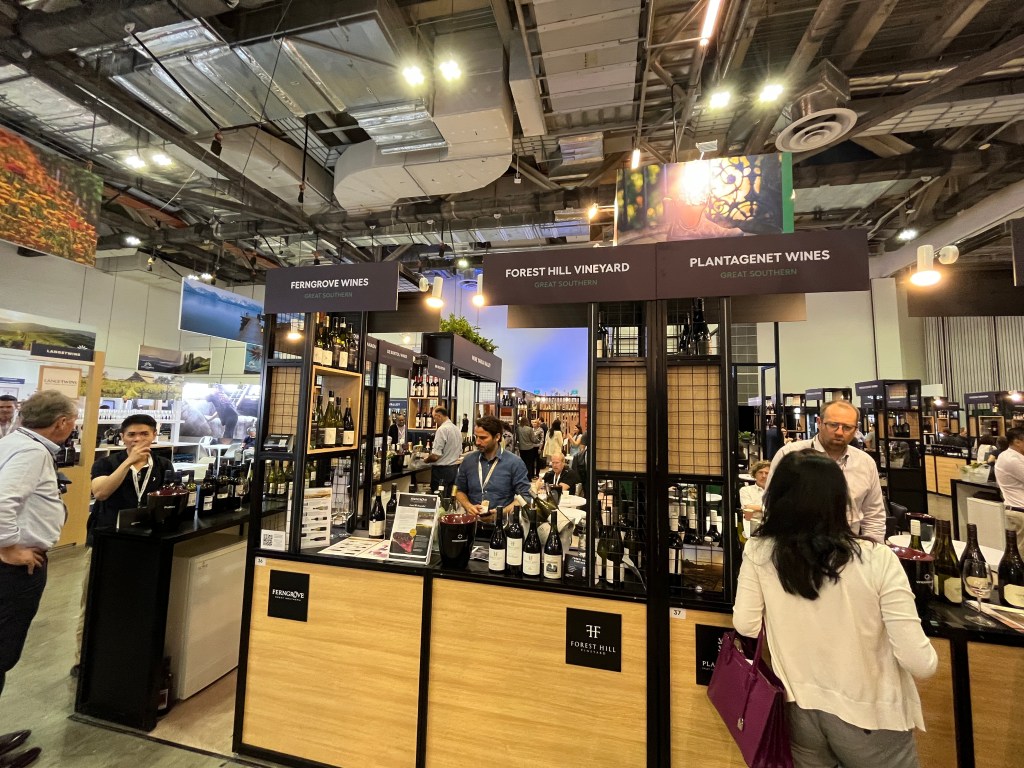 Chinese buyers looking at Australia again
An interesting development at Vinexpo Asia 2023 was the apparent interest of Chinese buyers in Australian wine – suggesting much-heralded a thawing in relations could in fact be on the way.
Heide stated that there was "probably more interest from China than we expected, so that's probably quite an interesting or good sign for the warming of relations again."
Jonathan Watson, Group Sales Domestic & International Manager for Ferngrove Wines also said his brand was "starting to see some Chinese buyers."
Gordon Gebbie, Commercial Director of the Australian Rathbone Wine Group also saw increased Chinese interest.
"Vinexpo Asia proved the right place for us to engage with our current customers and to create new leads in markets where we didn't have representation for some of our brands. It really exceeded my expectations, participating in Vinexpo Asia was a success for our company," Gebbie said.
"It has also given our brands the opportunity to renew relationships with China, there is more dialogue going on which gives us hope for the future and we look forward to Vinexpo Asia in Hong Kong next year to address the Chinese market further."
The message regarding China from Australians at Vinexpo Asia appears to be: watch this space.
Organiser's opinion
Finally, Rodolphe Lameyse, CEO of Vinexposium Group reflected upon the trade show, expressing his delight at how the event had gone.
"The positive feedback about this year's event in Singapore demonstrated the immense potential and significance of the Asian market for the wine and spirits industry.
"We are excited to announce that Vinexpo Asia 2024 will be held in Hong Kong, building upon the achievements of this year's edition as well as in Singapore in 2025. We look forward to further empowering the industry and delivering even greater value to our participants in the future years," Lameyse concluded.