Welcome back to The Shout's Industry Women Spotlight Series. In this series, we share the stories of women from across the industry, raising awareness for the challenges they face and passing on their advice for the next generation.
Through one profile each week, we aim to hero the visibility and inspiration that is common on International Women's Day, supporting the voices of women in different sectors of the liquor and hospitality industry. It's important these conversations happen more frequently than just once a year.
This series is focused on women based in Australia, however this week's guest is a special exception. Dr Anne Brock, Master Distiller for Bombay Sapphire, was recently in Australia and we simply couldn't miss the opportunity to celebrate her journey from bartender to Master Distiller.
Before Dr Brock was in charge of creating one of the world's most well known premium gins, she was in medical school, following her dream of being a doctor. But after about seven months, Dr Brock decided she hated it, and became a bartender, working in hotels, bars and pubs in the UK, as well as backpacking and travelling to decide what she wanted to do next.
In the medical field, the path is quite defined and for the most part, you easily know the next step for your studies and career. Dr Brock decided to embrace the removal of this structure when she left medical school, and just do what was right in the moment. This began with her going back to university to study chemistry, a field she has always enjoyed, and even stayed on to do a PhD.
But academia wasn't for Dr Brock either, so she began looking around to see what she could do with her skills.
She said: "A friend of mine said they had met a chemist who was a distiller, and I said: 'why didn't I think of that?'
"All through uni I had continued working in bars and restaurants, and I loved my gin. I was really lucky because it was 2012 and the craft gin scene, particularly in London, was just starting up… it was the perfect time to get into the industry."
When Dr Brock went for the role at Bombay Sapphire, she initially didn't expect to get it, and only applied because they approached her on LinkedIn.
"The guy I worked for at the time just said, 'if a brand like Bombay Sapphire asks, you apply. The worst that is gonna happen is they say no, and then you can get some feedback on what you're missing in terms of development'," Dr Brock said.
"And as the process kept ticking on I suddenly realised I might get the job, and that was quite daunting to think about that. But in my heart of hearts, I knew gin and I knew how to make great gin. No matter how big the stills or your team are, as long as you know what a great gin is, then you can be confident in yourself."
Making your mark on a global brand
To be responsible for the liquid coming out of an internationally renowned brand like Bombay Sapphire is a huge undertaking. While there have been great developments in technology and there is a team of distillers working with Dr Brock, the consistency of the brand's much loved gin sits in her hands.
Moving from a small distillery to the large scale operation that Bombay Sapphire runs was therefore quite the learning curve for Dr Brock, but one she has felt quite supported in.
"With Bombay, I've got this incredible network around me, so I've got support and I can learn from those other people too. I feel the way I've been developing has grown exponentially, but also I haven't ever felt like I've been sent out there by myself to do everything," Dr Brock explained.
"Yes I'm responsible and accountable, but there's so many people I can call on to help… especially being owned by Bacardi, which has something called master blender club. Basically its something where all the Master Blenders and Master Distillers of all the different brands get together, so we have contacts if we need help.
"If I have a problem and Ivano Tonutti [Bombay Sapphire's Master of Botanicals] can't solve it, then I can ask Beppe Musso of Martini, or I can speak to Stephanie Macleod at Dewar's, or call Uncle Joe, who is retired now but used to be the global Master Blender at Bacardi. They're all ready to just step in and give their advice, which is incredible as they've got years and years of knowledge."
Through this kind of environment, Dr Brock said she is supported to not only maintain the high standards of consistency in the Bombay Sapphire brand, but also to make her own mark on a global premium company.
She said her impact comes from the innovation side of things, through improving the processes at Laverstoke Distillery, where all Bombay Sapphire gin is made, and boosting sustainability.
"It's looking at the production process and improving that, mainly from a sustainability point of view… the industry has really strict net zero targets to hit, and for Bombay, that's going to be happening at Laverstoke under me, so that's where I can make an impact," Dr Brock said.
Bombay Sapphire has been on a mission to become more sustainable since before Dr Brock joined, but one of the projects that has happened in her tenure has been getting all botanical suppliers certified sustainable. This massive undertaking has now been completed, supported by the close relationships between Ivano Tonutti and the suppliers.
These close relationships have also helped foster another innovation from Dr Brock – the recently released Bombay Sapphire Premier Cru. This new gin heroes the citrus supplier for Bombay Sapphire in the Murcia region of Spain, José Francisco, with lemon, mandarin and orange notes at the fore, all from the 2021 harvest.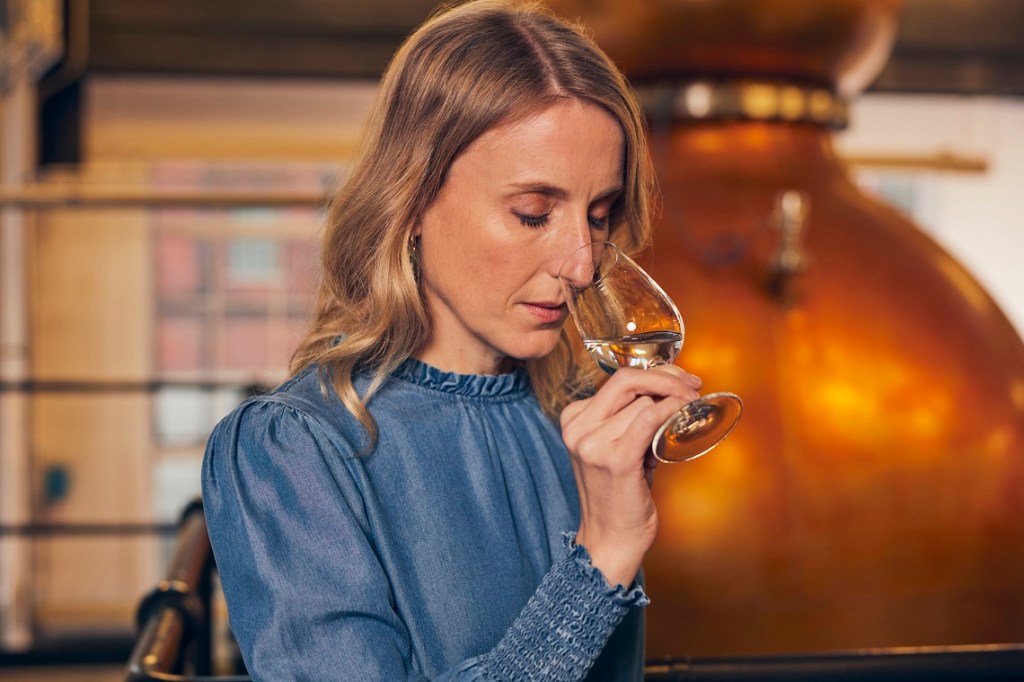 Female visibility
Throughout her career in the industry, Dr Brock has certainly noticed how much it is dominated by men, but is hopeful that this is changing.
"I sit on the board for the Gin Guild and I'm the only woman. But because of an increase of interest in distilling and in the number of craft distilleries, there are more positions now for women to get into and get experience," Dr Brock said.
"One of the things that I found really important for me personally is to stand up and be counted."
The reason that Dr Brock believes women in the industry should be using their voices, is to encourage more women to be empowered to join the industry and therefore boost overall gender diversity. She said she has seen young women starting out their careers and opting to go for workplaces where they know there is female representation, so greater visibility for this representation would go a long way.
However, Dr Brock also said: "On the flip side, I have never felt at a disadvantage because I was a woman. In fact, I think it sometimes helped me gain visibility because I do stand out as there aren't many women."
Again, this is another reason to embrace who you are, stand up and show what you can do.
Heroing an accessible industry
Dr Brock's advice for women entering the industry is to always be on the lookout for learning. She said it's a friendly industry, so always try to reach out to get help and advice.
"When I started in a craft distillery, Charles Maxwell, who is like a godfather of gin, he was running a contract distiller in London, and I went down and hung out with his team for a couple of days and they taught me how to make gin," Dr Brock explained.
"If I didn't have the right spanner or the right piece of equipment for something I was doing in the distillery, their distillery manager would drive past on his way home and drop it off, then pick it up the next day. It's just a really, really supportive community on the production side.
"We all just want to see a very knowledgeable young distiller base come up, we want to share our knowledge. It's such a friendly and lovely place to be, so don't worry, just keep reaching out."
Dr Brock said the industry needs to keep fostering this supportive atmosphere as well to boost diversity of all kinds.
"I think we need to show that we're an accessible industry, and we're approachable. We are getting more diversity but we've definitely got a way to go, and not just in gender diversity. It's something the industry needs to think about," she said.
Catch up on all the previous profiles from our Industry Women Spotlight series here.