The Shout caught up with Jay Cozma, General Manager of the Baxter Inn to discuss what live music can offer venues, supporting the arts industry and the return of visitors to the city centre.
On Sunday, the Baxter Inn hosted a Blues Fest in its basement bar, the first in what will be an on-going series held every long weekend this year.
When asked what role these partnerships and events will play for hospitality going forward, Cozma said: "I think it's going to be massively important. We're looking out for our clientele, and I think those that are going out, are going out in different ways."
"What we're doing now helps us work with the music and the arts community, as we always have."
Cozma is referring to the Swillhouse Group, which owns Frankie's Pizza and Shady Pines Saloon, both of which are known for being among Sydney's foremost live music venues.
"For us at the Baxter, it's realistically a new concept, that we've only brought in the last 12 months."
"Restaurant Hubert [another Swillhouse venue] has had live jazz forever. Frankie's Pizza – one of the iconic homes of live music in Sydney. Shady Pines Saloon has had live music for nine years now. So it's always been a part of Swillhouse."
Cozma too, has nearly always been a part of Swillhouse, running the Shady Pines Saloon for four years, before taking on the position as General Manager at the Baxter Inn. Prior to joining the company, Cozma had also worked as the Manager of Speakeasy Group's illustrious Eau De Vie.
"Jordan [McDonald, Swillhouse Creative Director] handles our creative and music, and is able to find all these new artists and acts, to put on as great a show as possible."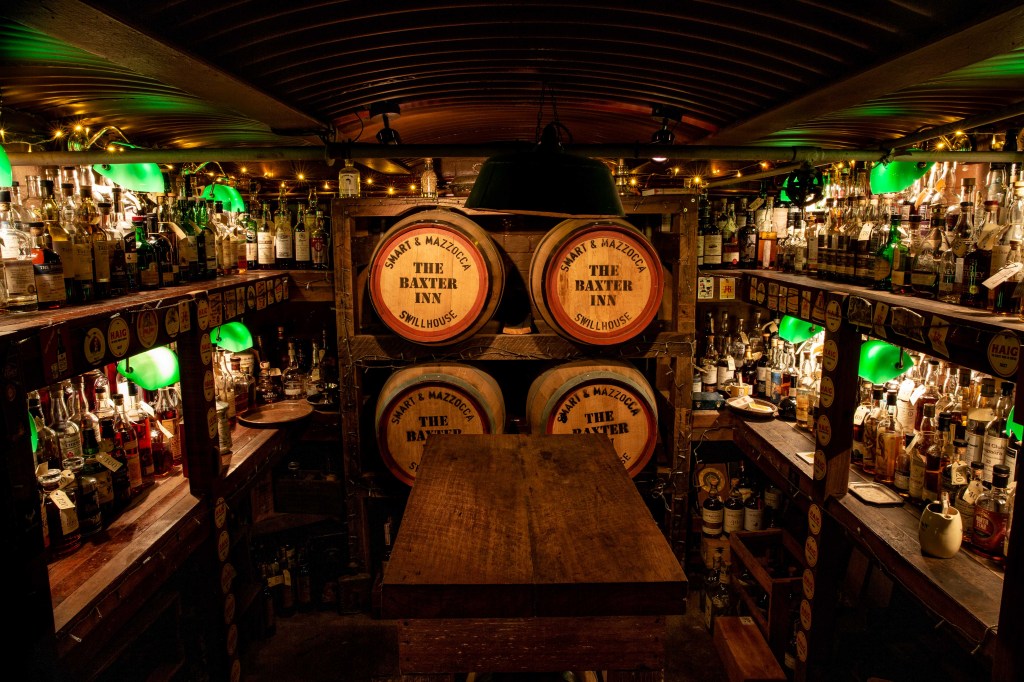 Sunday's show included no less than six bands, featuring: The Switchblades, Jesse Redwing, Kid Hank and His Okerstra, Drey Rollan Duo, Blues Hound and Chloe Kay & The Crusade.
And Cozma suggests that although a CBD bar, the Baxter Inn has benefited from so-called 'revenge hospitality' – with revellers seeking to make up for lost time when they do hit the town.
"It's hard for us because we are an inner city bar – but we do have that return to work force. Like that – 'I haven't had work drinks for a while now, and we've been out of the office for so long' so a lot of bars have filled that space coming forward," Cozma explains.
Cozma also adds that events like Vivid Sydney, recently credited with providing hotels and venues with their highest occupancy since 2019, have provided another reason for visitors to return to the CBD.
"More people are venturing into the CBD, whether it be Vivid – that's when we started to like, put bands on earlier in the day, so people can come in, enjoy the bands, enjoy the artists."
"It's a really good night if you can enjoy it all together as a community. It's a big thing for the hospitality industry, music and arts to work together. We're just fortunate enough to have the standing, I guess, to be able to do that as well," Cozma concludes.
Here Cozma appears to mirror the thoughts of Michael Rodrigues, NSW's 24 Economy Commissioner, who has previously flagged the importance of hospitality working with other sectors to make the CBD a more attractive proposition for visitors.
For the Baxter Inn, it certainly seems like a successful formula. By 4:15pm, 15 minutes after the bar had opened, there was standing room only. By 5pm there was a queue around the block.
The Baxter Inn is open till 3am, seven days a week.
This story has been adapted from an article that originally ran in The Shout's sister publication, Bars and Clubs. Click here to subscribe to the Bars and Clubs weekly newsletter.