Continuing its mission to save the seahorses, Taylors Wines has unveiled its new-look Promised Land range with the addition of two new varieties. The colourful new design features Taylors Promise to the Sea campaign, where every sip supports global marine conservation organisation Project Seahorse.
Taylors Wines' seahorse logo has always been a symbol of the family's three generations of winemaking, and today represents its dedication to sustainable winemaking in efforts that go beyond the vineyards.
"The new direction we're taking with the range is a special one for the Taylor family," explained Mitchell Taylor, third generation Winemaker and Managing Director at Taylors Wines.
"We are incredibly proud of the support for Project Seahorse we're putting behind the new-look Promised Land range and feel that ocean conservation and marine habitat restoration is an important cause that everyone can get behind.
"Seahorses, much like grape vines, are an indicator species that raise the alarm on serious climate-related issues. By setting up marine protected areas, drawing attention to harmful fishing practices, and regulating wildlife trade to increase seahorse populations, our ocean will be better for thousands of other species. We'd love retailers to join us in supporting this mission, which in turn, will do some good for the planet."
Targeting consumers who are looking for an easy-drinking wine ideal for casual occasions, The Promised Land acts as the perfect entry level wine to the wider Taylors portfolio. Taylor spoke about the new direction for the collection.
"Since it first launched, the Promised Land range has utilised an element of fun, bright colours in its label design. The new direction takes the bold use of colour one step further, bringing in a bright, trendy palette to showcase the range of varieties we have in the portfolio.
"The palette also lends itself to the casual and carefree style of these wines – they are approachable, easy drinking and super food-friendly, and the design helps deliver that personality. There is also our signature seahorse as a focal point of the design, which connects directly to our campaign."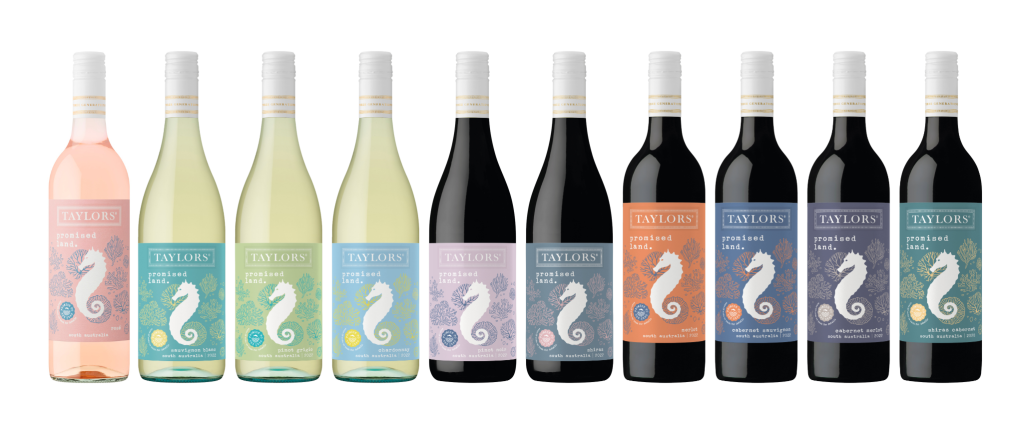 All wines in the collection retail at $16, an affordable price point that appeals to curious and value-driven customers. Taylors Wines has added two new varieties to the range, the 2022 Promised Land Sauvignon Blanc and the 2022 Promised Land Rosé, joining the heartland varieties that Taylors is known for.
"Customers looking at wines in this price point want to ensure they are getting value for their money, and the Promised Land delivers it in spades. These are highly awarded wines crafted in Taylors' signature style, so if you can open a bottle for customers to sample during their visit to your store, it's an easy way to demonstrate the value these wines provide for everyday drinkers."
"The Promised Land wines have been an exceptional performer in the Taylors portfolio since it launched in 1998. While it features classic varieties like Shiraz and Cabernet Sauvignon, it also offers styles like Pinot Noir and Rosé, which have become a regular selection of many wine lovers' repertoires.
"The Promised Land Shiraz, Shiraz Cabernet and Cabernet Sauvignon releases, are highly awarded wines and our top sellers in the range."