By Shannon Gaitz
The Barber Shop, launched just last week in Sydney's newest suburb of Barangaroo, is so much more than its name.
In my chat with the The Barber Shop owner and hospitality veteran Mikey Enright, he referred to it both as "possibly the smallest bar in Sydney" and "the ultimate man's toy shop". It's primarily the realisation of Enright's many own obsessions, but unconsciously so.
"When we did the launch it felt like I was having a mid-life crisis," Enright joked. "Everything that I'm quite passionate about is what I've built, which is really bizarre, and I didn't really see it until we did the launch and the penny dropped."
These passions are unique and varied, ranging from antiques, to liquor, spirits and, of course, hair. Aesthetic references to hunting, motor vehicles and vintage sports also round out Enright's interest list, and you'll notice that on The Barber Shop's walls, a considered mix of old and new, vintage and contemporary. Old cricket bats, badminton racquets and golf clubs are the sporting contingent, posters of the 1930 Melbourne Grand Prix and motorbike warehouses, not to mention a James Corbett original sculpture made from motor parts, will appease the adrenaline junkies, and as for hunting, well…
"I bought an 1820s shotgun made by James Wilkinson of Wilkinson Sword," Enright shared. "Back in the 1820s he used to make guns, but he stopped making guns because swords and razor blades became more of their business. It took me a long time to find a piece like that where I can relate it to barbers, because James Wilkinson is very famous and a very strong brand for razor blades, so I wanted to interlink that."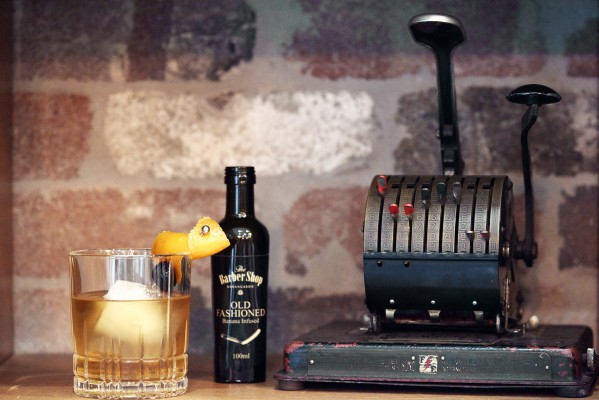 Every piece has a history and that concept remains true for the vintage barber chairs that provide another focal point of the salon. Built in the mid-20th century and no longer in production, finding even one, let alone six, of these rare pieces of furniture was no easy task.
For Enright, it's worth the effort for a space he considers so much more than a salon. At Enright's first bar-barbershop hybrid establishment, an award-winning location on York St in Sydney's city, the barbershop provides a pathway to a bar that can sometimes host hundreds of people. With so many potential patrons and only three barber chairs, that location is more about the liquor – Barangaroo fuses bar and barbershop together seamlessly in equal measure. Equipped with a soundtrack that jumps from reggae to hip hop, the Barbershop is just a cool place to hang out as much as it's a great place to have a haircut – and that's the way it's intended to be experienced.
"My ideal client comes in half an hour before they're booked in for their service, they sit there, they have a drink, do some work, play a record, chill out and enjoy the experience," Mikey shared. "Clients can just sit there and feel like they've been somewhere different." A range of online vouchers facilitate this process, offering services that include a consultation, haircut, hot towel shave and gin or whiskey-based cocktail. 'The Balvenie Experience' is poised as the salon's most popular package.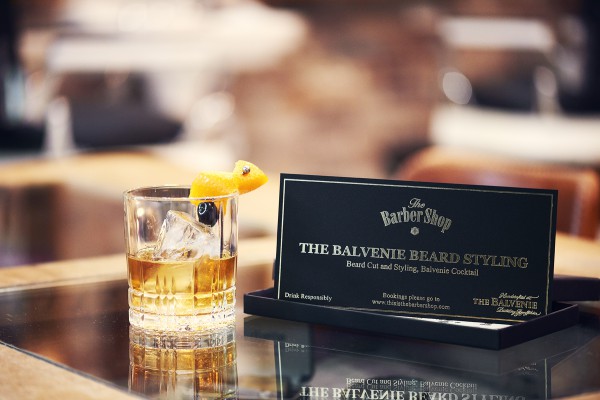 Enright expects a wide array of clients to come through the doors, with the space looming as any man's go-to hub. Last week this list housed a distinctly celebrity pedigree with some of Australia's biggest male stars attending the launch event and being treated to The Barber Shop's standout features – curated drinks and luxury grooming.
This ideal man's space doesn't stop at services, with colognes, grooming products, spirits, leather goods, hair creams, beard oils and men's lifestyle books all for sale. Enright is even releasing his own range of hair products to be sold in store later in the year – the point of difference? They're gin-scented, of course, and passed-down through Enright's Irish ancestry.
These new products will just be another example of Enright combining his vices, once again uniting hair and liquor in a unique and surprising way. "What I wanted to do with The Barber Shop in Barangaroo was to tone down the bar side of it and up the ante on the barber side," Enright shared. "I love barbering; it's an old historic trade. I love antique shopping, I love playing records and I love drinks and good spirits, classic products and sculptures."
It sounds like Enright has built his haven – lucky it's something of a dream hideaway for most other men too.
This story was originally published by our health and beauty stablemates at www.styleicons.com.au.