The Glen Grant has achieved a distillery auction record with The Visionary 68-year-old whisky selling for double its original estimate at The Distillers One of One Auction recently.
The Visionary sold for £212,500 (AU$406,360) and came just a week after the distillery sold Devotion a 70-year-old whisky for £81,250 ($155,371) with both lots set to benefit charitable organisations in Scotland.
Aged for 68 years and drawn from a single Oloroso Sherry cask, The Visionary rare offering showcases the exceptional quality of The Glen Grant whiskies at high age. While a relative newcomer to the auction scene, The Glen Grant said its recent successes highlights the meticulous maturation approach and collectability of the distillery that has called Speyside home since 1840.
Tasting notes on the whisky describe "an aroma that begins with soft ripe orchard fruits and merges seamlessly into buttery, toffee notes, with a delicate touch of smoke. To taste, there is a good balance of fruity vanilla with sweet Sherry and the finish is rich and robust, making for a long and lasting mouthfeel defined by sweet dried fruits, a touch of spice and soft smokiness".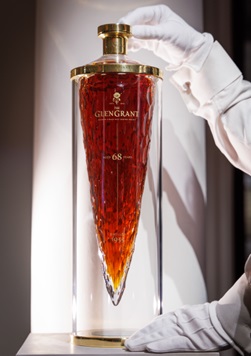 The whisky is housed in a 1.6-litre hand-blown battuto-cut magnum decanter and precious stone Malachite stopper, that sits within a period-inspired presentation case.
The Visionary how holds the world record price for a whisky from The Glen Grant and secured the distillery a top three spot of the 39 lots that made up this year's The Distilleries One of One Auction.