On 22 November, The Macallan Distillery introduced its 2022 version of 'A Night On Earth In Scotland' annual release single malt whisky to media and guests at Sydney's Grain Bar.
The whisky is inspired by Scotland's famous Hogmanay celebration of the New Year, and has been designed to recall the 'fire rituals dominant in New Year Celebrations around the world'. The artwork for the box and labelling was created by Japanese-French illustrator Erica Dorn.
Sarah Burgess, The Macallan's Lead Whisky Maker, drew upon family memories of Hogmanay to produce the single malt.
"Crafting A Night On Earth In Scotland has been an extremely personal experience for me, which took me back to growing up in our family home in Speyside, just across the river from The Macallan Estate," Burgess said.
"The whisky's vanilla sweetness references the rich Scottish shortbread traditionally gifted and eaten at Hogmanay, while notes of dried orange and spice recall the flavours and aromas that filled our house through the festive season.
"Encapsulating the hopes and dreams of Hogmanay celebrations past, present and future, it also conveys the unwavering human desire to spend special times with loved ones," Burgess concluded.
The whisky itself was created from a selection of sherry-seasoned American and European oak casks, alongside some American former bourbon barrels. 'A Night On Earth In Scotland' is said to possess flavours of 'soft velvety sweetness reminiscent of shortbread with that rich mouth coating, vanilla sweetness, with lightly toasted marshmallow, dried oranges, fig and cinnamon.'
At the event, Josh O'Brien, NSW/ACT Brand Ambassador for the Spirits Platform, which represents The Macallan, explained where this product would fit in the distillery's range.
"'A Night On Earth' is a limited release, we only release it once and year, and it only goes into retail. It doesn't go into bars," O'Brien said.
"We only get a certain amount so, mostly [it will go] to independent retailers."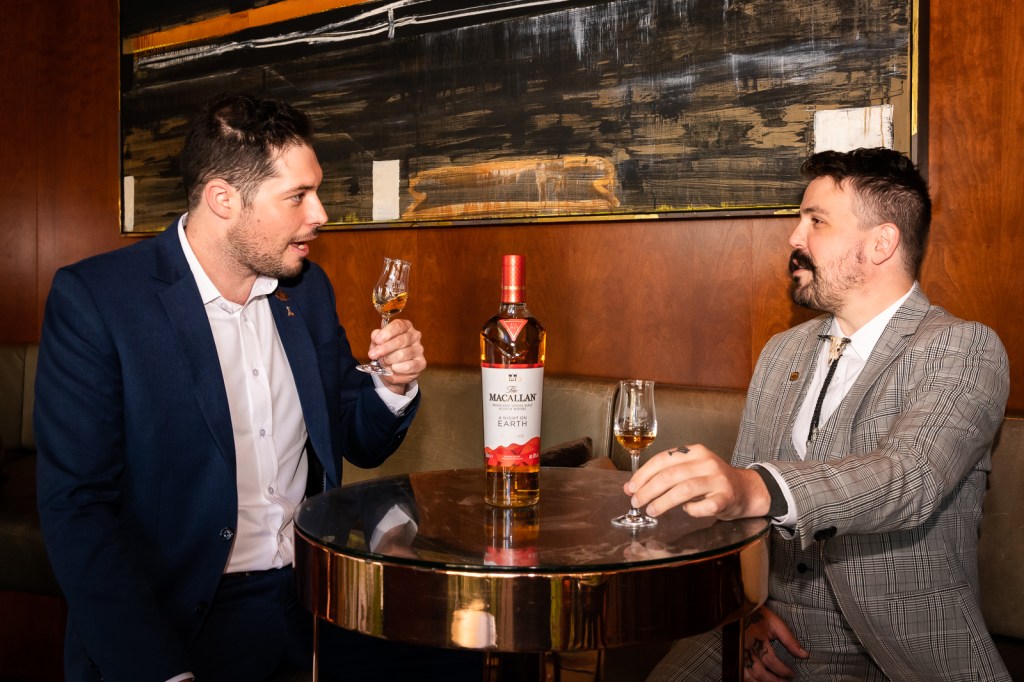 Mark Hickey and The Macallan look to the new year
After the event, The Shout caught up with Spirit Platform's National Ambassador for The Macallan, Mark Hickey. Hickey spoke about the state of the Australian market for single malt Scotch whisky, The Macallan's sustainability drive, and plans for 2023.
"Single malt scotch whisky is doing really well for Australia, I must admit, premiumisation is a thing," Hickey said.
"We're noticing that the quality that consumers are drinking is at a high standard – and Macallan has always been a high standard since 1824."
Looking ahead to the new year, Hickey is tipping there to be further limited releases from the distillery, but played his cards close to his chest.
"You're going to see more of the Macallan Harmony Collection come out very soon, and there'll be two expressions of that next one coming out. We can't say too much about that just yet," Hickey explained.
"That's very hard to predict the future, when you don't know what the whisky liquid is going to be like. A cask interacts differently. We've got to look and wait to see what comes from the cask and what the whisky mastery team has up their sleeve – but they never release [information], it's all under lock and key."
Another major shift for The Macallan in recent years has been the construction of a new distillery, but that has also raised questions about the future of the previous, adjoining site.
"For the future of The Macallan Distillery – we've got a brand new distillery, which was built in 2018. It's a moving forward process for us, to see what they do with the old site – we don't know yet," Hickey adds.
Hickey tipped there to be a continued focus on sustainability for the distillery in the coming 12 months.
"It's always about the sustainability component of Macallan, and that's what the Harmony Collection is about – sustainability, how you can change something that's gone to waste and bring it back to life, and using that as either in the packaging or in the expression itself," Hickey continued.
"We're trying to go for the B Corp certification very soon, we've changed all cars to be Electric. Got a biomass facility which is literally right next to the distillery – there's three biomass facilities in the area surround the Macallan now. The whisky industry is doing more for the environment than any other spirits category."
For Hickey, this is consistent with the essential origins of the spirit.
"With single malt whisky, you don't just need three raw ingredients – you need quality ingredients, you need consistent, adequate available ingredients.
"The best [example] here is water. Water has to be either fresh, which is going to be soft water, or you get a hard water with more mineral content, which gives you a different change of spirit.
"But you also need a cold water, because condensers are run from rivers… Scotland is very aware of the impact this can have, and that's why they do as much as they possibly can to keep the water cold and consistent," Hickey said.