Wicks Estate's premium, cool-climate wines from the Adelaide Hills have grown to be recognised as some of the finest the region has to offer through dedication to excellence from its co-founders Tim and Simon Wicks. Now, Wicks Estate are pleased to unveil an elegant new look for their Estate range that reflects the high calibre of the wine in the bottle and appeals to a younger, more wine literate consumer.
"The new packaging reflects our story and our region – cool, contemporary, crisp, fresh and vibrant." said Simon Wicks
In October last year, two of Wicks Estate's popular Estate Range enjoyed an early-reveal at the 2018 Adelaide Fashion Festival; an event Wicks Estate are proud to have partnered with for the past 11 years. The Wicks Estate Vintage Sparkling and Wicks Estate Rosé were both revealed to a fashion-savvy crowd who hailed the new look. As winter rolled in, the new look was extended to the red wines — Pinot Noir, Shiraz, Cabernet Sauvignon and PST.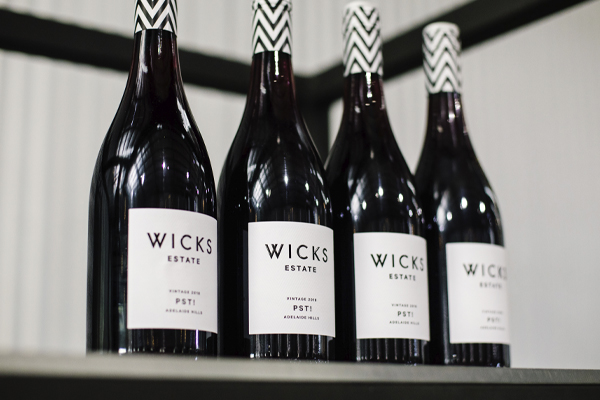 PST! is a new fresh and vibrant experimental red blend in the range. A blend of Tempranillo, Shiraz and Pinot Noir — the result is a light, soft and delicious wine that matches extremely well with food. A fact born by the wines popularity in the on premise trade.
"We have been noticing the ongoing popularity of South Australian red blends such as GSM and we started to experiment and look at what new blends might suit the varietals of the cool climate Adelaide Hills. Tempranillo was an obvious choice being commonly blended with Grenache, so we looked at how it would work with our hero red varieties Pinot Noir and Shiraz. We're extremely pleased with the result." said Simon Wicks
Wicks Estate Sparkling, Sauvignon Blanc, Riesling, Pinot Gris and Rosé retail for a recommended $20 / bottle. Wicks Estate Chardonnay and all red varietals retail for a recommended $25 / bottle.
For more information and sales contact:
Brett Thomas, Sales Manager | Mobile +61 487 383 940 | info@wicksestate.com.au
Follow: Web | Instagram | Facebook
Vintage House Wine & Spirits | 1300 769 266 | sales@vhws.com.au