Australian Agricole Rum looks set to become the taste of the North Coast this summer as Husk Distillers ramp up production of their unique expression rums and fresh cane spirits.
Husk Distillers, on the NSW North Coast is Australia's only paddock to bottle agricole rum distillery. Established in 2012, the little distillery at Tumbulgum is expanding, adding two hectares of sugar cane, enough to crush 300 tonnes of select varietal cane, and building a new distillery and cellar door to open March, 2018. Later this year, the first Forsyth still in Australia will be installed after 12 months of design and construction in Rothes, Scotland. Husk are also installing the first two of four planned 120 hectoliter fermenters dedicated to brewing the first press, paddock to bottle cane juice grown at the plantation distillery.
Generally regarded as fresher and more complex than molasses rums, French-style agricoles make up about 3% of global rum production, with most coming out of Martinique where production is strictly controlled by AOC rules.
AOC rules preclude the addition of caramel, sugar, flavours or other additives and the result is a fruity, herbaceous dry style of rum.
Family-owned Husk Distillers have brought this style of rum to Australia, and while guided by AOC rules, they are not constrained by them.
"We have crafted and refined our own production methods to suit our part of the world and we think our Australian Agricoles have a distinctive style and flavour profile that reflects our provenance." Says Husk Distillers founder Paul Messenger.
Messenger says that his rums start and finish the same as AOC Martinique agricoles, as they use freshly pressed cane juice and add no flavouring, colouring or additives. But in between the start and finish, Husk Distillers have drawn on a wide canvass of fermentation, distillation and maturation techniques.
Two products are currently available, Pure Cane, the award winning new make cane spirit, and a special release 3 year old barrel aged rum 1866 Tumbulgum Rum, commemorating the 150th anniversary of the picturesque riverside village of Tumbulgum.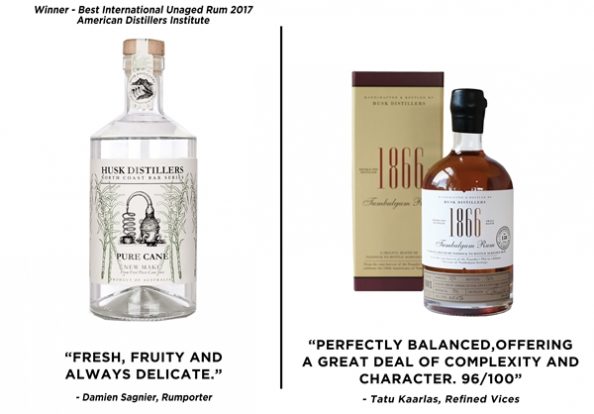 Husk Distillers product offering is set to grow with the release later this year of their signature 3 year old Virgin Oak barrel aged agricole and a spiced rum infused with organic botanicals to follow in time for summer.
For more information or to stock Husk Distillers products, contact Harriet Messenger 0406 063 040 or harriet@huskdistillers.com. Pure Cane & Ink Gin are available now through Liquid SB, ALM and Gateway Liquor.