The national event will feature 3 international and 30 local expert speakers to discuss relevant and innovative insights for wine sales, marketing, tourism and business. Industry insights and trends will be covered, market access for brand and route development for trade, online, DTC, cellar door and retail. The future consumer and how to engage, communicate and build connection to community. In these times the adaptive mindset will be key, knowing the industry is in your corner and supporting you. The workshop break outs offer 3 streams of 3 practical focus themes with Q&A discussion. Plus experience the diversity of Victorian wines and delicious local food at the conference dinner and Regional Wine Showcase tasting. Future Proof your Wine Business is the core theme throughout.
THE SPEAKER LINEUP
Ranging from wine brands who will share personal experience, to thought leaders of international significance for unlocking market and consumer opportunities.
Speakers not to miss include Cathy Huyghe (Enolytics), Andrew Shedden (Endeavour – Dan Murphy Fine Wine), Polly Hammond (5forests), Dean Carroll (Brown Family), Peta Granger, Angus Hughson (Wine Pilot), Dan Sims (Revel/Wine Vic), Dave Gerner (Wine Australia), Lee McLean (AGW), Michael Whitehead (ANZ), Sean Spratt (Destiny Bay), Darren Oemcke (Hydra), Richard Owens (WithWine), Dan Howard (Juice Capital), Rowena Curlewis (Denomination), Ewan Proctor (Vivino), Stephanie Duboudin (Food & Wine Insights) plus many more.
WHO SHOULD ATTEND?
The WIIC Conference is a must-attend event for anyone managing the future of their wine business sales, marketing, distribution, exports, DTC, tourism or brand, whether established or starting out, small or large.
Listening to the demand for events in Victoria, and proudly partnering with Global Victoria and Wine Victoria, local wineries have the benefit of proximity and local association support. The inspiring content is relevant for anyone across Australia and New Zealand in the wine sector within wine brands or those wanting to connect and understand more.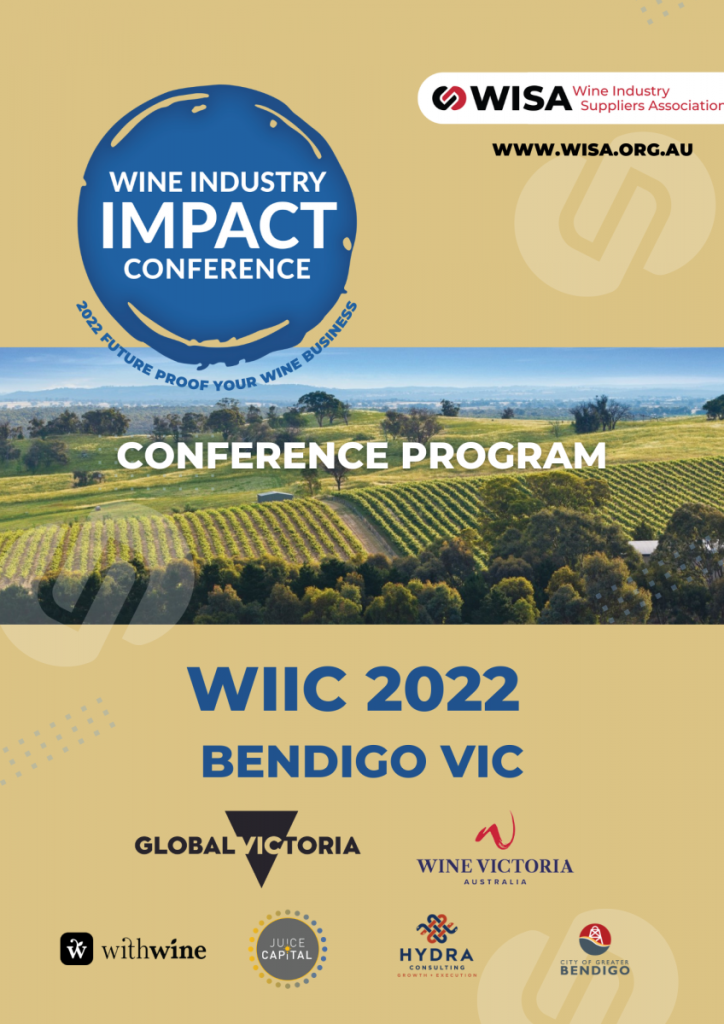 SOME OF WHAT YOU'LL LEARN
Activate new sales channels
Navigate the complexities of exporting
Identify profitable routes to market
Wine reviews and online opportunities
Use data to drive sales, efficiency, and profits
How adopting sustainability is demanded by future consumers and good for business
Innovative product development
Create effective brand stories
Become a workplace of choice
Adapt to challenging times
Technology to help your business needs
See the program here: WIIC – Wine Industry IMPACT Conference – WISA – Wine Industry Suppliers Association
Book now to access the promo code generously supported by Wine Victoria for all to visit Victoria.
Thanks to sponsors WithWine, Hydra Consulting, Juice Capital/My Energy Engineering and the City of Greater Bendigo.
Venue: All Seasons Bendigo, 10-11 October.