Top Shelf, the boutique drinks festival that took place in Melbourne last weekend has been labelled a success by organisers, exhibitors and attendees. Across Saturday and Sunday around 6,000 people came through the doors at the Royal Exhibition Building in Melbourne, which is significantly up on last year.
Festival organiser Paul Wootton says that the show is definitely growing and gaining traction, with a huge number of trade attendees alongside the general public.
"We got really positive feedback from both visitors and exhibitors," he says. "You could just see there was a great level of engagement from the visitors with the stands and a lot of interest in learning about new products and premium products."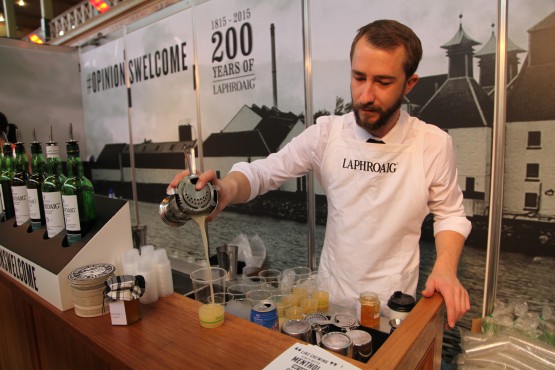 The Laphroaig stand churned out cocktails all weekend.
There were also plenty of laughs at the show, with the Egg & Bar Spoon Race and the State Vs State cocktail competition gathering crowds to cheer on their favourites and heckle the opposition. Perhaps unsurprisingly, the Victorian team took out the latter competition (admittedly it was by default as they were the only team to present the judges with a palatable drink).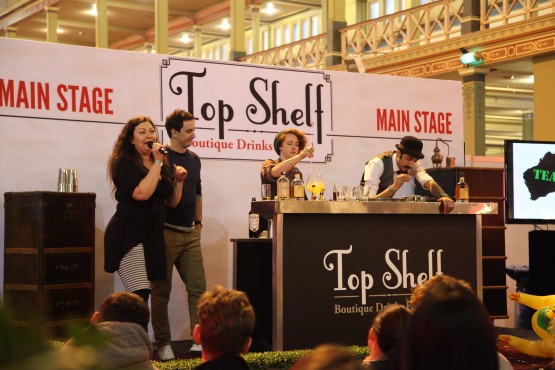 Team Victoria taking out the charity cocktail competition.
The show also featured an extensive program of presentations and seminars on many different aspects of the industry, with some sessions full to overflowing – like the Gin Queen sessions – and a large number turning out to hear from local and international bartending and hospitality experts such as Naren Young, Jason Crawley, Charlotte Voisey, and the team behind PDT.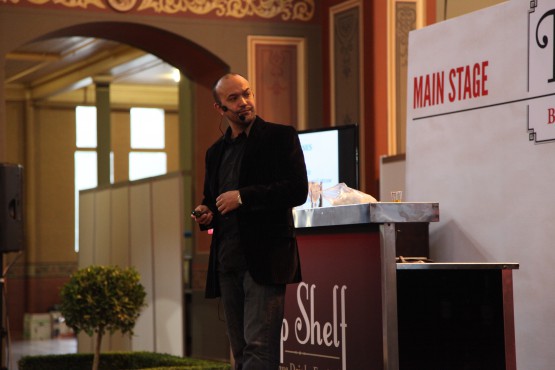 Naren Young presenting on the art of the aperitif.
"The How To Open A Bar talk was really well attended as was the How To Write A Profitable Wine List, which was presented by David Lawler from the Rockpool Group," says Wootton. "It just shows there is a really appetite for knowledge, the show is not just about going to drink – there is real focus on education at the show."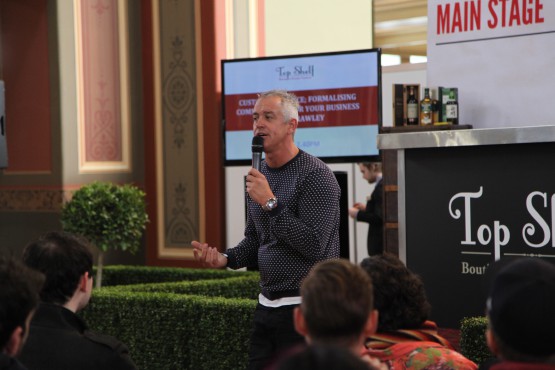 Jason Crawley discussing good hospitality practices.
Wootton added that he has been inundated with positive feedback from visitors, exhibitors, and presenters alike. Brands and distributors such as Nip of Courage, Gage Roads Brewing and Beam Suntory (at the Laphroaig stand) all expressed their complete satisfaction with the event, while bartender and session moderator Russ McFadden passed on his own praise, stating that he had a great response from attendees during the presentations he took care of. The Solotel Group also praised the event directly, after a group of their managers and staff travelled down from Sydney to specifically attend the event in a visitor capacity – Jeremy Shipley was also on the How To Open A Bar panel.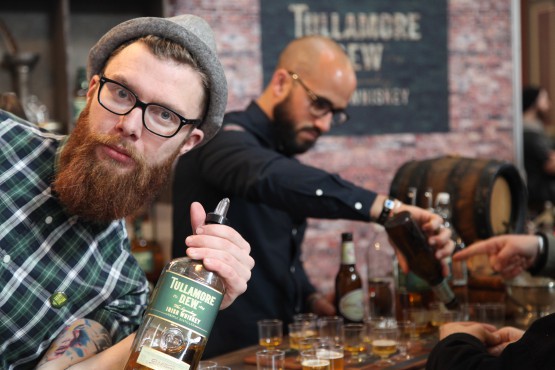 There was plenty of whisk(e)y with Tullamore Dew and Monkey Shoulder pouring drinks all weekend.
Given the success of the event, planning is already underway for next year, with Top Shelf 2016 set to expand even further on this year's event.
"We made a couple of changes to last year's show, we focused more on the presentation areas this year and the feedback we got on those was really good," says Wootton. "So overall we're really pleased with how it went, we'll make a couple more tweaks next year, but we're happy with how well the show was received."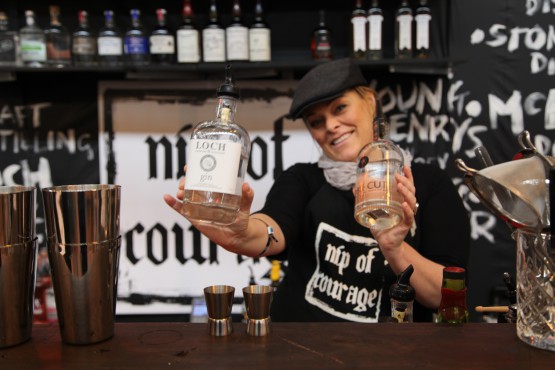 Nip of Courage's Australian spirits selection was well-received by the trade and consumers.