Treasury Wine Estate (TWE) has announced plans to expand its New Zealand footprint with the acquisition of a substantial Marlborough premium vineyard.
The expansion from 505 hectares to 750 hectares will increase supply of highly sought-after lighter varietals such as Sauvignon Blanc and Pinot Noir. TWE plans to use grapes from the new vineyard in future vintages of the company's New Zealand wine brands, including Matua and Squealing Pig.
TWE Chief Supply and Sustainability Officer, Kerrin Petty, said: "The acquisition of the new vineyard, which includes its own water reservoir, is an important step in expanding our premium wine portfolio and ensuring we remain in front of evolving consumer preferences.
"Consumers love our New Zealand wines – particularly in the US where Matua is known as one of their hot brands. We want to keep making the wines that consumers love and with lighter varietals continuing to trend, this additional vineyard will ensure we can keep up with consumer demand – now and well into the future."
The acquisition, which coincides with the 50th anniversary of Matua, is the latest premium vineyard purchase for the company and follows the recent acquisition of luxury US wine brand DAOU Vineyards, and the addition of Beenak vineyard in the Yarra Valley and a French Chateau and vineyards in Bordeaux.
In celebration of Matua's 50th anniversary, commemoration events were held yesterday at the winery and new vines were planted in a 50th anniversary row to demonstrate TWE's commitment to the next 50 years. Matua Senior Winemaker John Ashwell spoke about acquisition and what it means for the long-standing brand.
"Marlborough Sauvignon Blanc is sought after the world over. It's a unique combination of aromatics and flavour profile. You can't find it anywhere else in the world.
"85 per cent of all the grapes crushed in New Zealand are from Marlborough, from Sauvignon Blanc. So, it's a huge success story and we're very thrilled and excited to be a part of that.
"We're doing our best to continue the legacy of Matua's Co-Founders, the Spence brothers, to try new things and to still be here, better than ever, in the future."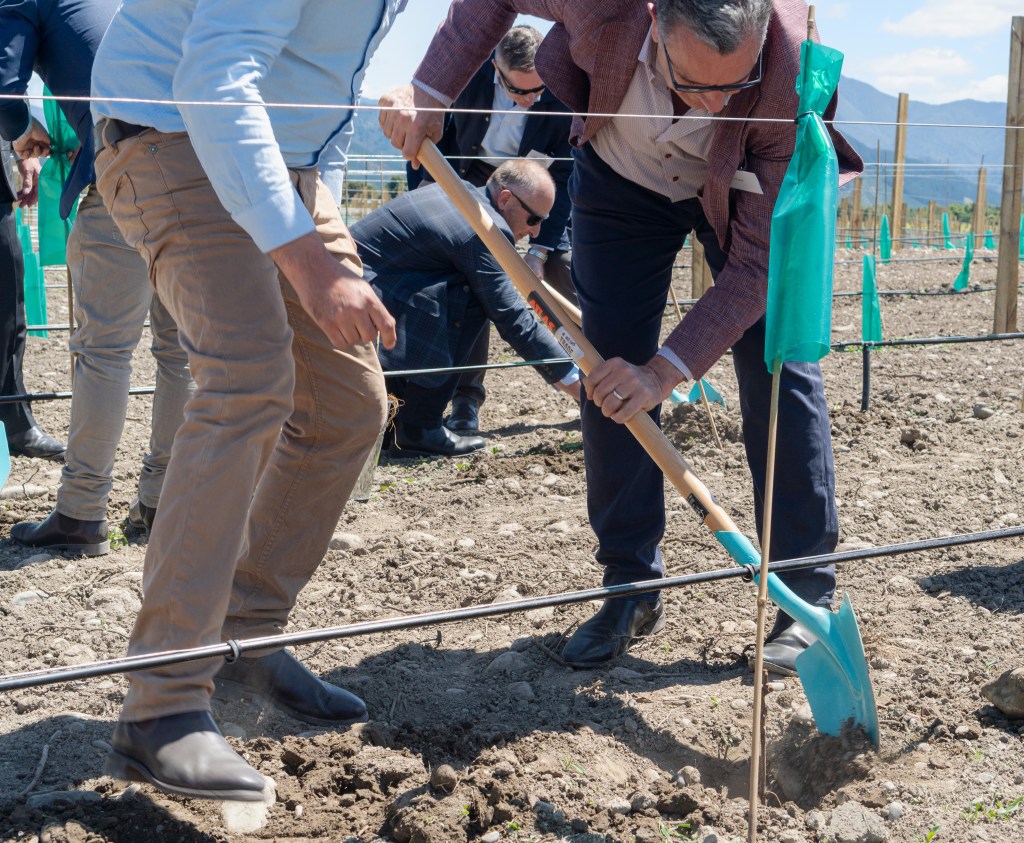 The acquisition of the vineyard in Wairau Valley, which is expected to settle in the first quarter of 2024 subject to regulatory approval, also aligns with TWE's sustainability ambitions and plans to ensure all waste streams are being used either on its vineyards or going through its wastewater plant.
Recently TWE entered a partnership with Robotics Plus to provide hybrid autonomous vehicles that use artificial intelligence to improve operational efficiencies and provide data-driven insights. TWE Chief Supply and Sustainability Officer Kerrin Petty spoke about the new partnership.
"We're paving the way for innovative and sustainable vineyard production, including with our latest acquisition, where our New Zealand vineyards are going to be the first across our business to have two unmanned autonomous vehicles.
"The technology used by Robotics Plus is the first that can be delivered at scale across our operations, improving environmental sustainability while providing a solution for widespread labour shortages impacting the agriculture industry.
"It's going to allow us to work more efficiently, gather data over the course of the growing season and make more informed management decisions."