42BELOW vodka has launched Recycled Cocktail Lemons Eco Soap, a sustainability initiative to create the world's first soap made from recycled cocktail lemons.
According to the brand "we're all dead" unless we start looking after this little old planet of ours so they have decided to do something about it.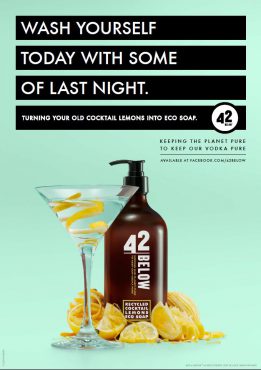 So how does it work?
42BELOW has signed up a number of bars across Australia, and across the ditch in New Zealand, and is collecting old lemons and other fruit wastage from cocktails.
These scraps are then turned into liquid lemon soap and then sent straight back to the bars for free, to be used behind the bar and in bathrooms.
The program launched in early December, and they have already collected 400kgs of fruit waste, which was then turned in 20,000 sachets of soap and 400 bottles of soap.
Why are they doing this?
The brand has form for caring about the environment and how drinking behaviours effect it. In August they hosted the Cocktail Earth Cup, where bartenders designed eco-friendly, zero-waste drinks. And they also partnered with Junkee Media to get Aussie's brightest young minds to come up with innovative ways to keep the planet clean.
Sydney's Stitch (part of House of Pocket) was one of the teams to come on board. "We signed up to the eco soap initiative because it's a simple idea which is easy to execute and great for the environment – really, the question should be why wouldn't we?" says Christophe Lehoux, art and drinks director for House of Pocket.
"We actually do make a concerted effort to use as much of the fruit as possible – if not in the drink, then as a garnish – but if you count uneaten garnishes I guess we would normally throw out a fair bit."
"To be honest, 42BELOW has made it incredibly easy. They provided the bags, they come and pick it up, then they bring the soap – we just need to put scraps aside. As for savings, since starting the program in the last couple of weeks, we have we have saved on buying at least 25 litres of soap.
"The nice thing about this initiative is the customers get to experience it as well. Every customer goes to the bathroom at least once while they're in the venue, so they can see the poster which explains it all and then use the actual soap – it's really visual and practical."
You can wash your hands with Recycled Cocktail Lemons Eco Soap at:
Sydney:
Stitch – 61 York St, Sydney CBD
Earl's Juke Joint – 407 King St, Newtown
Pocket Darlinghurst – 13 Burton St, Sydney
Button – 65 Foveaux St, Surry Hills
This Must be The Place – 239 Oxford St, Darlinghurst
Maybe Frank – 417-421 Bourke St, Surry Hills
Crooked Taylor – 250 Old Northern Rd, Castle Hill
Deus Café – 98-104 Parramatta Rd, Camperdown
Woollahra Hotel – 116 Queen St, Woollahra
East Village – 234 Palmer St, Darlinghurst
Collaroy Beach Hotel – 1064 Pittwater Rd, Collaroy
The Royal- Paddington – 237 Glenmore Rd, Paddington
Acre Farm – 31A Mallett St, Camperdown
Melbourne:
The Carlton – 193 Bourke St, Melbourne
Windsor Castle – 89 Albert St, Windsor
Gold Coast:
elsewhere – 23 Cavill Avenue, Surfer's Paradise
wherelse – 4 Orchid Avenue, Surfer's Paradise
Save
Save